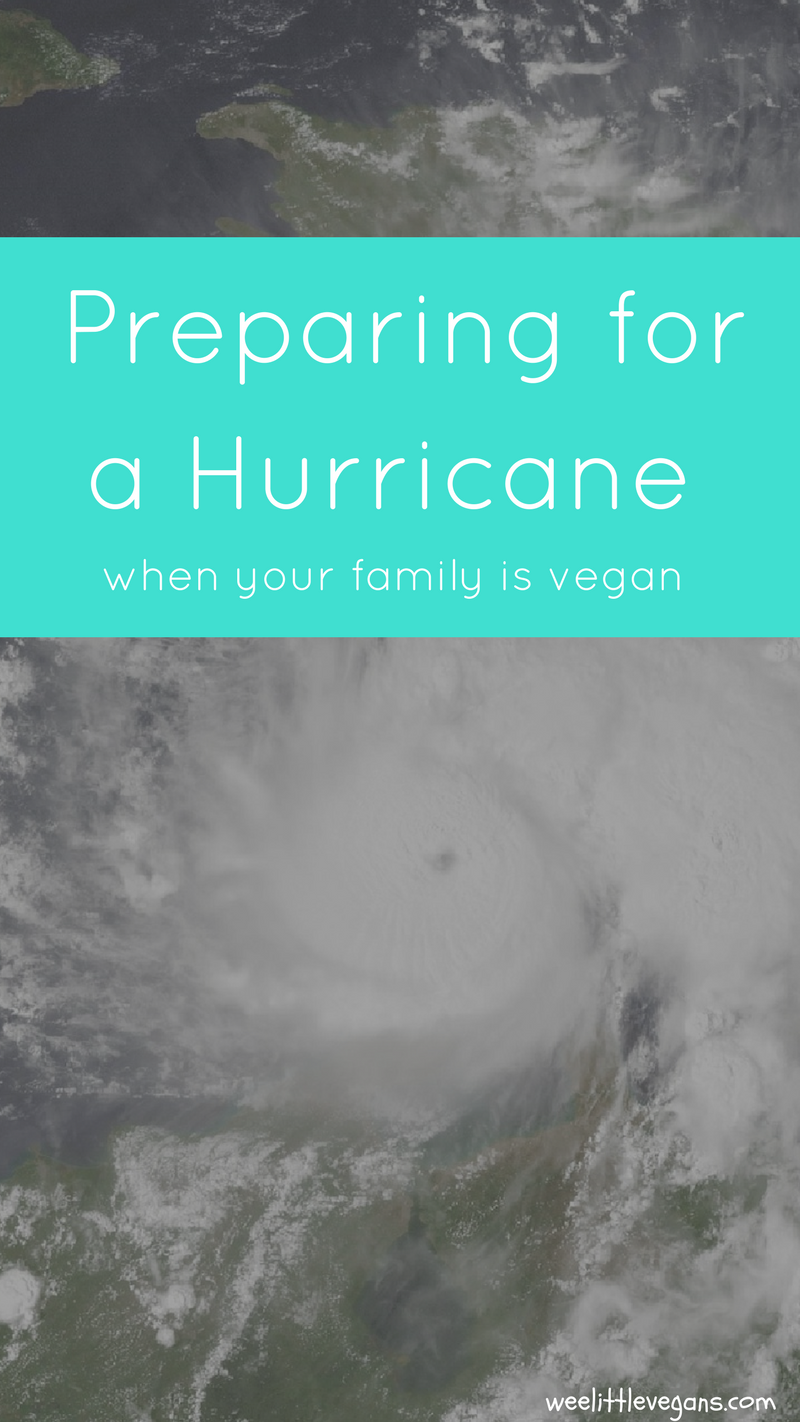 We live in Florida and are bracing for the impact of Hurricane Irma in the coming days. One question I've seen many times on Facebook this week is how to prepare for a hurricane as vegans? It's a good question and I thought I would share how my family is preparing, as far as food goes to help answer that question. Hopefully it helps someone who maybe hasn't been through this situation before or is new to veganism.
So, here's a list of the non perishable foods we've stocked up on in preparation of the coming storm:
Canned beans
Hearty, satisfying, nutritious, and widely available, beans are a great option for storm prepping. We have several cans of garbanzo, black beans, and pintos beans on hand. Bush's Vegetarian Baked Beans are also vegan so we stocked up on those too. Just be sure to have a manual can opener on hand.
Canned fruits and vegetables
Peaches, pears, mixed fruit, corn, peas, green beans, carrots, beets, etc.
Fruit cups and applesauce
Individual serving cups are a great option when refrigeration isn't available. Look for the ones packed in 100% juice for the healthiest choice.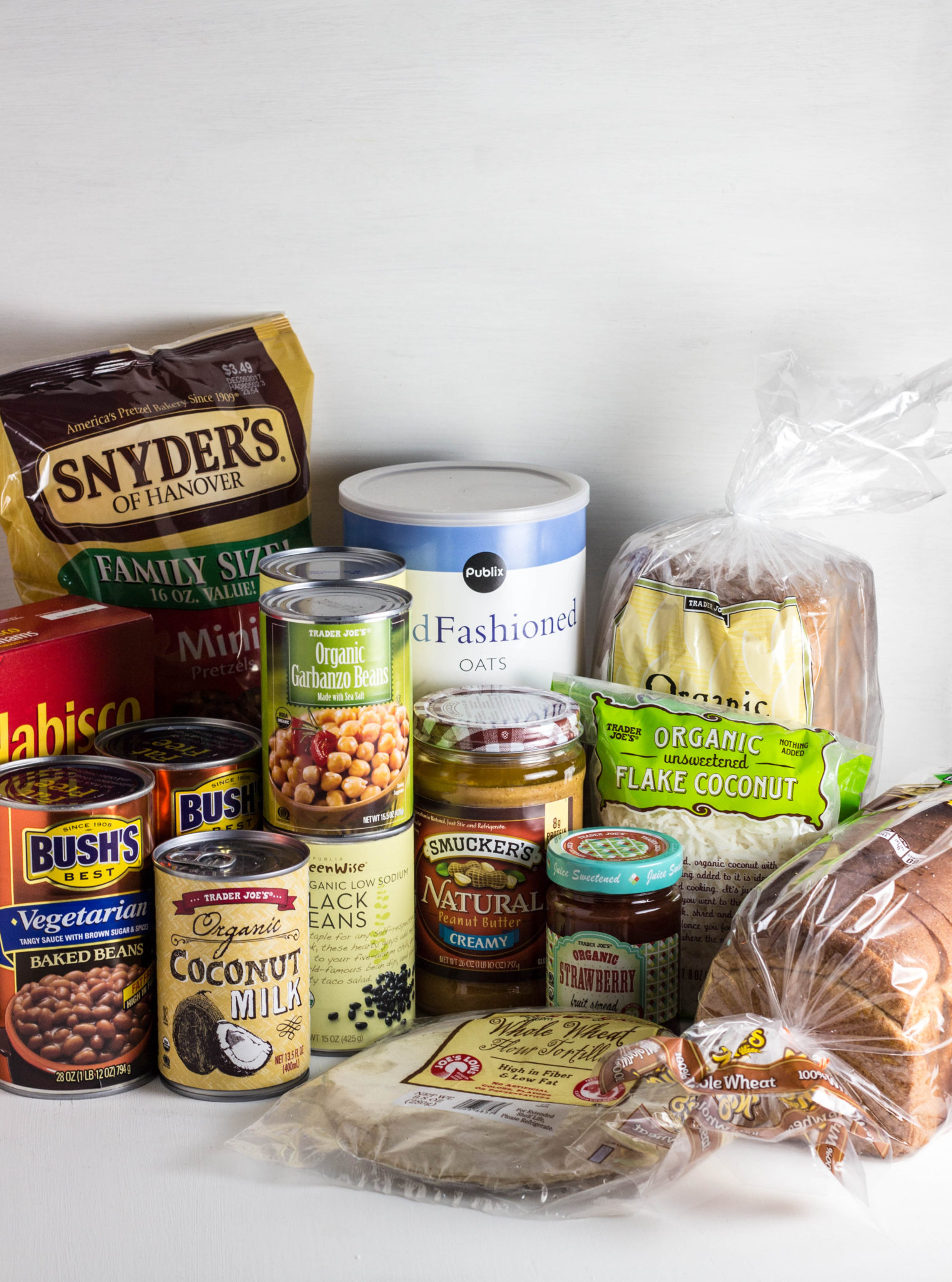 Granola bars/granola
Larabar, Clif bars, Cascading Farm Organic, Annie's Homegrown, and Kind all have options for vegans and are available at many stores. You could also bake some granola before the storm hits and store it in an airtight container. I'll be making some of these PB & J Granola, Seedy Apricot Granola, and Double Chocolate Peanut Butter .
Peanut butter and nut butters
Great for dipping fruit slices, topping oatmeal, and of course making sandwiches. Earth Balance Natural peanut butter contains no hydrogenated oils and does not require refrigeration. Justin's offers peanut, almond, and hazelnut butters that are available in individual packets as well as jars.
Jams and jellies
Smucker's recommends not using their jams and jellies that have been out of refrigeration for more than 48 hours. Use a cooler if you can or get small jars that can be used within the time frame.
Bread
Arnold, Cobblestone, and Thomas' Bagels have a variety of vegan options. For more specifics on which ones check here. Nature's Own 100% Whole Wheat is also vegan.
Tortillas
Mission brand makes flour and corn tortillas that are vegan and typical have a longer shelf life. Read the FAQ here. You can easily mix up a filling with canned beans and veggies for burritos.
Dried fruit
Raisins, apricots, figs, banana chips, pineapple rings, mango, and freeze dried varieties are all great nutritious options.
Cereal
Simple options like toasted oats can be mixed with nuts and dried fruit for kid friendly trail mixes. Serve with shelf stable non dairy milk or simply eat it without.
Crackers
There are a ton of vegan friendly crackers available at nearly every grocery store. We took advantage of our store's BOGO sale this week on Nabisco Original Graham Crackers which happen to be vegan. We like to slather the crackers with nut butter and top with dried fruit and coconut for a delicious snack.
Canned soups
Amy's Kitchen has a wide variety of vegan soups. Check out your options here.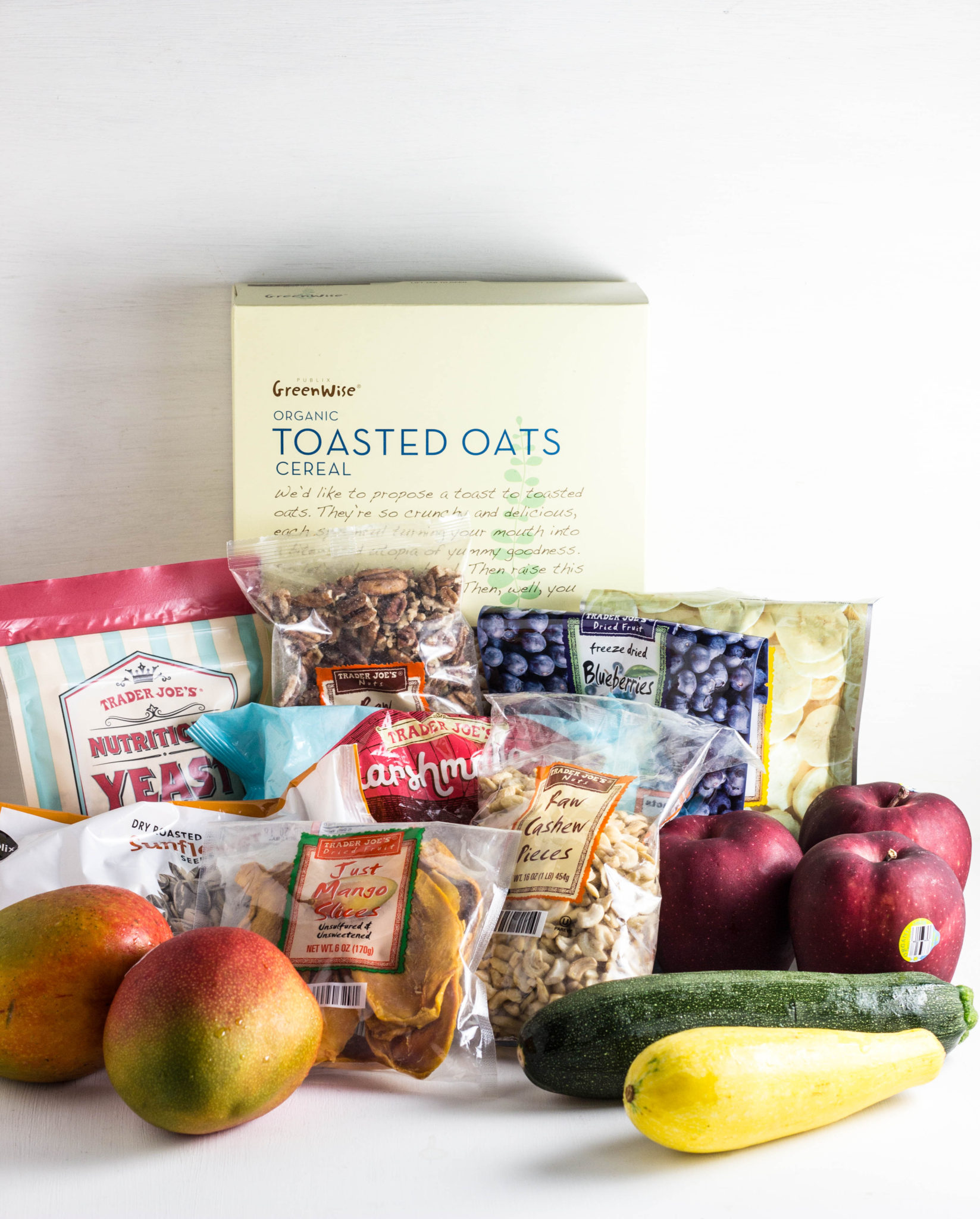 Nuts and seeds
A good source of healthy fat, fiber, protein, and many other nutrients. Add dried fruit and make your own trail mixes suited to your family's taste.
Pretzels and chips
Instant Oatmeal
If you have a way to heat water then instant oats work out great, but even if you don't allowing the oats to soak for a bit in room temperature water will still work. The texture will be different, but still tasty enough to eat.
Pop Tarts
Although not the healthiest option, many of the unfrosted flavors like strawberry and brown sugar cinnamon are vegan. Store brands or other brands may differ so be sure to check the labels.
Apples, pears, oranges, cucumbers, mangos, tomatoes, avocado, and squash.
Fruits and veggies like these will last out of refrigeration for at least a few days or even longer and can be eaten raw.
Juice boxes
Shelf stable non dairy milk
Look for individual sized portions since the larger cartons do need to be refrigerated after opening. Canned coconut milk is another option.
Primal Strips
This meatless vegan jerky comes in 6 different flavors so everyone can find something they like and each one is high in protein to satisfy hunger.
Comfort foods
Dark chocolate, candies, cookies, fruit snacks, etc. The goal is to keep everyone calm and happy, sometimes the simplest way to do that is with a little treat.
Salt, pepper, and any other seasonings you like
Seasonings help make canned and packaged foods more flavorful and enjoyable to eat.
And that's about it. Those are the foods my vegan family is preparing for a hurricane. We are storing our foods in plastic bins to help protect it in the event of flooding.
One other thing I want to say, is if you find yourself in a situation where you have no other choice but to consume something that's not vegan, don't beat yourself up over it. In situations like these we just have to do our best and remember the health and survival of our family is priority number one.
If you're in the path of this storm like we are, stay safe and if you're not please keep Florida and the other areas affected in your thoughts.