Crisp, baked tofu coated in a sweet, smoky sauce and paired with black eye peas, greens, and rice for a hearty, comforting meal that is sure to please!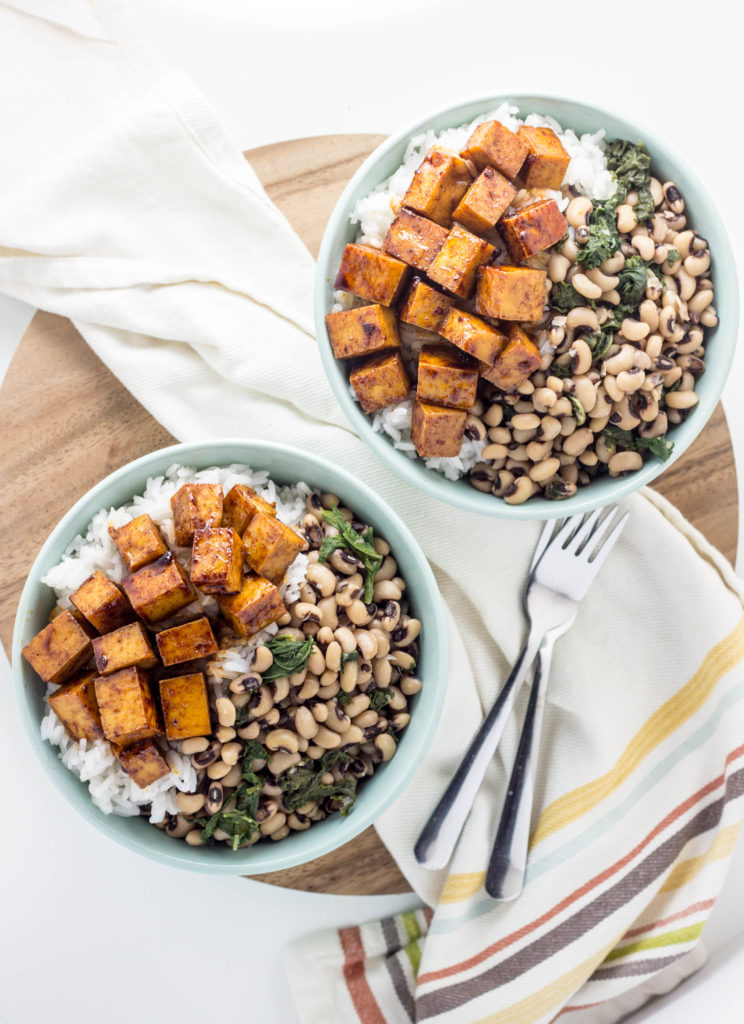 These Smoky Baked Tofu Black Eye Pea Bowls are the result of the long standing tradition in the South to eat black eye peas and greens on New Year's to ensure good fortune in the coming year. We're not big into superstitions, but this is one we usually partake in. It's not that we necessarily think it will make a difference, but because its just good food.
First, let's talk about tofu a little bit. Tofu often gets a bum rap and I can only assume it's because of poor preparation. If you're unfamiliar with tofu and it's qualities, it's not difficult to end up with a less than appetizing bite. So, lets get aquatinted, shall we?
There are two things about tofu that make all the difference when it comes to achieving the best results, the taste and texture. And yet these are the two things a lot of tofu newbies get wrong.
The most wonderful quality of tofu is it's ability to soak up flavor. Unseasoned tofu is quite bland and not the most enjoyable, but add the right combination of spices and suddenly that blank slate is anything but. Marinating is a great way to infuse a lot of flavor in tofu just press the water out of it, and coat with spices, but don't add oil. Because tofu still contains quite a bit of water even after pressing and oil and water don't mix, the spices will not penetrate the block and it will still be flavorless.
The next complaint I hear most often about tofu is the texture. Tofu comes in a wide variety of textures from silken, which is smooth and great for smoothies and sauces to firm style and what I use most often, super firm. Super firm or extra firm has a toothier bite that I have found of the people that I know, to be more appealing. But, this is up to personal preference and what you're trying to accomplish of course, so it may take a little experimenting to figure out what you like best for what type of application.
The best cooking method for tofu depends greatly on the final product you're after, but if you keep in mind that you must add flavor and pick a suitable texture, you hardly ever go wrong.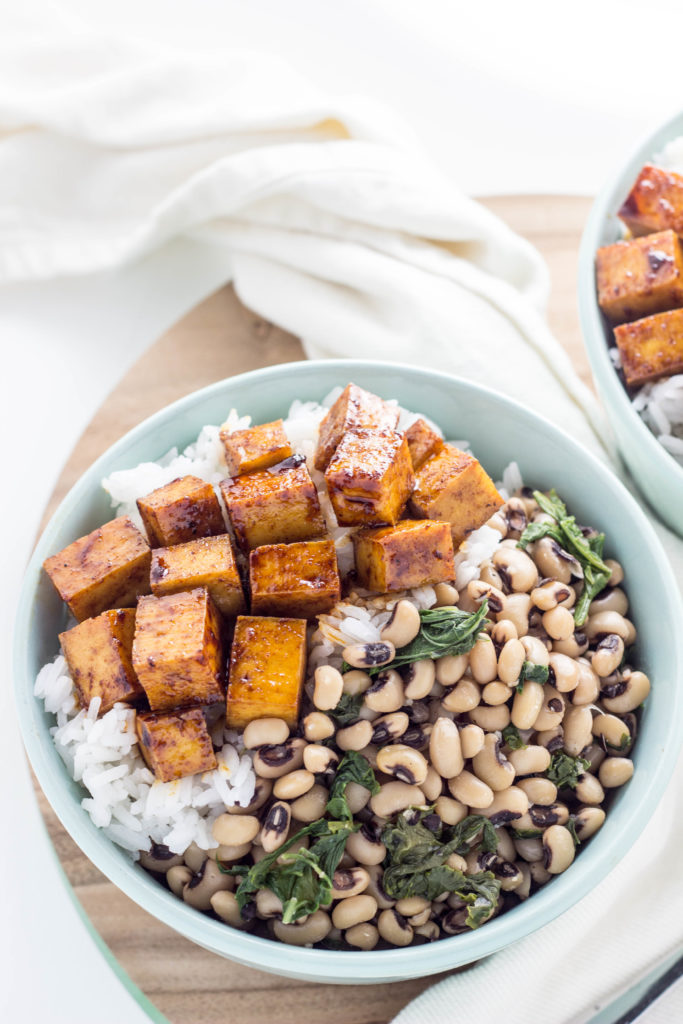 So, I know we talked about marinating the tofu to get some flavor going, but for these Smoky Baked Tofu Black Eye Pea Bowls we're going to go a little bit of a different route. Since we're after a crispier texture we're going to simply press out the water by wrapping in a towel and placing something heavy on top like a cast iron skillet for about 20 minutes or look for pressed tofu ready for cooking. I found some on a recent shopping trip and it has totally changed things up for me!
After pressing the tofu, cut into small cubes, and it goes right into the oven. The goal here is to have the tofu as dry as possible to get nice crisp edges. If its marinaded before baking with liquids like soy sauce or vinegar the crispness is not going to happen.
Once the tofu is nice and crisp, the next step is to get some oil heating up with all the spices for a few seconds. This is called blooming the spices and helps to enhance their flavor and since the goal is to make super flavorful tofu this really helps. After the spices have toasted add the tofu, toss to coat and let the sauce thicken a bit. The result is a very flavorful, crispy tofu that our whole family loves. Yes, this has the approval of all three little ones and the hubby!
Serve this tofu and black eye peas up with any grain you like, we went with jasmine rice and you've got a hearty, satisfying dinner bowl. Because everyone knows bowls equal a whole belly of yum, am I right?
More ways to fall in love with tofu:
Grilled Tofu Summer Veggie Salad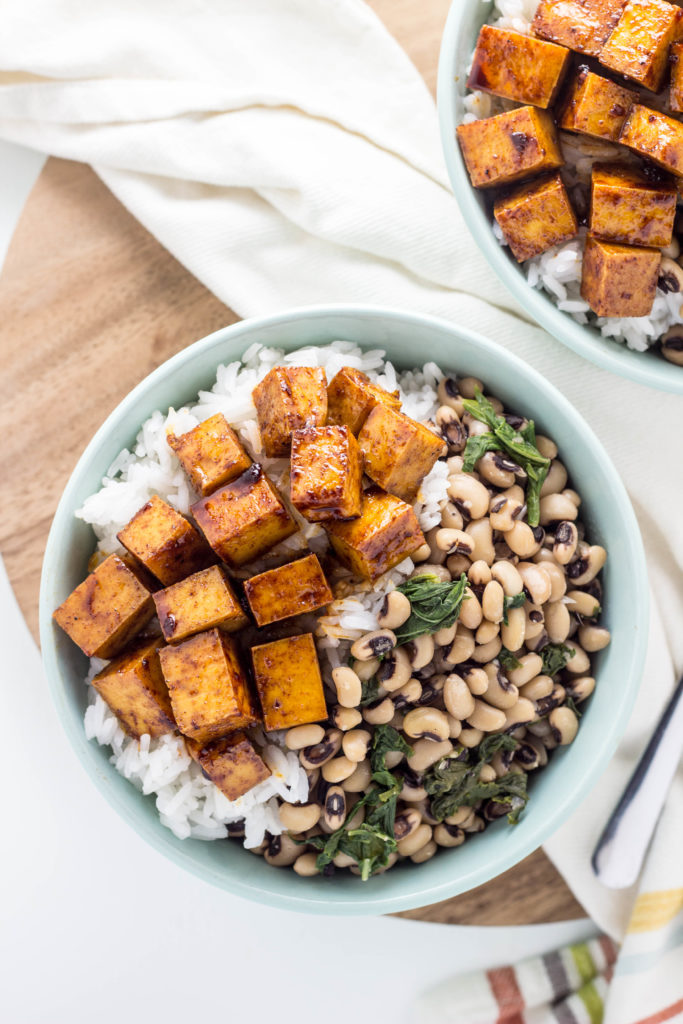 If you try this recipe, let me know how it turns out! Leave a comment below or snap a pic and tag it @weelittlevegans on Instagram so I'll be sure to see it!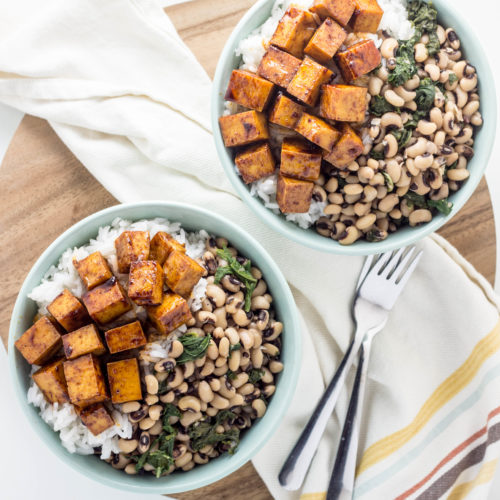 Smoky Baked Tofu Black Eye Pea Bowls
Ingredients
Tofu:
16 oz

super firm tofu

pressed and ready to use if you can find it.

1

tablespoon

olive oil

1

tablespoon

maple syrup

2

tablespoon

soy sauce

1

tbsp

apple cider vinegar

1

teaspoon

liquid smoke

1

garlic clove

¼

teaspoon

paprika

¼

teaspoon

black pepper

1

teaspoon

chili powder
Black Eye Peas:
12

oz

black eye peas, presoaked, dried, or canned

1

tbsp

olive oil

3

cups

kale, spinach, or collard greens

washed and chopped

1

tsp

liquid smoke

salt and pepper to taste

1

cup

rice or other grain
Instructions
To prepare tofu:
Preheat oven to 350 degrees and line a baking sheet with parchment paper. Set aside.

The tofu I used comes pressed and vacuum packed so its ready to use right away, but if your tofu is not follow these steps to prepare it. Drain water from tofu and wrap in paper towels or a lint free kitchen towel. Press as much water out of tofu as possible by placing a heavy skillet on top and let sit for about 20 minutes.

Once tofu is drained and pressed cut into cubes about 1 inch in size. Place on baking sheet and bake for 30-35 minutes, flipping after about 15 minutes. Continues to bake until edges are crisp. Set aside.

In a deep skillet add oil, maple syrup, soy sauce, apple cider vinegar, liquid smoke, and seasonings. Heat over medium heat just until fragrant, this should take less than a minute. Add baked tofu and toss to coat. Continue to cook stirring occasionally until sauce has thickened.

While tofu is baking prepare black eye peas and rice or preferred grain according to package directions.
To prepare black eye peas:
Prepare black eyes depending on type used. For dried you will need to soak ahead of time and then cook unsalted according to package directions. For canned simply drain and rinse. I used presoaked so I cooked unsalted for around 30-40 until still firm but tender.

Heat oil over medium heat in a medium pot. Add desired greens and a dash of salt and pepper. Cover and steam for 3-4 minutes until slightly wilted.

Add drained black eye peas to greens and stir to combine. Add liquid smoke and additional salt and pepper to taste. Cook for 1-2 minutes longer until heated through.

To assemble spoon rice in bowl and top with tofu. Add black eyes and greens and enjoy!