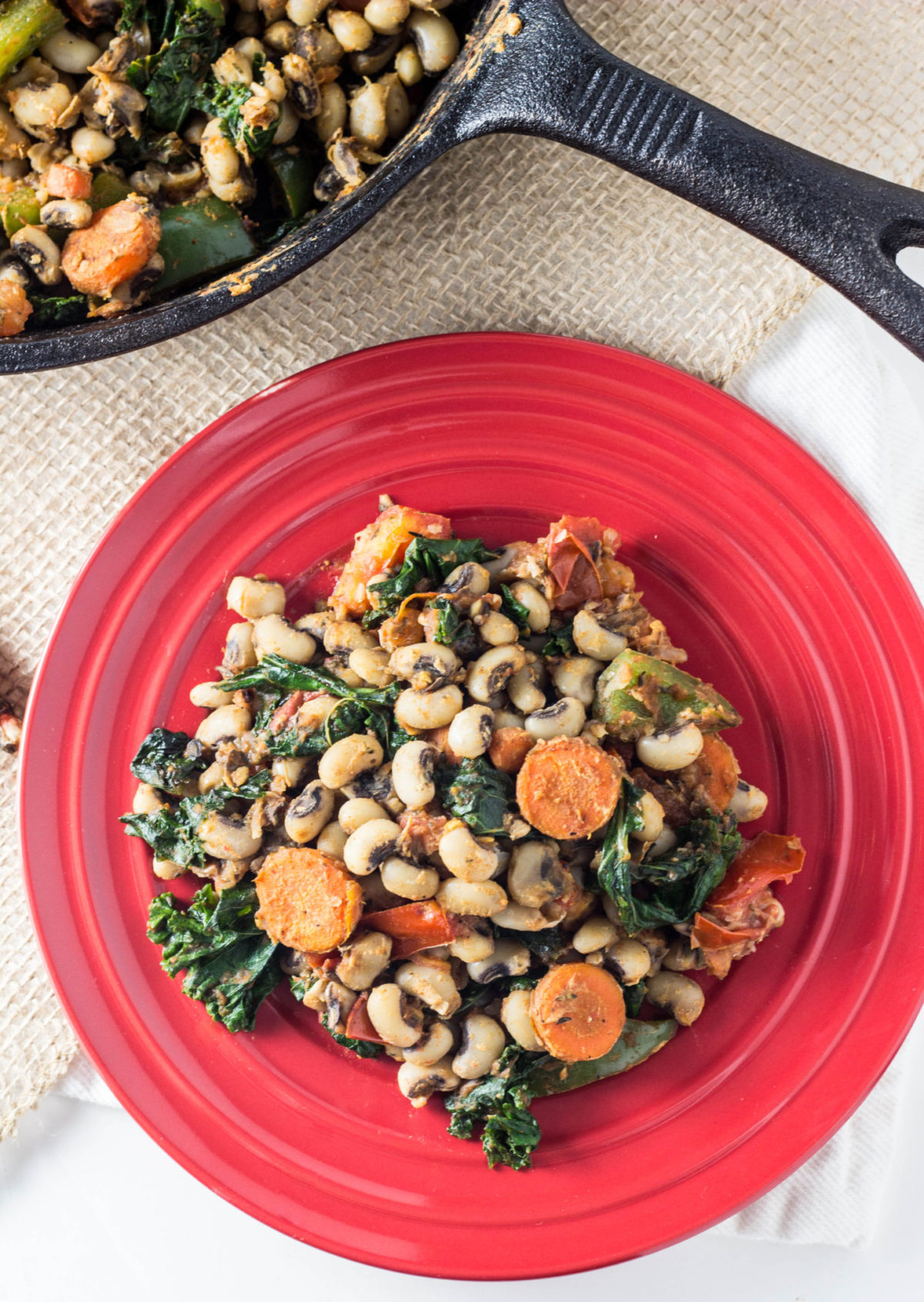 Hello, hello.
It's been such a long time.
You might have even thought I just disappeared, but rest assure I have not.
In fact, I have some pretty exciting news to share. Our little vegan family is expanding with the arrival of our third child next year! So, the reason behind my lack of blogging is simply that the morning, no make that all day sickness, pretty much took over. Since, even the thought of food brought on the waves of nausea and vomiting, cooking and creating new recipes wasn't happening. If you've ever experienced morning sickness or even a stomach bug, I'm sure you can relate. Not fun at all! Anyway, moving into the second trimester has relieved most of that and I'm so ready to get back in the kitchen and to a more regular posting schedule.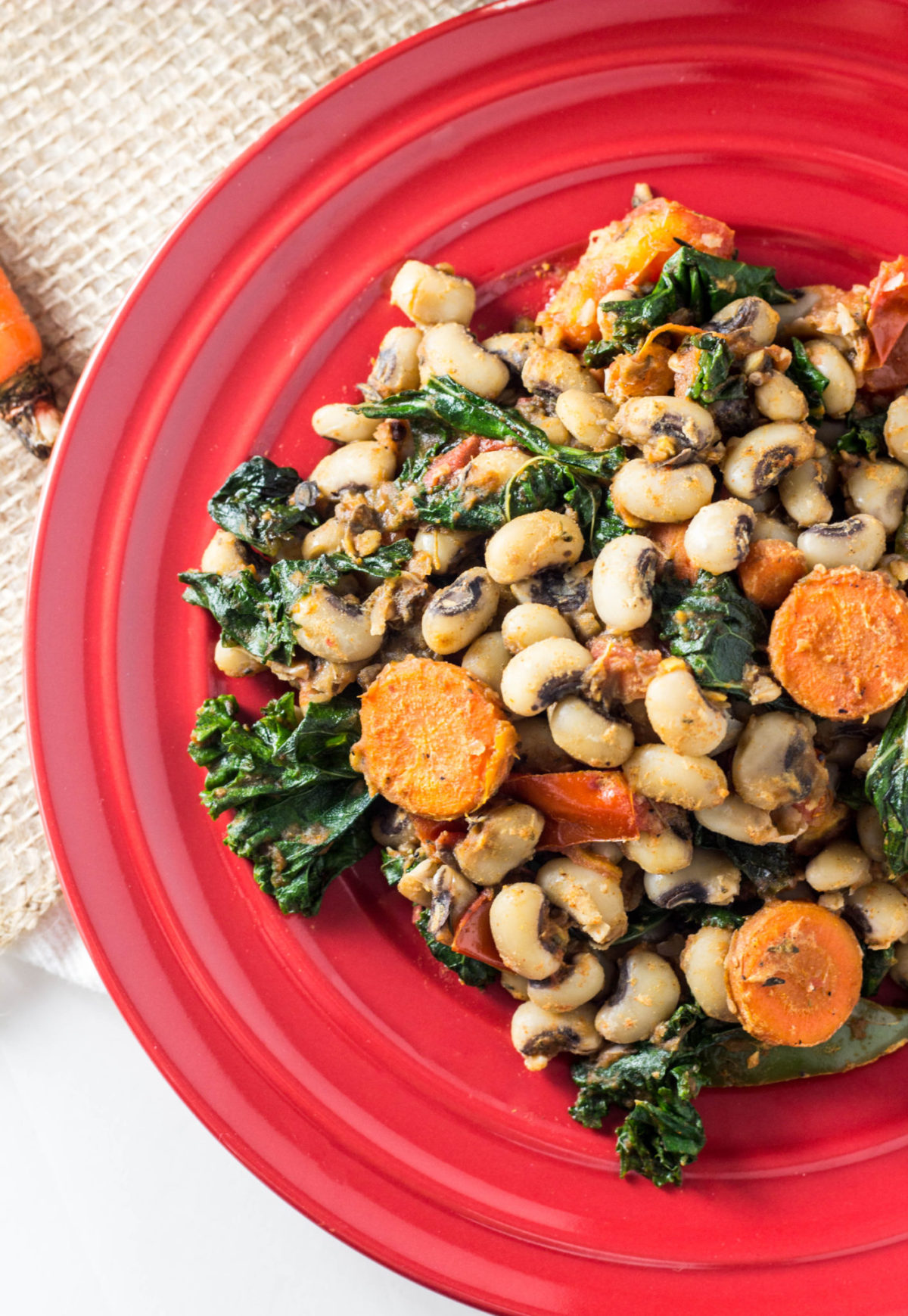 So, this recipe is a little last minute for New Year's I know, but I promise this Black Eyed Pea Hash is super simple to whip up with minimal ingredients and effort.
I've never been one for New Year's traditions or superstitions. I don't make resolutions or eat any particular food for good luck or any of that. However, when my other half brought home a bag of dried black eyed peas from his recent solo trip to the grocery store and very kindly requested I make something for him with them, I figured why not partake in a little southern holiday tradition. And who knows, maybe it really will bring good luck and wealth in the new year. In case you're not familiar it's common for southerner's to eat black eyed peas, which are said to represent coins and collard greens to represent money on New Year's Day. This ensures good luck and prosperity in the coming year. The usual method involves a ham bone and honestly comes out looking a bit bland and colorless. Not at all appetizing to me, so for my version of course the ham bone was out and I wanted to liven the dish up with some colorful veggies and yummy spices. The resulting Black Eyed Pea Hash was enjoyed by the whole family.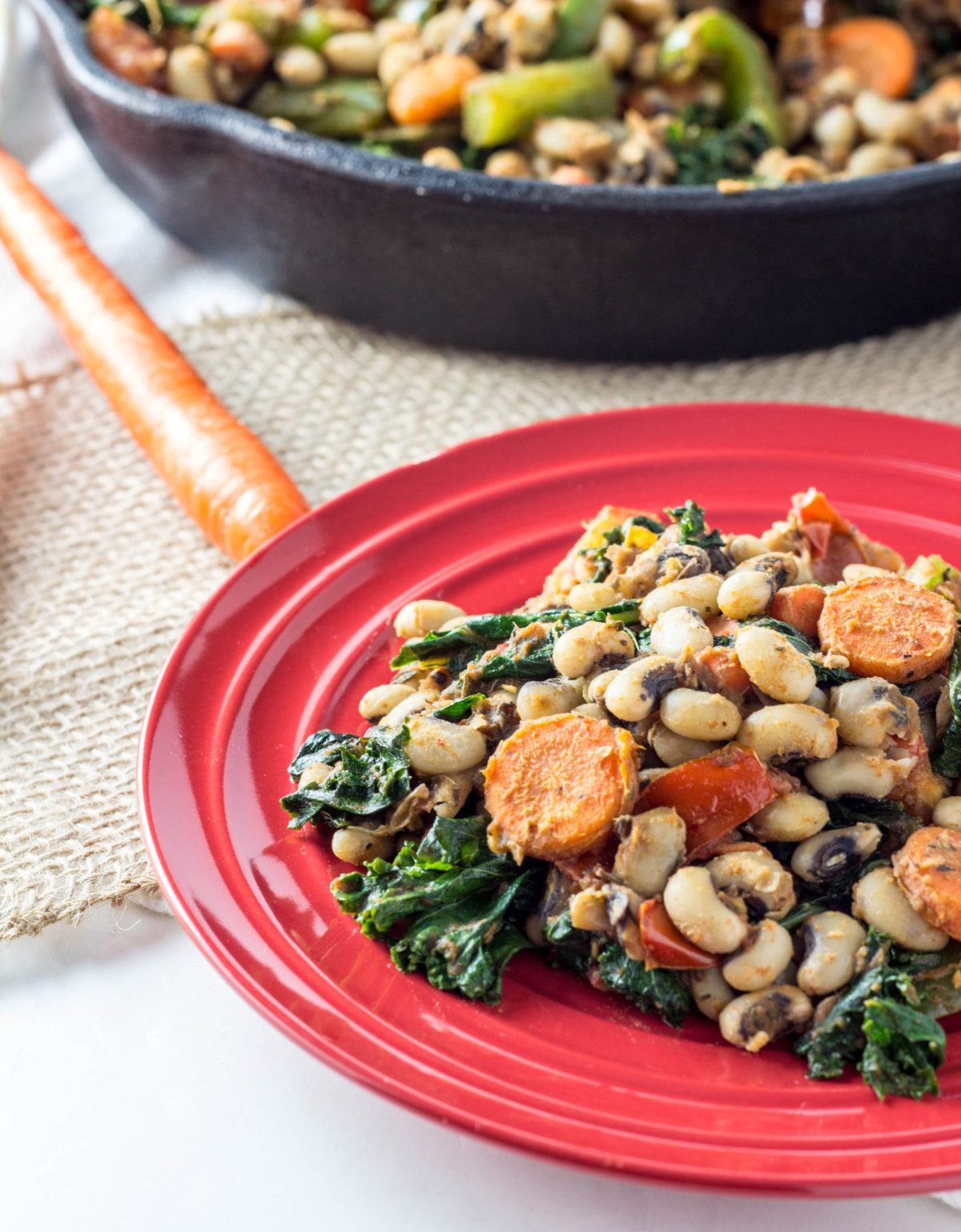 This dish is super simple to make and comes together in under 30 minutes plus it's hearty and satisfying. Eat it as is or serve with rice, stuffed in a baked sweet potato, or with my Oil Free Skillet Cornbread.
If you try this recipe, let me know how it turns out! Leave a comment below or snap a pic and tag it @weelittlevegans on Instagram so I'll be sure to see it!
Black Eyed Pea Hash
A quick and simple one skillet hash made with black eyed peas, kale, carrots, and tomatoes. Perfect for New Year's.
Ingredients
12 oz

black eyed peas

½

small onion, diced

½

bell pepper, chopped

1

carrot, chopped

2-3

garlic cloves. minced

2-3

tomatoes diced

2

handfuls kale or another green, torn

1

tablespoon

olive oil

1

teaspoon

thyme

11/2

teaspoon

smoked paprika

dash of cayenne pepper

optional

salt and pepper to taste
Instructions
Heat olive oil in a skillet over medium heat.

Add garlic, onion, pepper, carrot, and kale. Saute' for about 3 minutes until slightly browned and kale has wilted.

Add black eyed peas, tomatoes, and spices. Carefully toss to combine and heat for a few minutes longer. Taste and adjust seasoning.

Serve with cornbread, rice, or stuffed in a baked sweet potato.
Notes
I used quick cook black eyed peas I found in the produce section of the grocery store. I cooked them for about 10 minutes per the instructions on the package while I chopped the veggies. You can use dried peas, just soak and cook fully and drain before adding to skillet. Canned peas would work as well. Just drain and rinse before adding to the skillet.