Vegan Apple Cinnamon Flapjacks - a simple healthy on-the-go breakfast or morning snack. Made with just 10 ingredients in the food processor.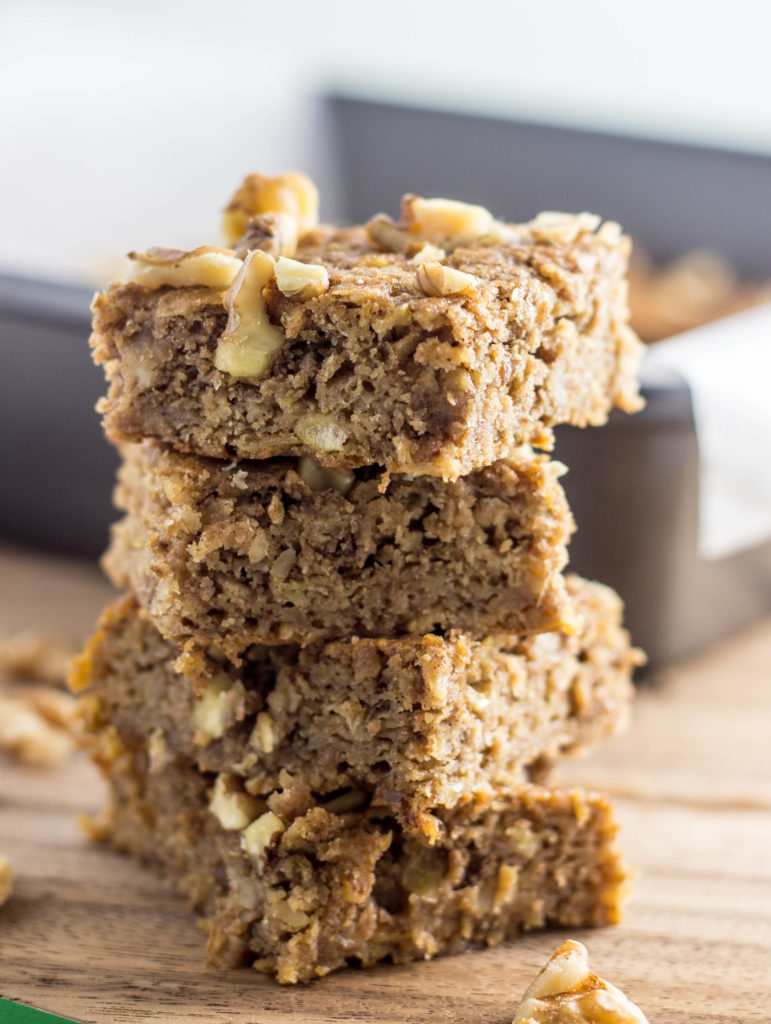 It's time for a vegan remake!
I love to prove that any recipe can be made vegan with just a few simple swaps and it will still taste amazing. So, when I saw this recipe for flapjacks from House & Garden, I set out to make a vegan version that's equally delicious. With just a few adjustments, these Vegan Apple Cinnamon Flapjacks were baked up to golden perfection and totally hit the spot. Absolutely scrummy! to quote the queen of British baking, Mary Berry.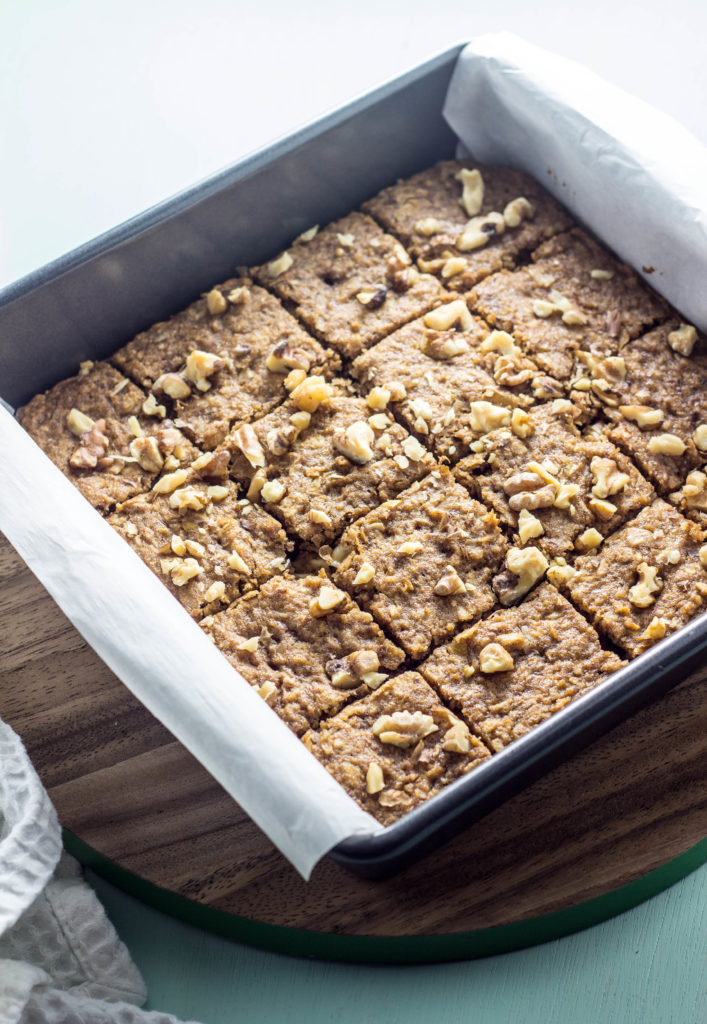 For those of us in North America, the word flapjacks conjures up images of golden, fluffy stacks of pancakes cooked on a hot griddle and drizzled with maple syrup. In the UK, however, flapjacks are actually a baked oat bar often served with honey. Both are of course delicious, but today we're going with the baked British flapjack.
While there seems to be some variation in how flapjacks are made, there are a few things consistent among all recipes - oats, butter and golden syrup and/or brown sugar. Some recipes use no flour resulting in a chewy, dense almost cookie like bar while others have flour producing a softer, more cake like texture. This recipe is the later and also incorporates apples for an added boost in flavor and nutrition. Be sure to use apples you would eat for best flavor.
The changes I made are swapping the self rising flour for whole wheat for more nutrition, which makes it necessary to add baking powder for proper rise. The eggs are also omitted obviously and replaced with ground chia seeds. Ground flax seeds would work as well. And because apples and cinnamon are the perfect match, I also added a bit of this as well. I used walnuts because that's what I had on hand, but you can use pecans as the original recipe calls for or omit the nuts entirely.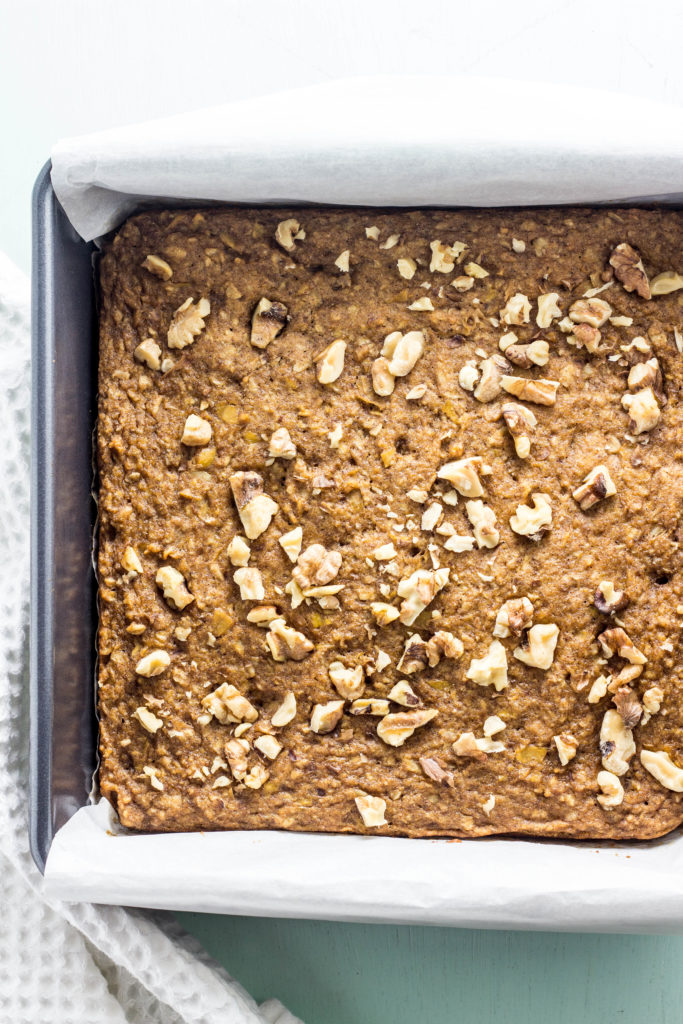 This is a pretty simple, straight forward recipe only requiring a food processor. Just be sure to follow the order the ingredients are added and you won't have any trouble. From there, it's just transferring the mixture to a pan and popping it in the oven for roughly 25 minutes until golden brown. Simple.
The family loves these and we've been enjoying them as an afternoon snack. They're also healthy enough to enjoy as an on the go breakfast or mid morning snack too.
More oat bar recipes to try:
Vegan Blueberry Oatmeal Crumb Bars
Vegan Apple Butter Oatmeal Bars
Spiced Pumpkin Butter Oat Bars
Banana But Chocolate Chip Oatmeal Squares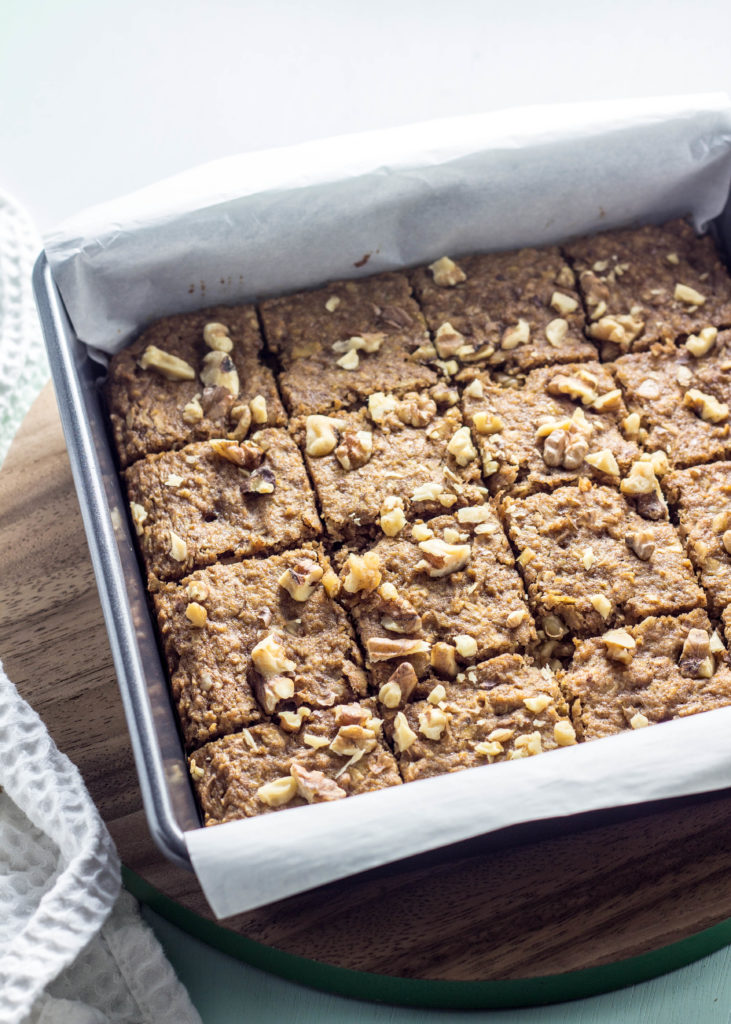 If you try this recipe, let me know how it turns out! Leave a comment below or snap a pic and tag it @weelittlevegans on Instagram so I'll be sure to see it!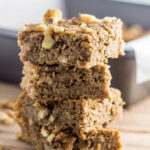 Vegan Apple Cinnamon Flapjacks
Ingredients
2

apples, cored and roughly chopped

Use apples for eating.

¼

cup

graspeed oil or coconut oil

½

cup

coconut sugar

¼

cup

old fashioned oats

¼

cup

chopped walnuts or pecans + more for topping

¾

cup

white whole wheat flour

2

tablespoon

ground chia seeds

¼

teaspoon

salt

½

teaspoon

cinnamon

1

tablespoon

baking powder
Instructions
Preheat oven to 350 degrees. Line a 9 x 9 pan with parchment paper. Set aside.

Place apples in food processor and pulse until small pieces.

Add oil and sugar and blend together for 20-30 seconds. Add remaining ingredients, pulse just to combine.

Transfer mixture to prepared pan and spread in an even layer. Top with additional chopped walnuts or pecans, if desired.

Bake for 25-30 minutes, or until golden.

Allow to cool completely in the pan. When cool, lift out by parchment paper and cut into 16 squares.

Store in air tight container for up to 4 days