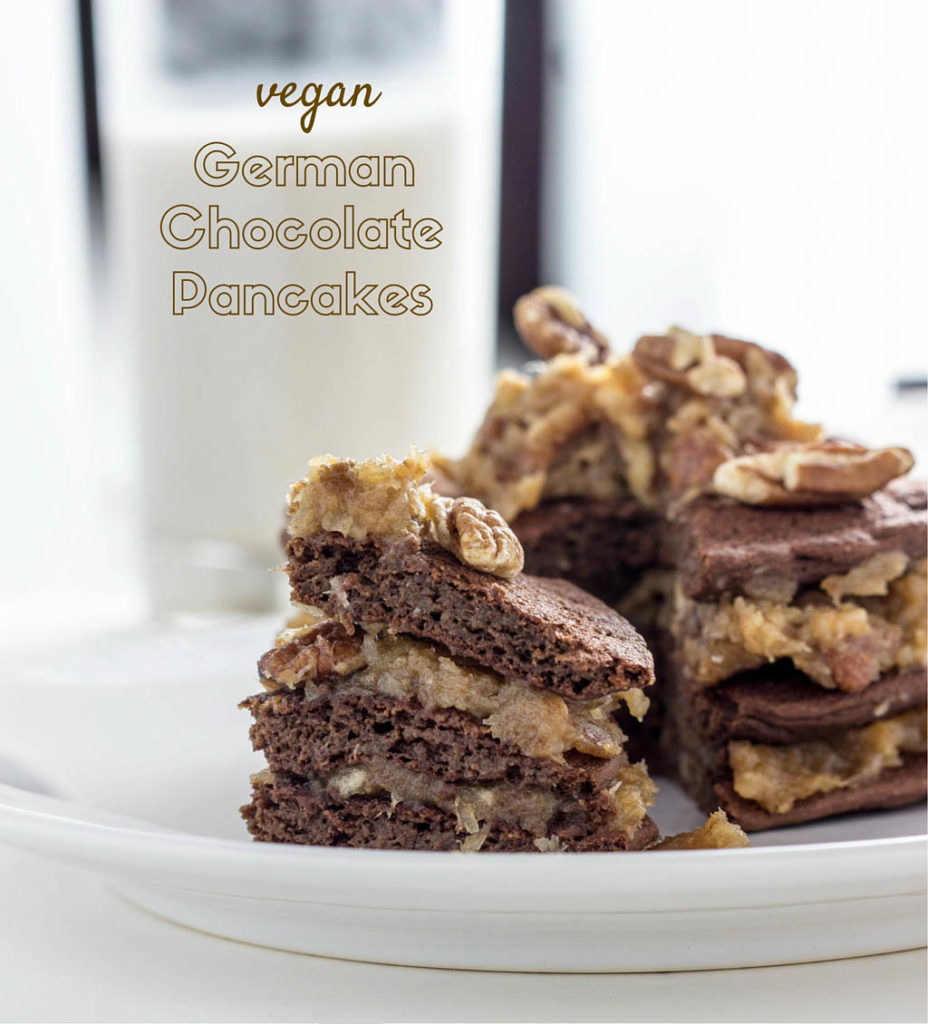 Today is a special day for me because it is the 1 year anniversary of this blog. Happy Blogoversary! I can't believe how fast time has gone by. Really, it doesn't seem like it has been a whole year since the very first recipe went up on this space of mine. I guess it's true, time flies when you're having fun.
One area that I think is lacking a bit on this blog is that personal touch, a piece of me. I've really avoided sharing too much about myself. So, I thought it would be fun to share some facts about myself today.
1 I will be 32 years old next month. That makes me a libra and I am pretty much the very definition of it.
2 I went vegetarian at 14 years old.
3 I married my best friend 8 years ago and we have two daughters. The oldest is 6 and the youngest is 4. I won't share their names or pictures because the internet is full of creeps.
4 I am a stay at home mom, housewife, homemaker or whatever you want to label it. Personally I hate them all. I am so much more than a wife or mother, and I certainly don't scrub toilets all day long so none of those terms really work for me. My focus may be first and foremost on my children, but I still make time for the other pursuits I enjoy like reading, arts and crafts, and exercise.
5 Before the kids I worked in retail management, something I think everyone should have to do at some point in their life. You will definitely have a new found understanding and appreciation for what those people go through.
6 I read the news daily even though much of it is depressing.
7 We live in the same neighborhood my husband lived in as a teenager. His mom and step dad still live in the same house one street over from us.
8 I prefer 80's new wave to any other type of music. Some of my favorites being The Smiths, David Bowie, Joy Division, New Order, Depeche Mode, The Cure, The Church, R.E.M, and Echo and The Bunnymen.
9 I shared my home with a beautiful black bunny I named Ekco when I was younger.
10 I know way too many Taylor Swift songs thanks to my 6 year old.
11 My favorite movies are The Wedding Singer, A Bucket of Blood, Fried Green Tomatoes, and pretty much anything by Tim Burton. Edward Scissorhands, in particular is one of my favorites because part of the movie was filmed where I live.
12 I'm a dog person, which is great for my husband since he is allergic to cats. I currently have one little dog companion, an adopted Shih Tzu named Chloe. We very recently lost our little boy Romeo. I have a special place in my heart for the older dogs and now dogs with special needs. Chloe is also older and special needs as well. She is prone to bladder stones and is on prescription food to prevent them. When my heart has healed from losing Romeo I will most likely adopt another older dog.
13 I have a hybrid car, my most favorite of the cars I have owned.
14 I love yurts! I hope to one day live in one.
15 I love the smell of coffee, but hate the taste. I drink tea instead.
16 I wish chocolate was a legitimate food group. Ok, that one is probably obvious.
17 My favorite brand of shoes is Sanuk. The most comfortable shoes ever and they last so long.
18 My favorite food is pancakes hence today's recipe.
So, there you have a few facts about me. I hope you enjoyed reading them and getting to know a little more about me. Now for the real reason you're here…these pancakes.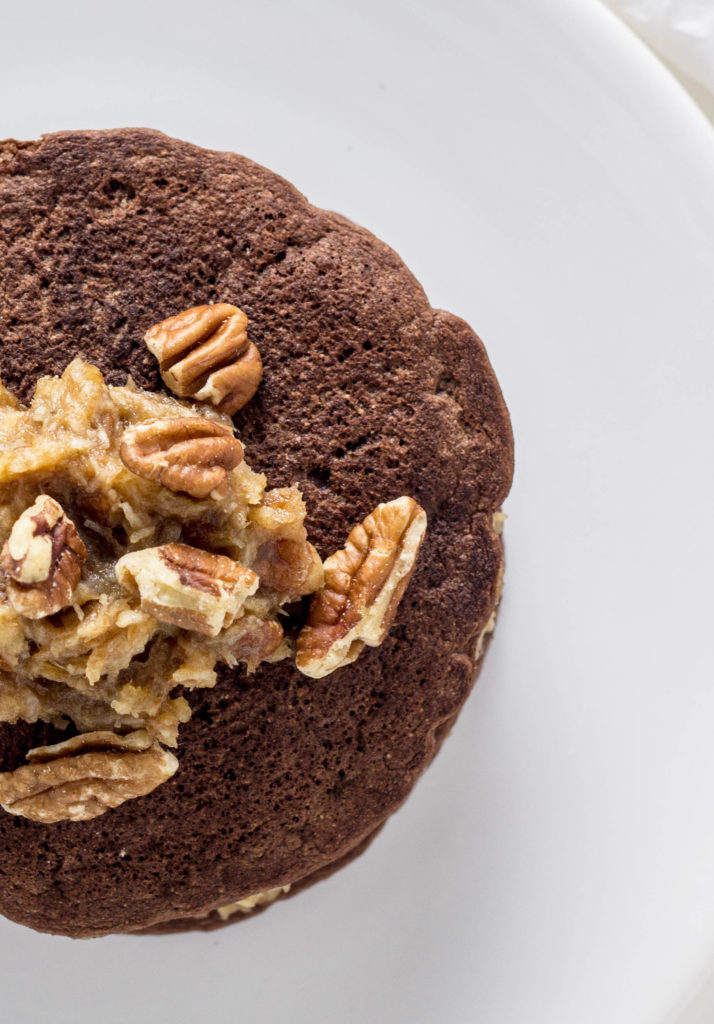 Do you ever get a random craving for something you haven't had in like forever? That was me last week. I suddenly had a strong desire for german chocolate cake. I haven't even eaten it since I was kid. It was never one of those gotta have desserts for me as I generally found it way too sweet, but for some reason the other day I had to have some. Well, I didn't want to wait for a cake to bake and cool so I went with the next best thing pancakes. I also wanted to lose a lot of the sweetness and the refined sugar.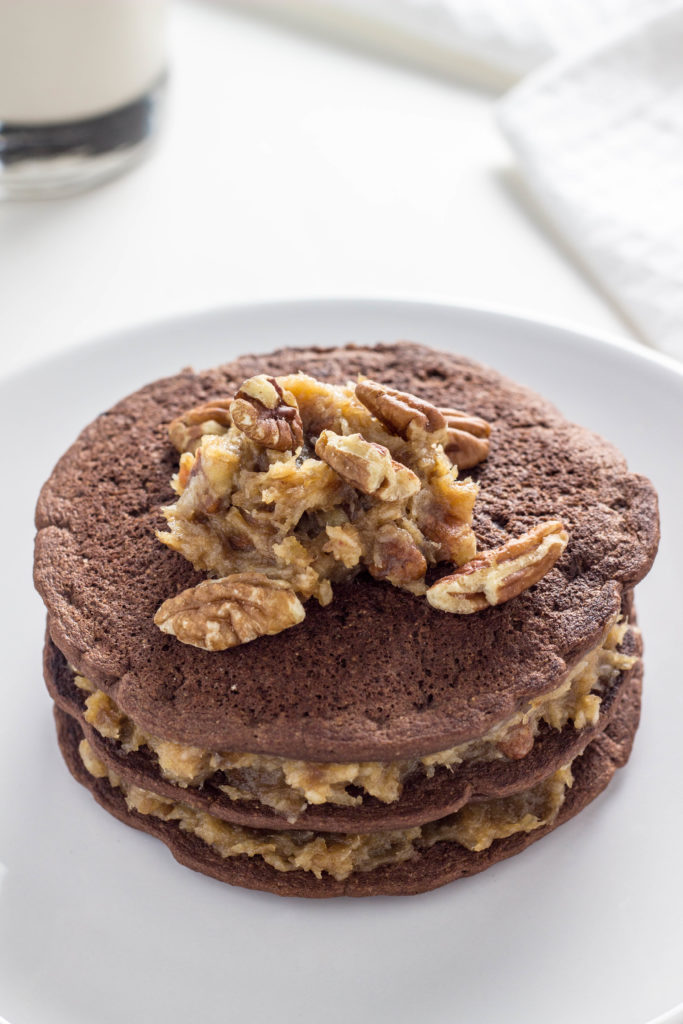 The most important part of any german chocolate cake is that sweet, delicious syrup between each layer. To make it I turned to the amazing date. Blending a cup of dates into paste makes a perfect naturally sweetened gooey filling to go with the shredded coconut and pecans. It takes a lot less time and ingredients than the traditional filling and is much healthier, but still tastes decadent and delicious.
I used minimal coconut sugar in the pancake batter because the topping is so sweet. The pancakes alone are definitely not sweet enough, but with the syrup it's perfect.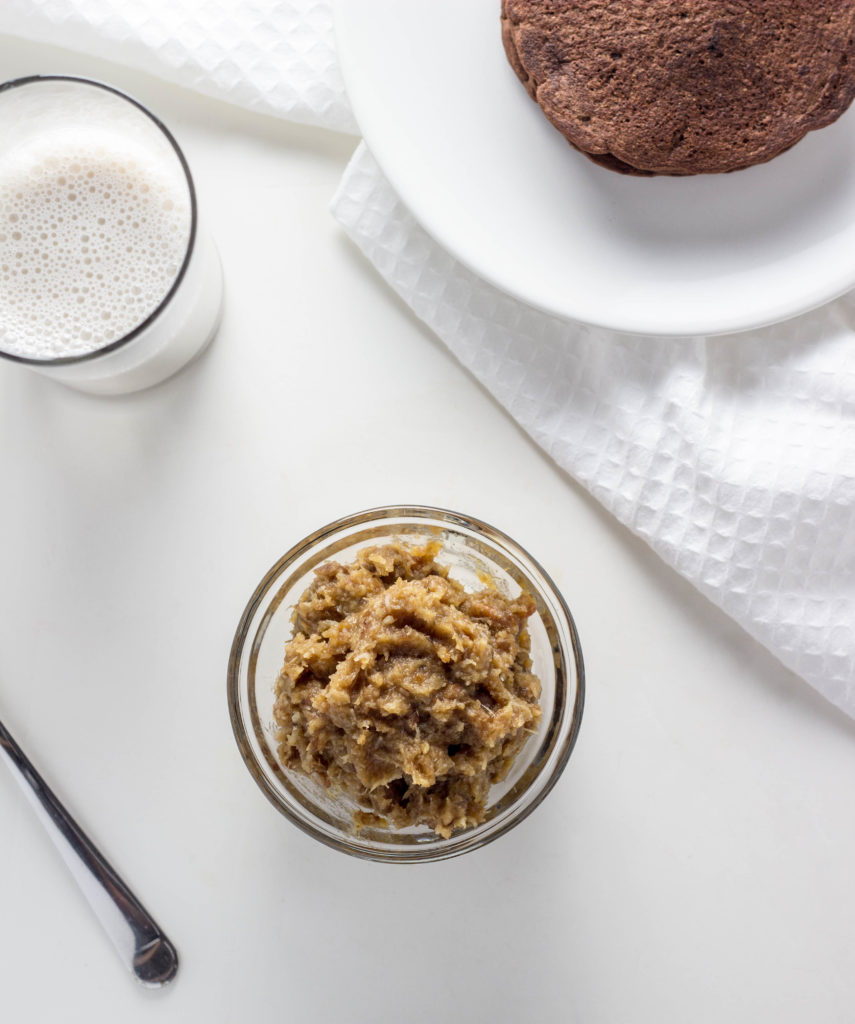 Everyone enjoyed these pancakes including my daughter who swears she hates coconut. And these pancakes filled that odd craving for german chocolate cake for me, all without being totally unhealthy.
If you try this recipe, let me know how it turns out! Leave a comment below or snap a pic and tag it @weelittlevegans on Instagram so I'll be sure to see it!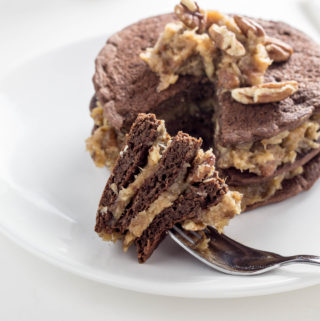 Vegan German Chocolate Pancakes
Ingredients
For the syrup:
1

cup

dates, about 10-12

⅓

cup

unsweetened coconut flakes

⅓

cup

pecan pieces

2

tablespoon

unsweetened plain almond milk

½

teaspoon

vanilla
For the pancakes:
⅔

cup

flour. I used white whole wheat.

⅓

cup

cocoa powder

1

cup

unsweetened plain almond milk.

Warm milk slightly to prevent coconut oil from hardening.

3

tablespoon

coconut sugar

1

tablespoon

coconut oil

1

tablespoon

apple cider vinegar

2

teaspoon

baking powder

1

teaspoon

vanilla
Instructions
For the syrup:
Soak dates in hot water for 15-20 minutes to soften them. Drain water and dump them into bowl of food processor. Blend until broken down and smooth like a paste stopping to scrap down as needed. Water can be addd a tablespoon at a time to help get things moving. Just don't add more than needed.

Transfer date paste to a bowl and add coconut flakes, pecans, almond milk, and vanilla. Stir to thoroughly combine. Set aside.
For the pancakes:
Heat pan or electric skillet over medium-ish. Make sure the pan is hot before pouring batter into pan. Check by sprinkling a few drops of water into pan. It should sizzle and quickly evaporate.

Add apple cider vinegar to milk and set aside for about 5 minutes. It will curdle, this is normal.

Sift together flour and cocoa powder. This is very important so don't skip it.

Add baking powder, salt, and sugar. Stir to combine very well.

Add milk, coconut oil, and vanilla to dry mixture and stir just to combine.

To assemble spread a layer of the syrup on one pancake, stack another pancake on top, and spread more syrup. Continue layering as many as you like.