Try these Vegan Sautéed Apple Yogurt Parfaits for a make ahead breakfast for those busy mornings or a healthy dessert at the end of a long day. Made with just 7 ingredients in about 30 minutes and the whole family is sure to love it!
I'm switching things up today and taking a little break from the seasonal favorite pumpkin to show some love to another autumnal fruit, the apple.
Our family definitely has an obsession with apples and you will almost never find our fridge without at least a few. I think we have somewhere around 10 pounds in the fridge right now. So, naturally these Vegan Sautéed Apple Yogurt Parfaits were a total hit with everyone.
Jump to:
what's in it
This may look like one of those recipes with a ton of ingredients and a million steps, but really it's so simple. You only need 7 ingredients that you may already have on hand and about 30 minutes of time to whip up this delicious treat for the family.
The first step is to make the crumb granola which consists of oats, oat flour, coconut sugar, coconut oil and cinnamon. Back until golden brown and slightly crisp. While the crumb is baking chop apples, heat oil in a skillet and sauté until apples are tender. Add a bit of coconut sugar and cinnamon tossing to coat and caramelize.
The final step is to assemble alternating between the sautéed apples, crumb granola and your favorite non dairy yogurt.
let the kids help
Assembling the jars is a great way to get the kids in the kitchen too. Younger kids will love spooning the components into the jars while older kids may be able to help with cutting apples and occasionally stirring the apples as the cook.
My 8 year old is beginning to express interest in learning to cook and helping to prepare dinners so I'm all about giving her tasks whenever I can. I think it is so important to teach children how to cook and prepare meals so they can develop healthy eating habits that stay with them as the grow and eventually venture out on their own.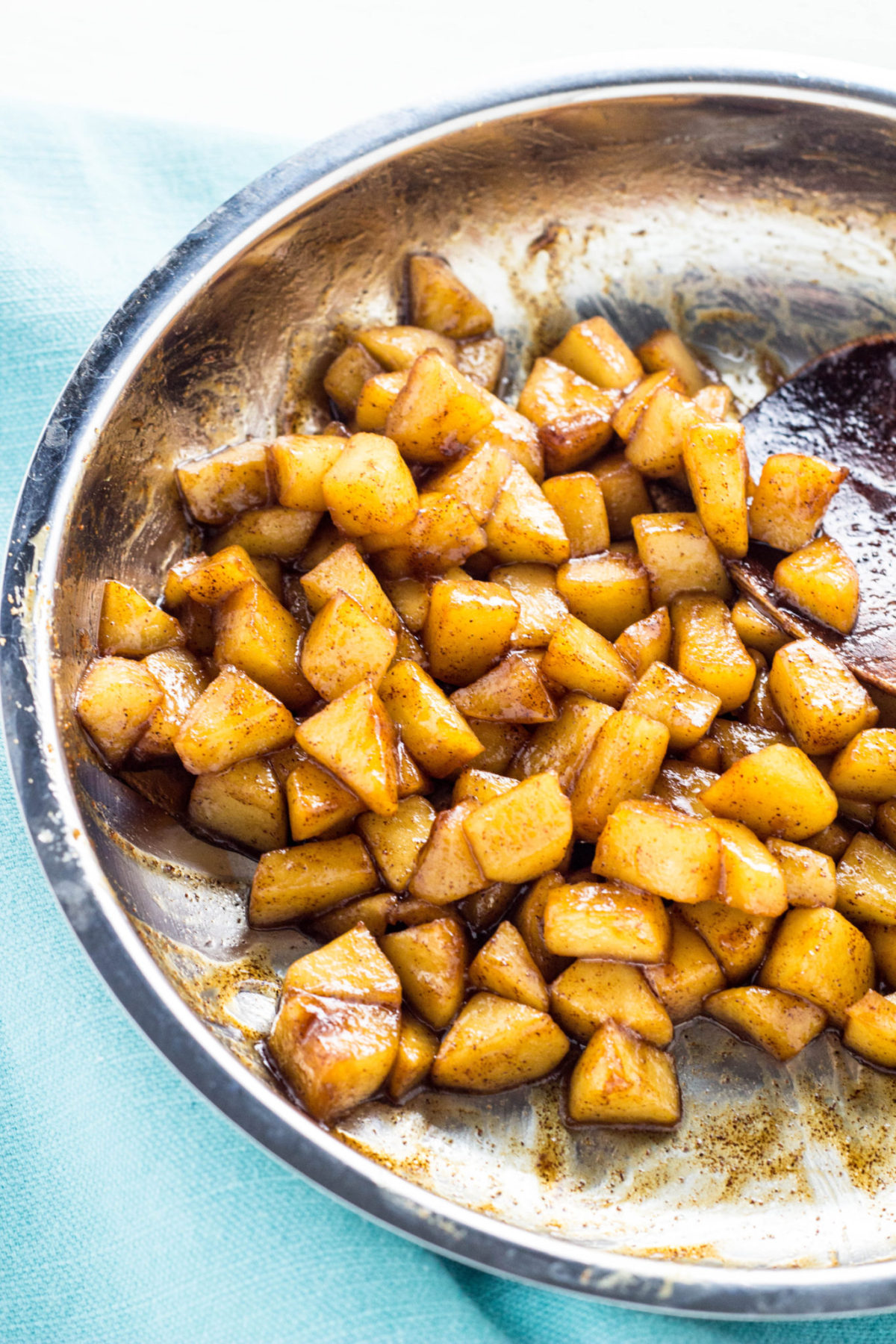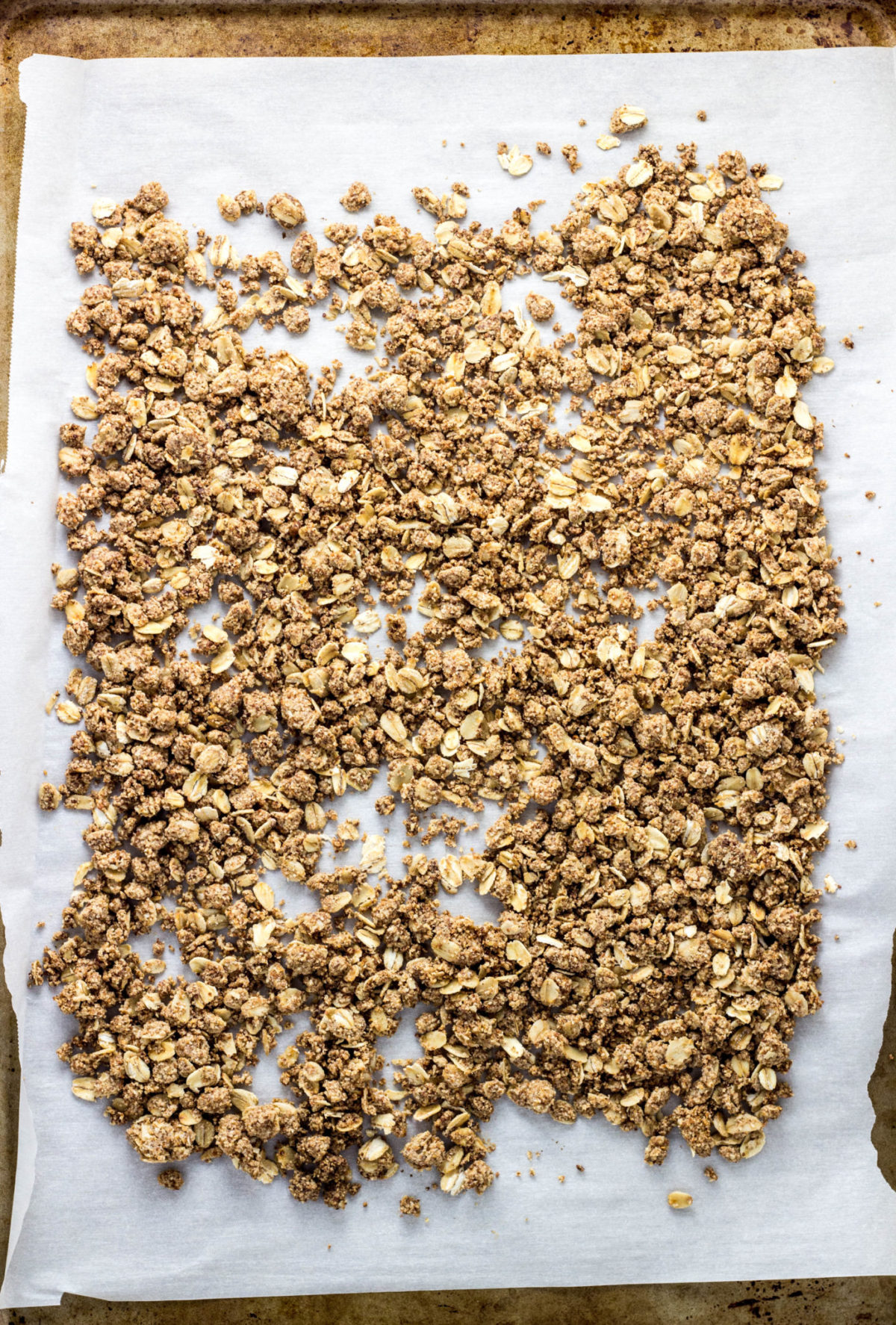 variations
These parfaits can go two ways depending on your choice of non dairy yogurt. For a more dessert like parfait go with a sweetened yogurt. We like vanilla So Delicious coconut milk yogurt for ours. And if you want something a little more decadent still, just skip the yogurt all together and top your favorite non dairy ice cream with the apples and crumb. Yes, I definitely see this ice cream thing happening in the near future for the hubby and me. After the kiddos are in bed. Shhh, don't tell!
But, if you're after a less sweet more breakfast appropriate option, use an unsweetened non dairy yogurt with a sprinkle of cinnamon mixed in. So good!
MY TIP: For a super quick, no effort breakfast make these jars the night before and store in the fridge. Then everyone can just grab a jar and a spoon and dig in! We think they taste even better after sitting overnight to really give the flavors time to meld.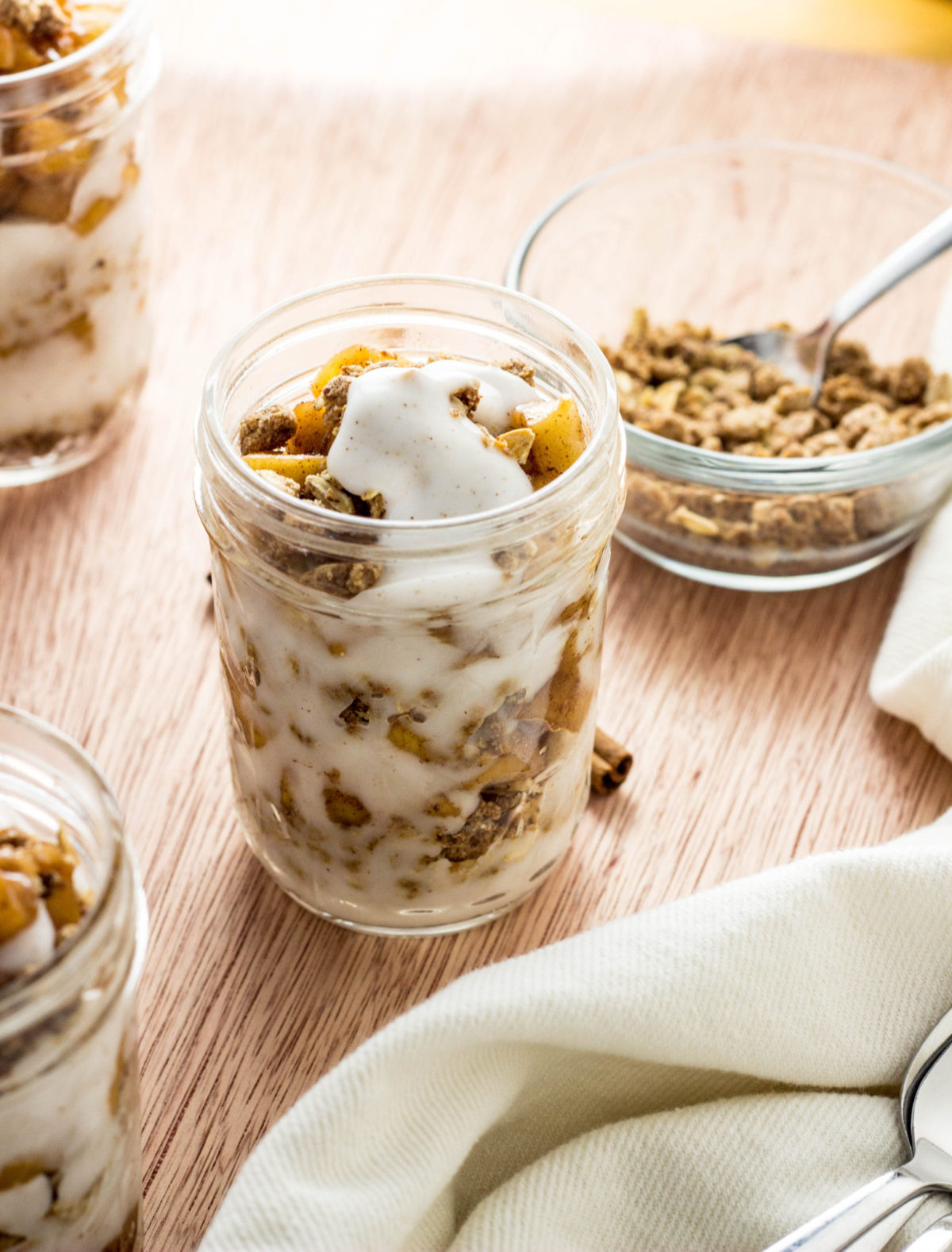 My husband loved these apple yogurt parfaits and declared it his new favorite treat, even going as far as saying he likes it more than nice cream! I know...crazy, right?! I don't know if I'd go that far, but they are pretty delicious and you should definitely make a batch 😉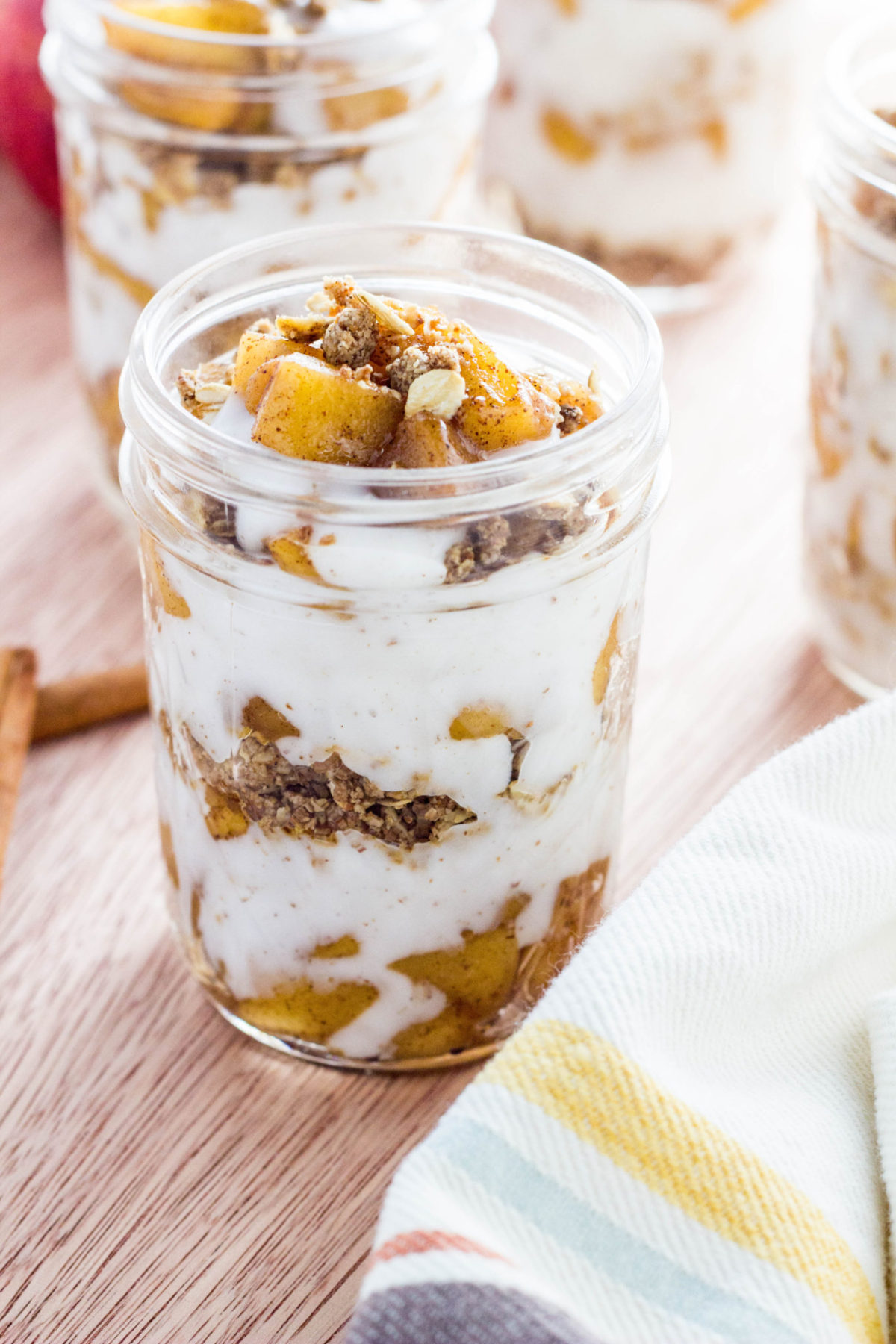 If you try this recipe, let me know how it turns out! Leave a comment below or snap a pic and tag it @weelittlevegans on Instagram so I'll be sure to see it!
Question of the day:
Do you ever sneak treats after the little ones are tucked in for the night?
Vegan Sautéed Apple Yogurt Parfait
Ingredients
2

5.3 oz

non dairy yogurts

sweetened for dessert, unsweetened for breakfast.
Crumb Topping:
1

cup

oat flour

½

cup

old fashioned oats

2

tbsp

coconut sugar

½

tsp

cinnamon

4

tbsp

coconut oil, melted
Sautéed Apples:
4

medium apples. I used galas.

2

tbsp

coconut oil

1

teaspoon

cinnamon

3

tbsp

coconut sugars
Instructions
Crumb Topping:
Preheat oven to 350 degrees and line baking sheet with parchment paper. Set aside.

In a bowl thoroughly combine oat flour, oats, coconut sugar, and cinnamon.

Add coconut oil and stir until everything is moistened and no dry bits remain.

Bake for 15- 20 minutes or until slightly crispy and oats are lightly golden.
Sautéed Apples:
Peel, core, and chop apples into ½ inch pieces.

Heat coconut oil in a large skillet over medium heat.

Add apples and stir to coat. Continue to sauté for 5-7 minutes or until apples have softened and are easily pierced with a fork.

Sprinkle coconut sugar and cinnamon over apples and stir to coat. Continue sautéing for 1-2 minutes longer until sugar has caramelized and apples have reached desired tenderness. Set aside to cool.
To Assemble:
Simply alternate layers of yogurt, crumb topping, and apples however you like.