This Creamy Cashew Spinach Pasta comes together quickly requiring only a handful of ingredients. Simple, delicious, and picky eater approved!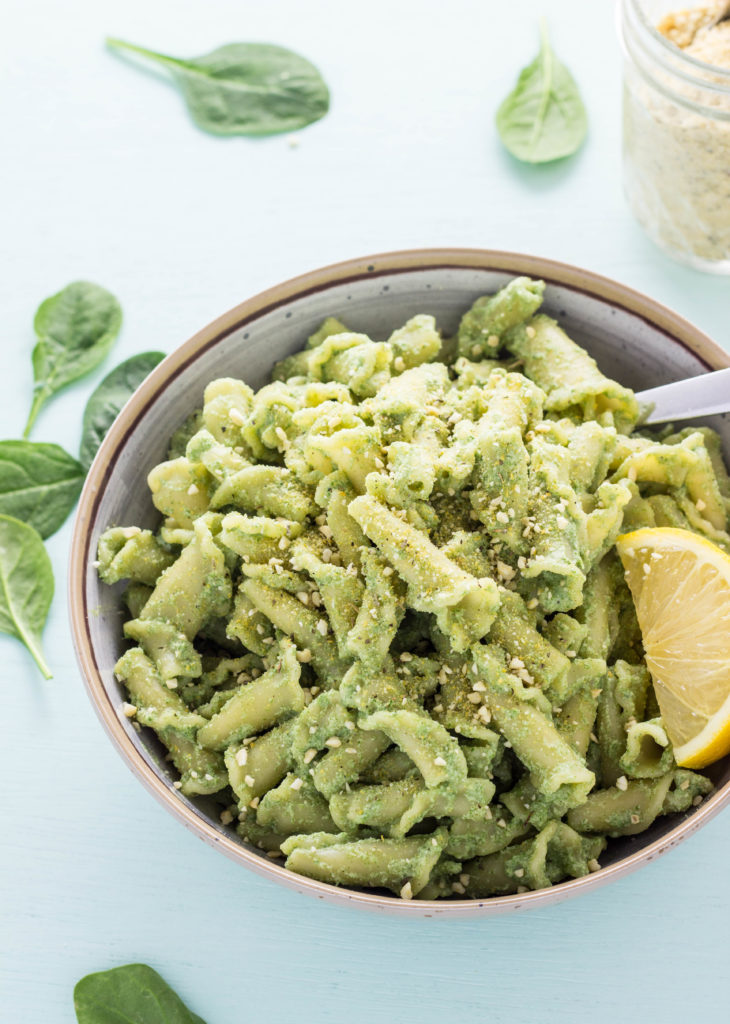 We've had all the signs of spring's arrival-the remaining dead leaves dropped from the trees completely covering the yard, then the pollen rained down coating everything in that familiar yellow hue, followed by a burst of green leaves and life. Flowers were blooming, it was warming up, and we were more than happy. Winter was apparently not and wanted to have another go at everyone bringing crazy amounts of snow for the Northeastern United States and the resulting cold front for us. What gives? This is not typical for Florida and I have to say I'm so not a fan. While we wait for the warm weather to return let's enjoy this very spring inspired (hello, green) Creamy Cashew Spinach Pasta, shall we? 
When my oldest daughter was in preschool, she proclaimed spinach and dark chocolate to be her favorites foods. She would often snack on a bowl of spinach after school followed by a small square of dark chocolate and we thought we were the luckiest parents in the world to not have a picky eater. Well, fast forward to now and that same daughter detests spinach along with a few other foods (quinoa, I'm looking at you). She will eat them because she knows they are healthy, but not without some complaining and I'm not into forcing the kids to eat something just because it's good for them. But, I also know that kids sometimes need to try foods multiple times before they become comfortable with it and preparing it different ways is a great way to do this. So, while spinach salads may be out at the moment, I have found there are lots of other ways that she will gladly eat spinach like this pasta. She loves it!
The spinach is undetectable aside from the color and the cashews add a lovely creaminess that the girls compared to their most favorite mac n' cheese. Everyone gobbled up every bite and requested a second helping, even our toddler who can be funny about pasta sometimes. Yay, we have a winner!
Like a lot sauces made from cashews, this one requires the nuts to be soaked prior to blending the sauce. This is to ensure the cashews are soft enough to blend, but if you forget to soak them I do have a quick soak method for you. Just put the cashews in a saucepan, fill with enough water to completely cover, and boil for about 15 minutes. Cook the pasta while the cashews soften and this meal comes together under 30 minutes. I do this all the time and it always works.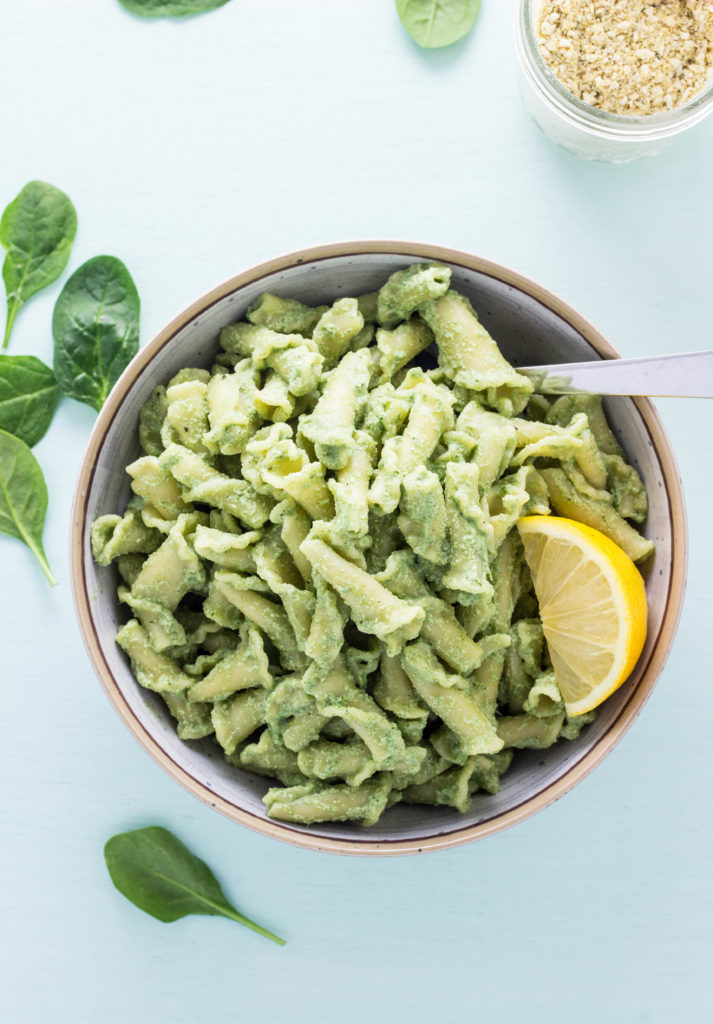 You'll also need a batch of my Vegan Herbed Cashew Parmesan for this sauce, but that's a cinch to whip up and really adds a lot of great flavor. Get all details here.
Since cashews are a good source of healthy fats, I didn't want to add anymore unnecessary fat to the sauce so I sautéed the spinach and garlic without oil. To do this, simple add a little water to the pan in place of the oil and cook as you would normally.
As for the pasta, use what you like. We choose campanelle since it resembles a flower. Perfect for spring don't ya think?!
This pasta is so simple, can be ready in less 30 minutes, and most importantly picky eater approved, perfect for those days when you need something quick and nutritious.
If you try this Creamy Cashew Spinach Pasta, let me know how it turns out! Leave a comment below or snap a pic and tag it @weelittlevegans on Instagram so I'll be sure to see it!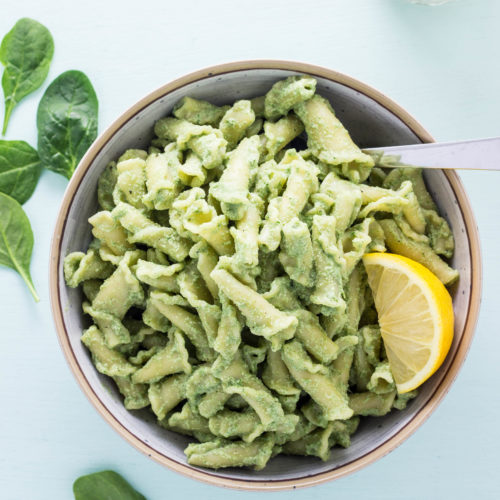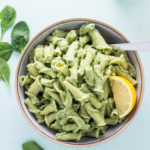 Creamy Cashew Spinach Pasta
Ingredients
16

oz

pasta of choice

I used Campanelle.

½

cup

raw cashews, soaked for 2-4 hours

See below for quick soak method.

2

cups

fresh spinach

2

garlic cloves, minced

½

teaspoon

salt

¼

teaspoon

pepper

2

tablespoon

Herbed Vegan Cashew Parmesan

link below

½ - 1

cup

reserved pasta water

1

tbsp

fresh squeezed lemon juice
Instructions
Cook pasta according to package directions reserving 1 cup of cooking water.

Sauté spinach and garlic using 1 -2 tablespoon of water as needed until spinach has wilted and garlic is fragrant. Add salt and pepper.

In a high speed blender combine drained cashews, spinach, ½ cup reserved pasta water, and herbed vegan parmesan. Blend until smooth and creamy. Add additional pasta water to thin to desired consistency. Taste and adjust seasoning to your liking.

Pour sauce over pasta and toss to evenly coat.

Sprinkle additional vegan parmesan and squeeze more lemon juice over pasta, if desired and serve.
Recipe Notes
To quickly soften cashews: add cashews and enough water to cover to a sauce pan and bring to a boil. Continue to boil for 15 minutes and drain. Continue with recipe. 
Recipe for Vegan Herbed Cashew Parmesan here.