Make toast more than just a side dish with this Gluten Free Vegan Toast served 2 ways - savory mushroom, bean and pea or sweet caramel apple. Perfect for any time of day!
* I received product from Little Northern Bakehouse. All opinions expressed are my own.
Join the toast party! To celebrate National Toast Day on February 23rd, I've teamed up with Little Northern Bakehouse to make toast the star of the plate. No longer relegated to just a breakfast side dish, we're celebrating the versatility and endlessly, delicious possibilities. So today I'm sharing Gluten Free Vegan Toast served 2 ways - one savory, one sweet. Both completely delicious and prove toast is so much more than a sad breakfast side.
I love making a meal out of toast. One of my favorites is this sautéed mushrooms, beans and mashed peas toast with a sprinkle of vegan parmesan. So good! It's hearty, satisfying and jammed pack with flavor and nutrition. If you have little ones who don't care for mushrooms the mashed peas alone are still yummy. You can also simply warm the beans and serve atop the peas without the mushrooms.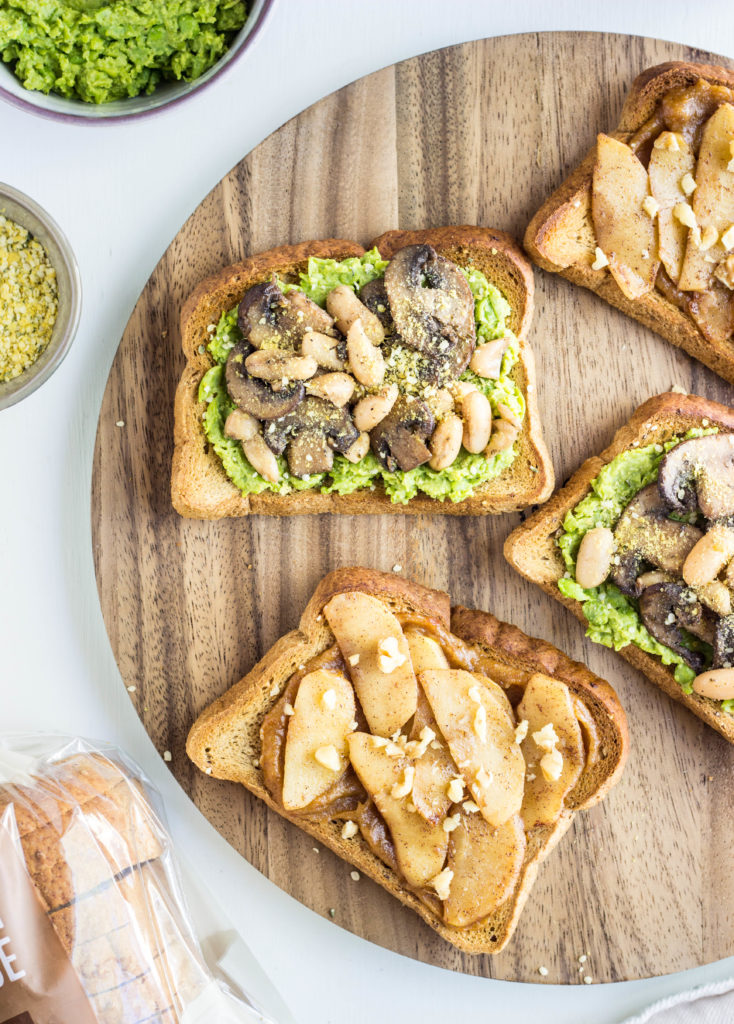 And because sometimes you want a sweet breakfast I also whipped up this simple caramel apple toast made with date caramel and sautéed apples. Naturally, this toast was a huge hit with the kids and since it's fairly healthy I don't mind serving it up for them for breakfast.
So, what do you prefer, sweet or savory for breakfast? Either way you go, both of these toasts are simple to make, ready in under 30 minutes and absolutely delicious.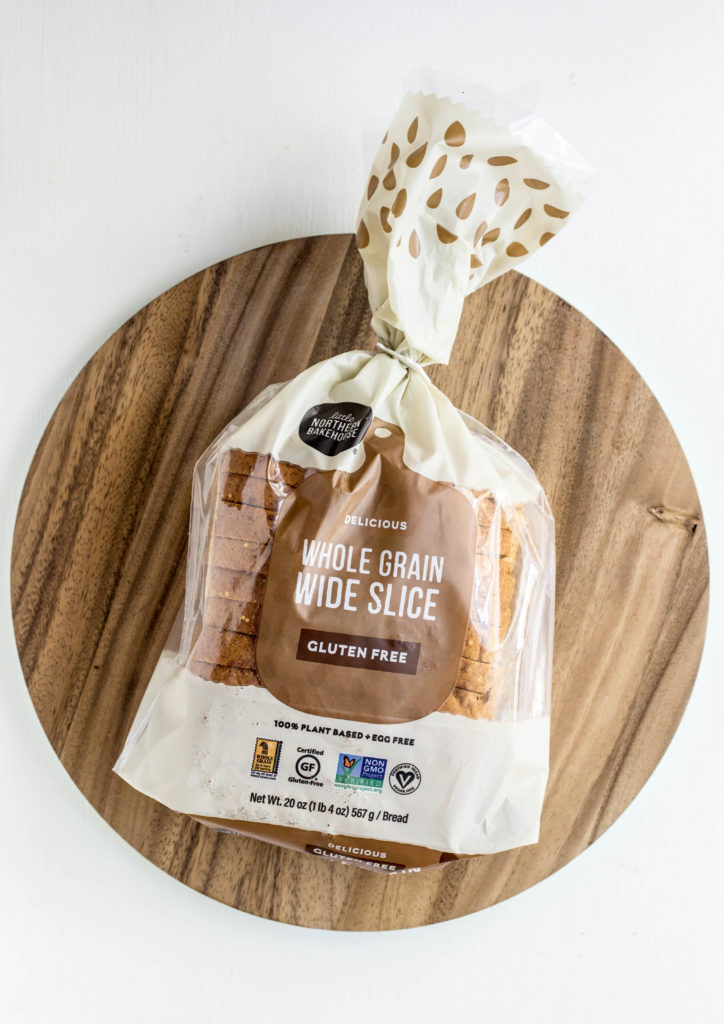 About the bread
Little Northern Bakehouse is dedicated to making healthier, gluten free breads that sacrifice nothing in taste and texture. They offer a variety of products that differ greatly from the options currently available. All products are sourced from gluten free, non- GMO and whole-food ingredients, and include seeds and grains for a delicious boost in nutrition. Many are also 100% plant based and vegan so there is something for everyone.
A major difference between these breads and what's currently on the market, is the fact that Little Northern Bakehouse breads are certified Glyphosate Residue Free and display the Bio-Checked Non Glyphosate Certified seal. This chemical has been classified by The World Health Organization as a "probable carcinogen" or cancer causing.
The full line up includes Whole Grain Wide Slice Loaf, White Wide Slice Loaf, Millet & Chia Loaf, Seeds & Grains Loaf, Cinnamon & Raisin Loaf, Millet & Chia Hot Dog Buns and Millet & Chia Buns. Newly added are the sprouted varieties, Sprouted Honey Oat Bread and Sprouted 7 Grain Bread. These breads offer fluffy, soft texture and great taste with the added benefits of sprouted grains including easier digestion and enhanced nutrition. All products can be found in the freezer section of many natural food stores.
Though we are not a gluten free family, we are big fans of this bread. It tastes great and I feel good knowing it's made with simple whole food ingredients, many are vegan and all products are Bio-Checked Non Glyphosate Certified.
Have you liked @weelittlevegans on Instagram yet? If not, head on over and let's be friends.
And hey while you're there be sure to check out @LittleNorthernBakehouse and enter their sweepstakes for an opportunity to win a $1,000 gift card for "Brunch for a Year!" The sweepstakes runs from 2/14 - 2/22, don't miss out!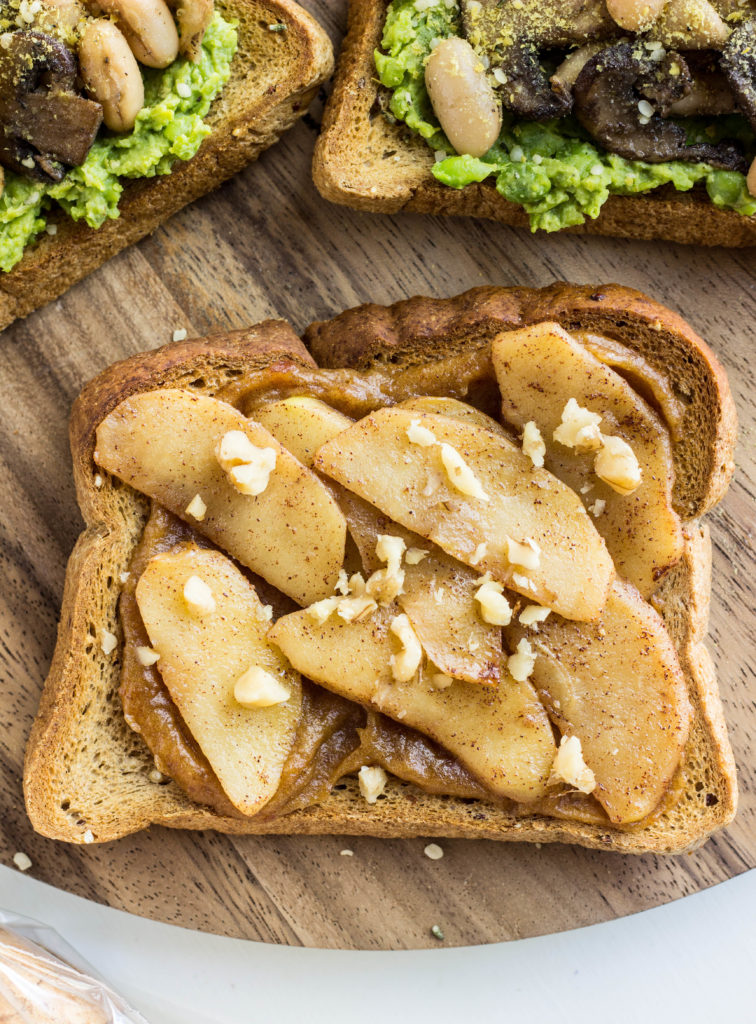 If you try either of these recipes, let me know how it turns out! Leave a comment below or snap a pic and tag it @weelittlevegans on Instagram so I'll be sure to see it!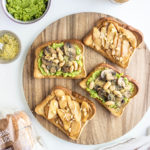 Gluten Free Vegan Toast - 2 Ways
Ingredients
Mushroom, Beans and Pea Toast:
Pea Spread:
2

cups

peas, fresh or frozen

1

tablespoon

olive oil

¼

teaspoon

garlic powder

2

tablespoon

nutritional yeast

salt and pepper to taste

squeeze of fresh lemon juice
Mushroom and Beans:
1

tablespoon

olive oil

2

cups

mushrooms, sliced

I used baby bellas.

½

cup

cannellini beans, drained and rinsed

1

garlic clove, minced

¼

cup

vegetable broth or water

⅛

teaspoon

dried thyme

salt and pepper to taste

4

slices Little Northern Bakehouse Whole Grain Wide Slice Bread, toasted

vegan parmesan for topping, optional

see notes below for more info
Caramel Apple Toast:
2

medium Granny Smith apples, peeled, cored, and thinly sliced

1

tablespoon

vegan butter or coconut oil

¼

cup

date caramel

see notes below for more info

1

tablespoon

coconut sugar

salt to taste

squeeze of fresh lemon juice

4

slices Little Northern Bakehouse Whole Grain Wide Slice bread, toasted
Instructions
Mushroom, Bean and Pea Toast
Lightly steam peas for about 5 minutes. Transfer to a bowl and add remaining ingredients. Use a fork to stir and mash to desired consistency. For a smoother consistency use a food processor. Set aside while preparing mushrooms.

To sauté mushrooms, heat oil in a large skillet over medium heat. Add sliced mushrooms and a pinch of salt and pepper. Stir to coat and continue to stir occasionally. Allow mushrooms to make contact with the pan a bit in order to brown and develop the best flavor. Add garlic, beans, broth or water and thyme. Stir to combine. Add additional salt and pepper to taste. Continue to sauté, until most of liquid has cooked away and beans are warmed through.

To serve spread desired amount of peas on toast. Spoon mushroom and bean mixture on top and sprinkle with vegan parmesan, if desired.
Caramel Apple Toast
Prepare date caramel. See notes below for link to recipe. Set aside.

Heat oil or butter in a large skillet over medium heat. Add apples, cinnamon, sugar and salt. Stir to coat. Continue stirring often until apples have softened, about 5-7 minutes. Add 1-2 tbsps water, if needed to prevent apples from sticking. Once apples have softened, add a squeeze of fresh lemon juice.

To serve, spread date caramel on toasted bread. Top with sautéed apples and add chopped nuts if desired.