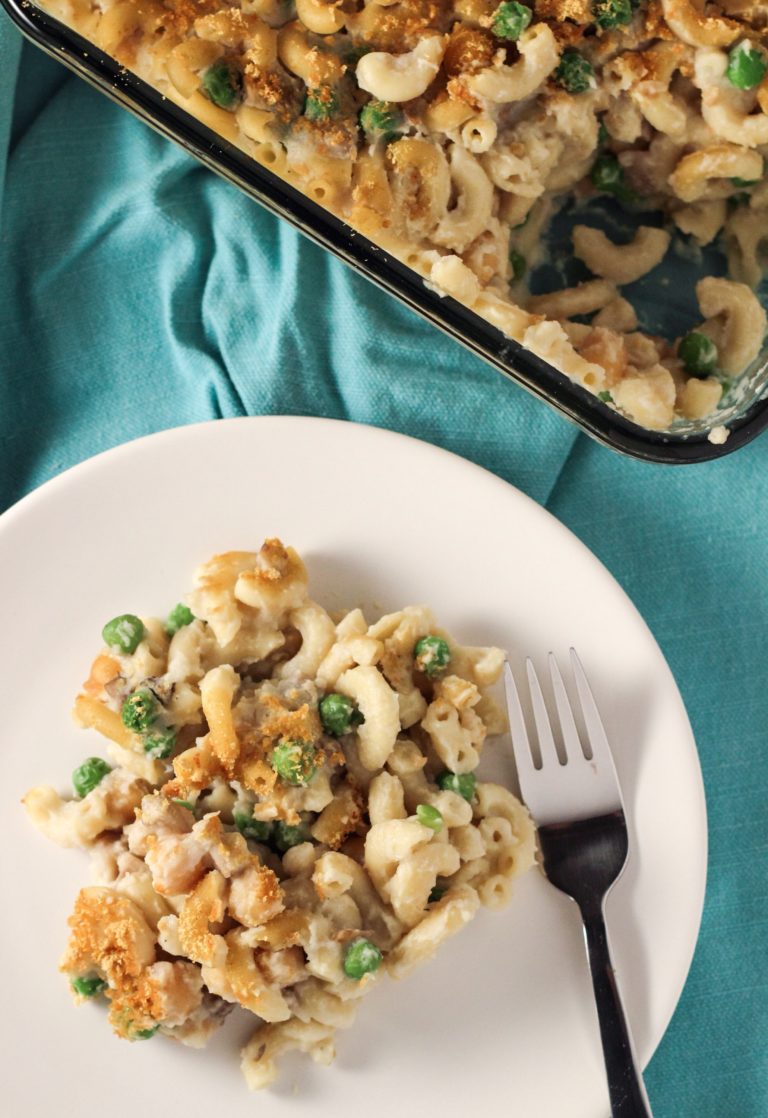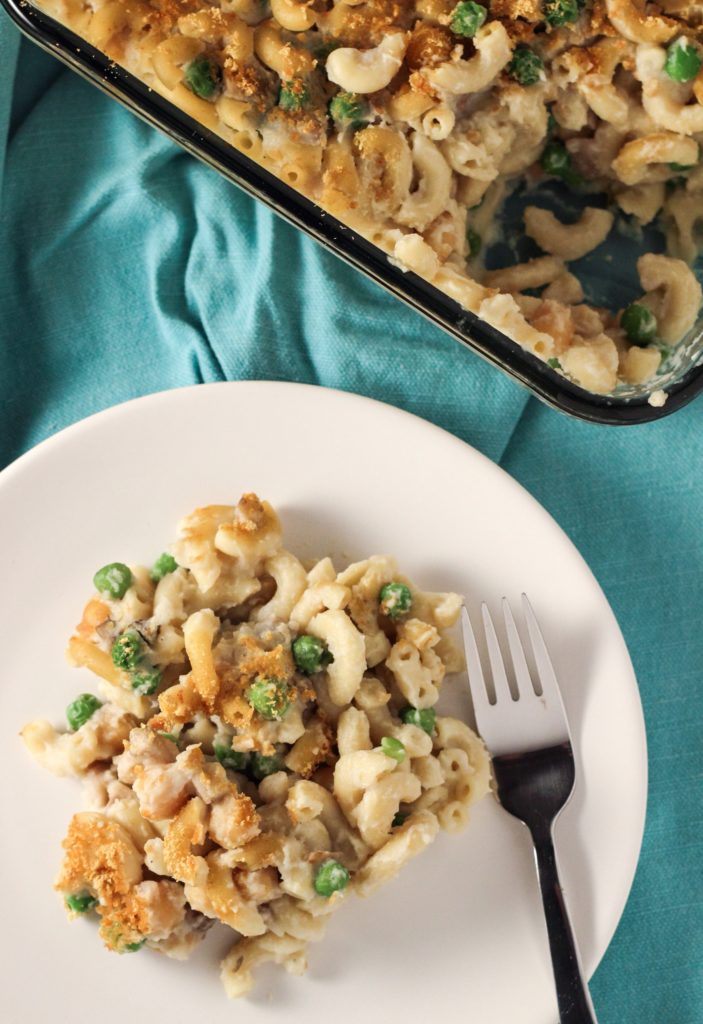 Craving comfort food, but trying to keep those New Year's resolutions? Try this lightened up Healthy Vegan Chickpea Noodle Casserole. It's loaded with veggies, chickpeas, and topped with breadcrumbs and tastes simply delicious.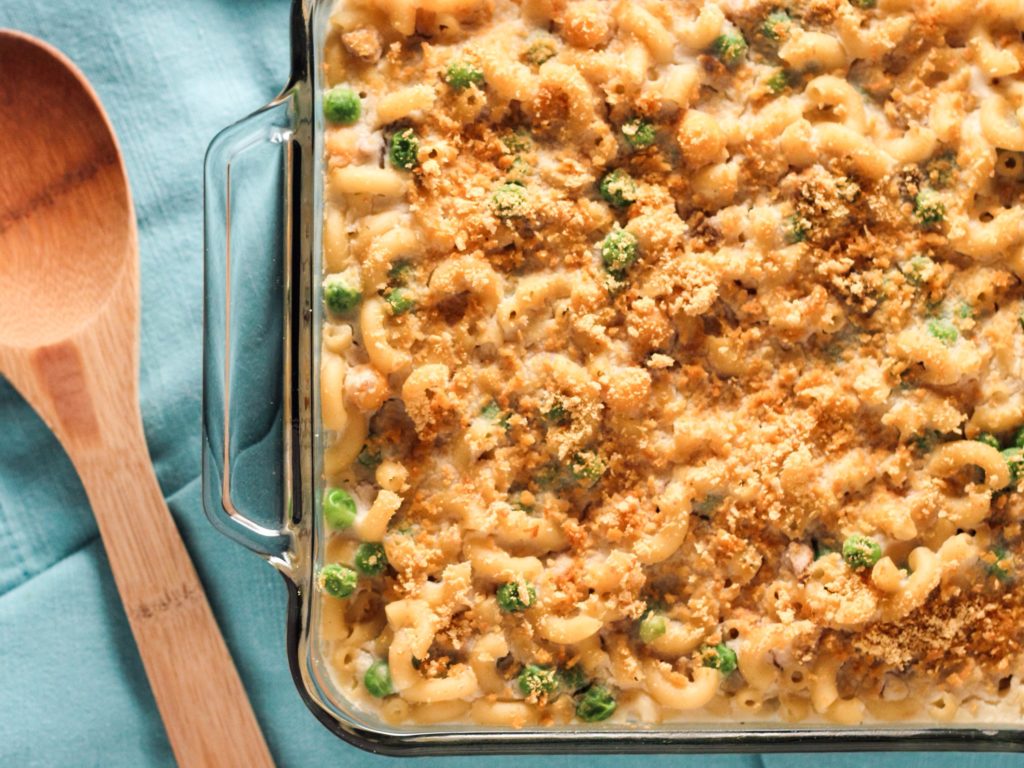 Chicken noodle casserole was one of my husband's favorite meals growing up. Of course that version consisted of the typical highly processed canned soup, gobs of melted cheese and hardly a veggie in sight. Not healthy and certainly not vegan.
Well, those days are behind us now and we have this wonderfully tasty and healthy version of the former favorite. This vegan makeover  is chock-full of peas, mushrooms, chickpeas and the condensed soup is replaced with a cauliflower based soup for added vegginess. It has all the creaminess and delicious flavor of the original, but is so much healthier. So, what did my hubby think? He loved it and I think you will too.
If you try this recipe, let me know how it turns out! Leave a comment below or snap a pic and tag it @weelittlevegans on Instagram so I'll be sure to see it!
Healthy Vegan Chickpea Noodle Casserole
Ingredients
1

medium cauliflower, cut into pieces

2

garlic cloves, minced

2

cups

dry pasta, any will work. I used elbows.

1 ½

cup

plain, unsweetened almond milk

1

cup

vegetable stock

1

cup

cooked chickpeas

1

cup

frozen or fresh peas

1

cup

mushrooms, chopped

2

tablespoon

olive oil

1

teaspoon

onion powder

¾

teaspoon

salt

pepper to taste

2

tablespoon

nutritional yeast

2

tablespoon

bread crumbs
Instructions
Preheat oven to 350 degrees.

Heat 1 tbsp. olive oil in a medium sauce pan.

Sauté garlic until fragrant, about 5 minutes.

Add almond milk, cauliflower, vegetable stock, onion powder, salt, and pepper.

Bring to a boil and reduce heat to a simmer, cook until cauliflower is easily pierced with a fork, about 10 minutes.

Meanwhile prepare pasta according to package instructions until nearly cooked. It will finish cooking while in the oven.

Pour cauliflower and liquid into blender and puree until very smooth.

Heat 1 tbsp. olive oil in sauce pan and add mushrooms.

Sauté until browned about 10 minutes.

Add soup and peas to saucepan with mushrooms and cook for 1-2 minutes.

Add pasta and chickpeas to soup and stir to combine. Pour into 8x8 baking dish. Combine bread crumbs and nutritional yeast and spread over pasta. Drizzle with additional olive oil if desired. Bake for 30 minutes until breadcrumbs are golden and crispy.