Perfect for an afternoon snack or light meal, this Herby Chickpea Tartine is bursting with delicious herb and lemon flavor.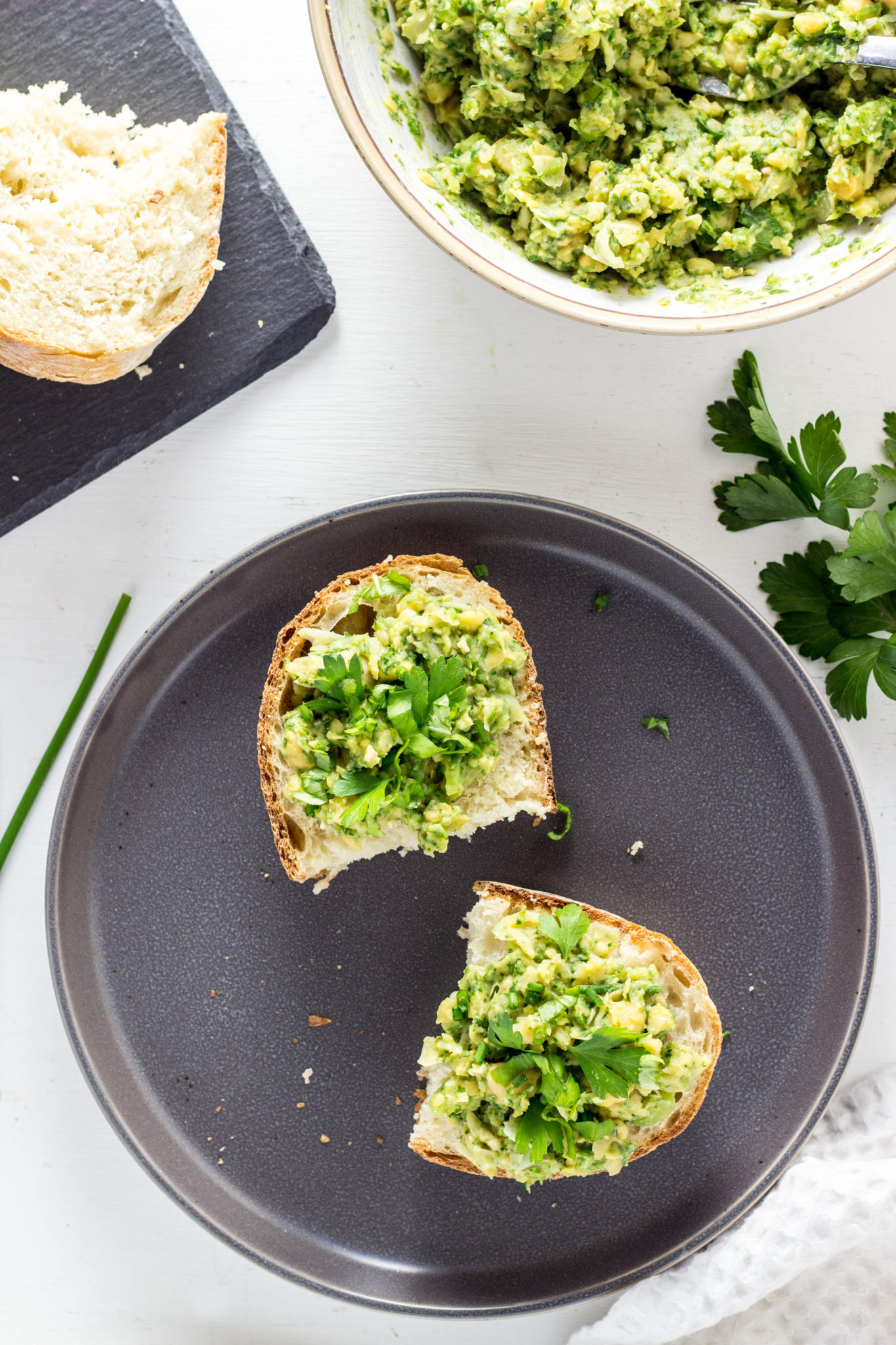 We're back in school now and the need for new healthy lunch and afternoon snack idea is real. Tartines are, to us, the perfect afternoon snack. Substantial enough to hold the kids over until dinner, but not too filling that they won't eat. But, what is a tartine? Simply put it's a French open faced sandwich with a spreadable topping.
The spread for these tartines is a combination of my chickpea salad and lemon and herb tofu recipes on this site. We're big fans of chickpea salad sandwiches so naturally we're always coming up with new flavor combinations, like this Herby Chickpea Tartine.
Jump to: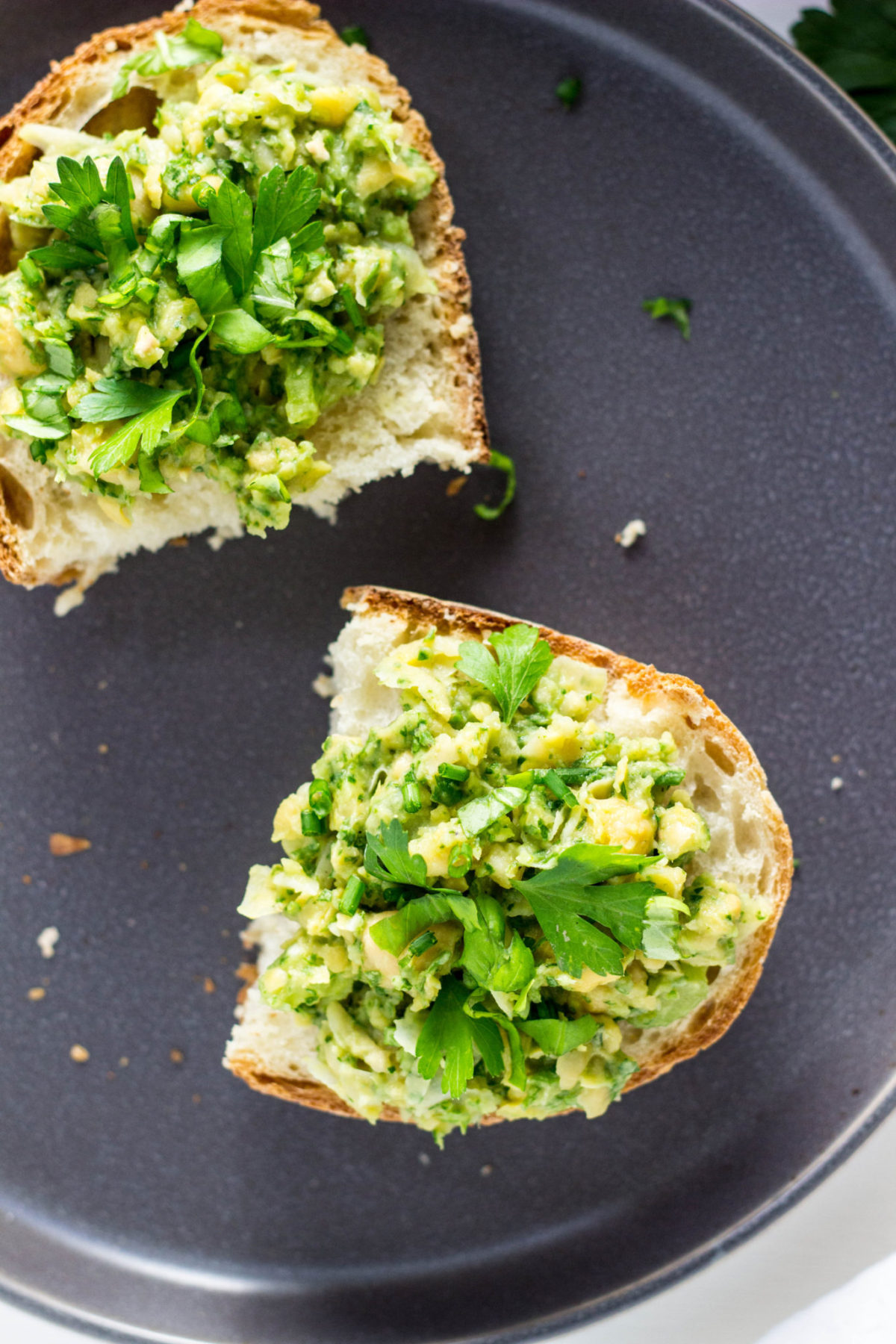 Ingredients
Fresh herbs are front and center here with a squeeze of fresh lemon juice that brightens them right up. The spread for this chickpea Tartine is so simple to make and easily adjusted to your preferences or what you have on hand. I've listed amounts of herbs in the recipe below, but feel free to use more or less to suit your tastes.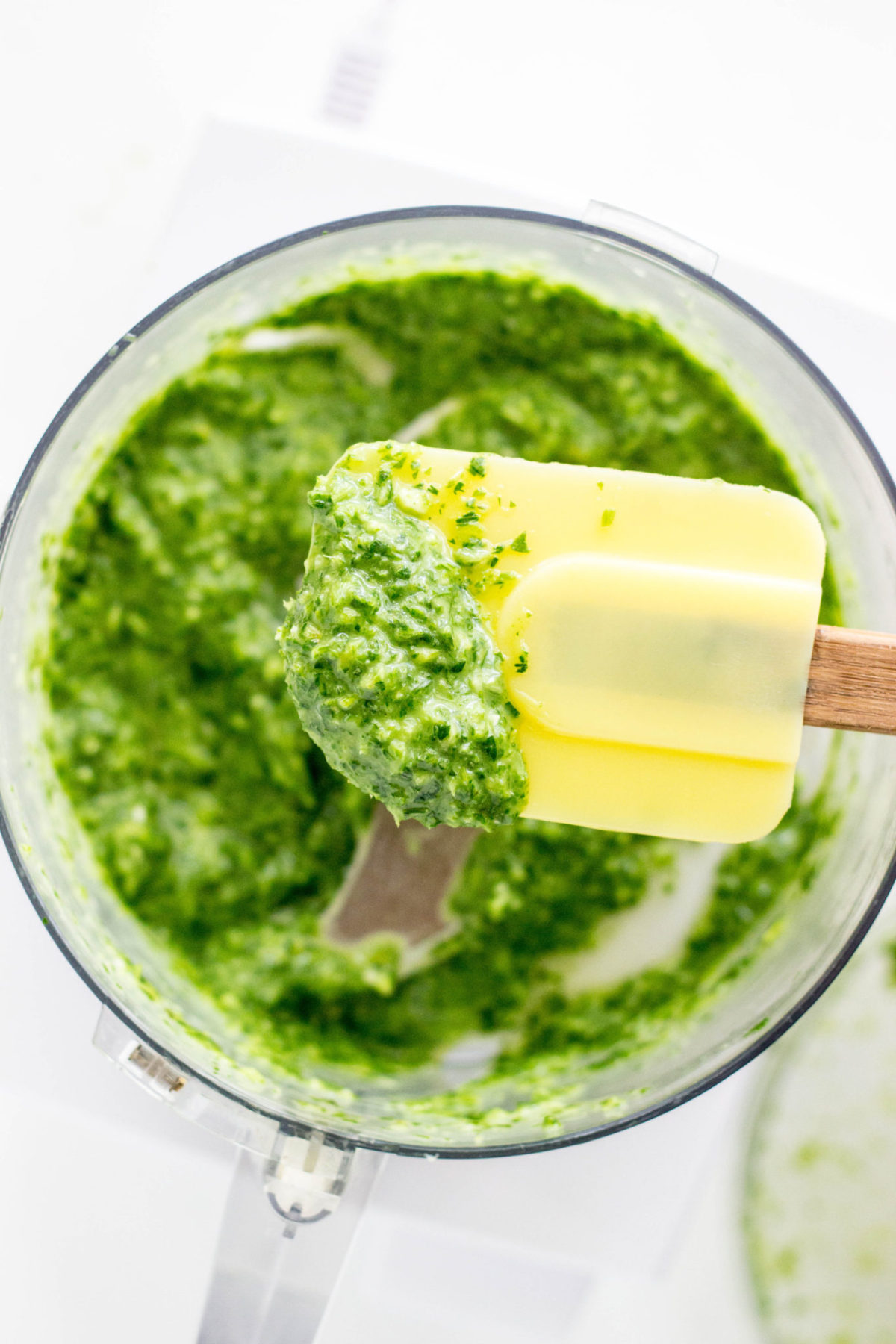 fresh basil
flat leaf parsley
fresh chives
garlic
lemon
non dairy yogurt
chickpeas
celery
red onion, optional
salt and pepper
crusty bread
See recipe card below for quantities.
Instructions
Start by roughly mashing the cooked chickpeas with a fork. You want texture here so don't mash to a paste. It's okay if a few whole chickpeas remain.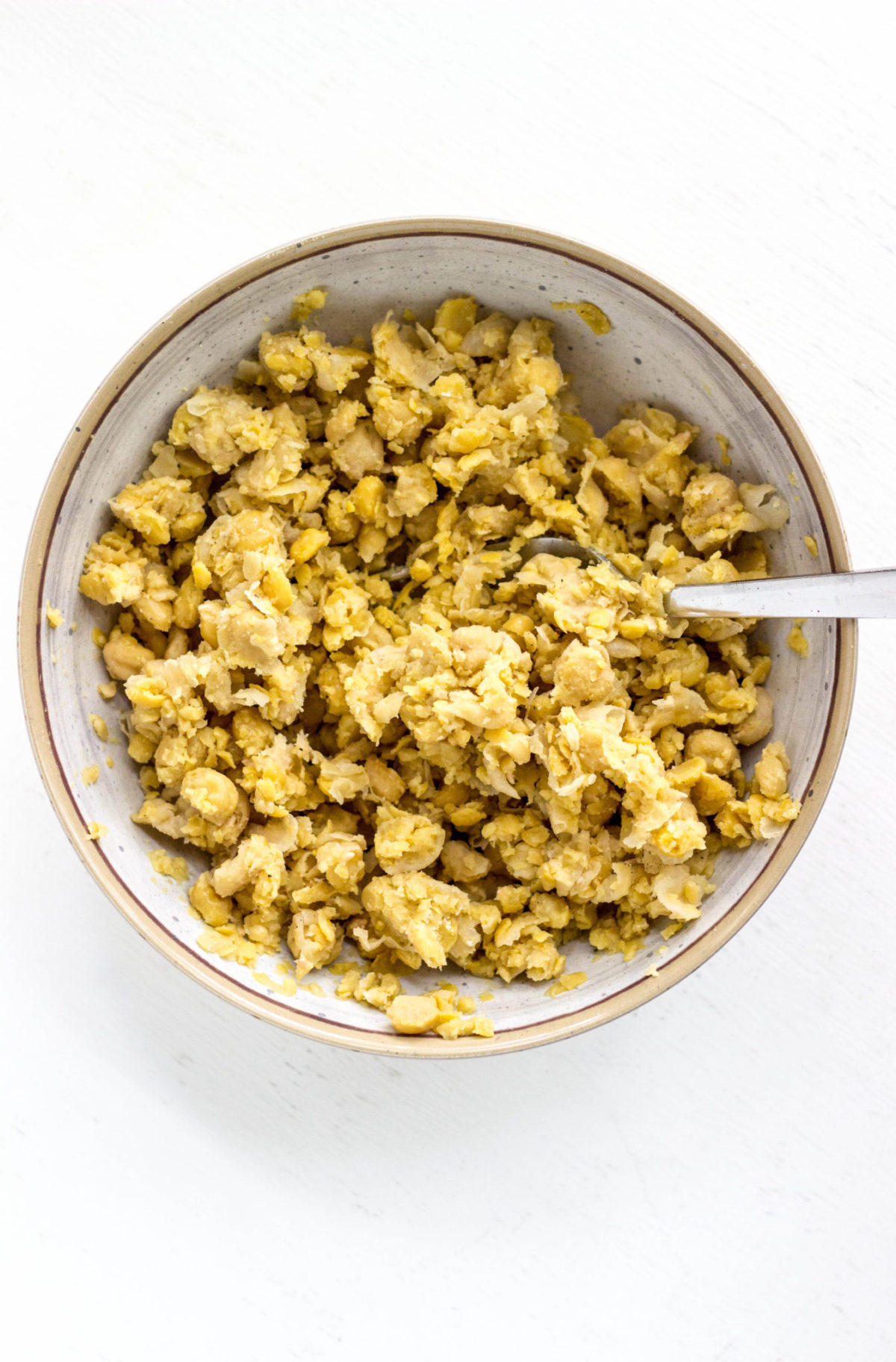 Combine the ingredients for the spread in the bowl of a food processor and pulse until desired consistency. You can make a very smooth sauce or a leave a little more texture like pictured above. Pour the sauce over mashed chickpeas and fold in to thoroughly combine.
Hint: Toast the bread before topping for a lovely crunch that pairs nicely withe the creamy texture of the spread.
Substitutions
This is a very forgiving recipe so don't worry if you don't have the particular herbs listed above on hand.
Herbs - use any combination of fresh herbs - try cilantro, mint, tarragon or oregano for example.
Beans - use any white bean you like here. The texture may be a bit different, but still delicious.
Bread - use your favorite gluten free bread instead of white bread to make this gluten free.
Variations
This recipe is a great starting point and many variations can be made to suit individual preferences. Here are a few suggestions:
Spicy - add chili pepper flakes to the sauce to give the spread a little heat
Deluxe - top with sliced avocado, additional fresh herbs or micro greens
Kid friendly - use herbs they already enjoy or that have a milder flavor such as basil
Equipment
A food processor is handy to easily whip up the sauce for this recipe, but not absolutely required.
Alternatively, you can finely chop the herbs and garlic with a good knife or crush them with a mortar and pestle.
Storage
Store any leftover chickpea mixture in an air tight container in the refrigerator for up to 4 days. Purchased bread should be stored according to packaging. Homemade bread can be stored in an air tight container, plastic bag or wrapped in foil.
Top tip
You may think that kids wouldn't go for something like this, but you just might be surprised. All four of my little ones, including the very picky eater who doesn't like beans thought this was tasty. I find the best way to get past the picky stage is to keep offering new foods, even ones you think there is no way they will like because you never know and keep it pressure free. Let them explore the new food on their own without pressure to eat it. They may not eat it or even taste, but it's important that the experience is positive. And keep offering, even if they didn't like it before. It can take kids up to twenty times of being presented a new food before they like it. So don't give up!
Herby Chickpea Tartine
Ingredients
15

oz

can of chickpeas

½

cup

fresh basil

½

cup

flat leaf parsley

¼

cup

fresh chives

1-2

garlic cloves

⅓

cup

non dairy yogurt, plain and unsweetened

zest and juice of 1 lemon

1

celery rib, chopped

2

tablespoon

chopped red onion

optional

salt and pepper to taste

thick slices of bread
Instructions
Drain chickpeas and transfer to a bowl. Use a fork to roughly mash the beans. Set aside.

Combine basil, parsley, chives, garlic, lemon zest and juice, yogurt, pinch of salt and pepper in bowl of food processor. Pulse to desired consistency.

Pour herb sauce over mashed chickpeas. Taste and adjust add more salt and pepper, if needed. Add celery and red onion and fold in to thoroughly combine.

Toast slices of bread, if desired.

Spoon chickpea mixture onto toast and top with additional chopped herbs, microgreens or avocado, if desired. Serve immediately.
If you make a recipe, I'd love to know how it turns out! You can leave a comment and a rating below or snap a pic and tag it @weelittlevegans on Instagram so I'll be sure to see it!