Warm spices and plenty of apple flavor without any refined sugar, my Slow Cooker Apple Butter is a healthier way to enjoy this delicious fruit spread. 
We're sticking with the apple theme today with this Slow Cooker Apple Butter with no added sugar. This is another one of those older recipes from the first blog that needed updated photos so I made up a fresh batch over the weekend. I also made a few changes to make the process even simpler and the results even tastier.
Apple butter is one of those foods that gives me warm fuzzy feelings. When I was little my grandma lived in North Carolina on some land and grew several fruits and veggies, which she would can for us. When we made the drive up to visit her she would always have a box of freshly canned goodies like tomatoes, green beans, pickles, and apple butter waiting for us. I absolutely loved her apple butter and couldn't wait to get into the jars.
I really had no idea what was in apple butter besides apples or how it was made at the time, but I knew I loved it especially on toast.
This one time in particular, I asked her for a slice of toast with a smear of apple butter, thinking she would get out the toaster and pop a slice of bread in it. But no, she got out a cast iron skillet, buttered up a slice of thick Texas style bread and toasted it up right there on the stove! I was so confused and when I asked her why she was doing it that way instead of in a toaster, she just laughed a little. She said that is how she has always done it. Well, that toast was the best toast ever!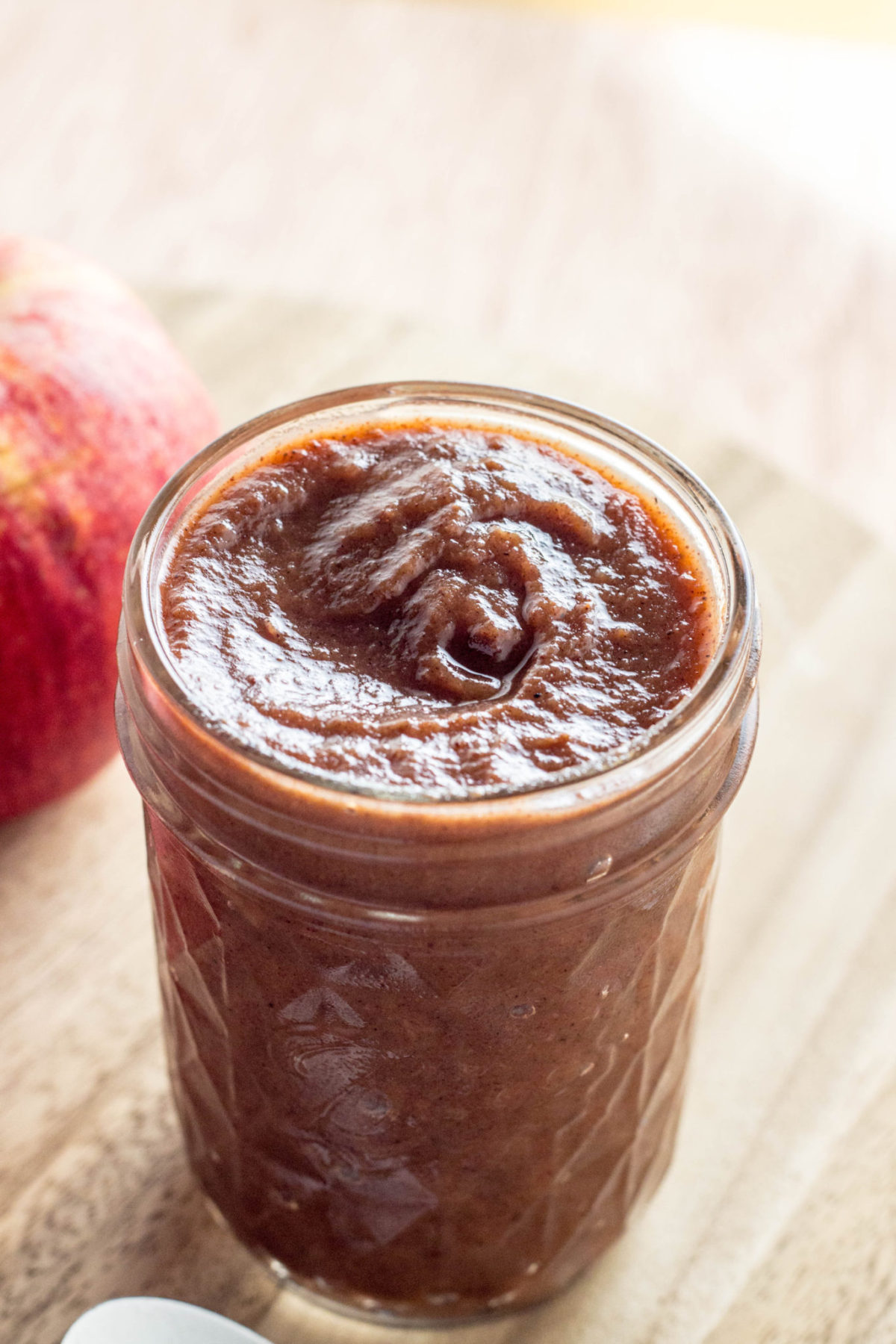 Now a days things are a little different and as much as I love apple butter, I don't love all the white sugar that is typically in it. So, naturally I had to come up with a refined sugar free version I can feel good about sharing with my family.
While this slow cooker version is not made the way grandma used to make it, it tastes every bit as delicious and has absolutely no added sugar. Dates take the place of sugar and provide extra fiber, calcium, potassium, and vitamin A. Healthy ingredients and it taste AMAZING, what could be better?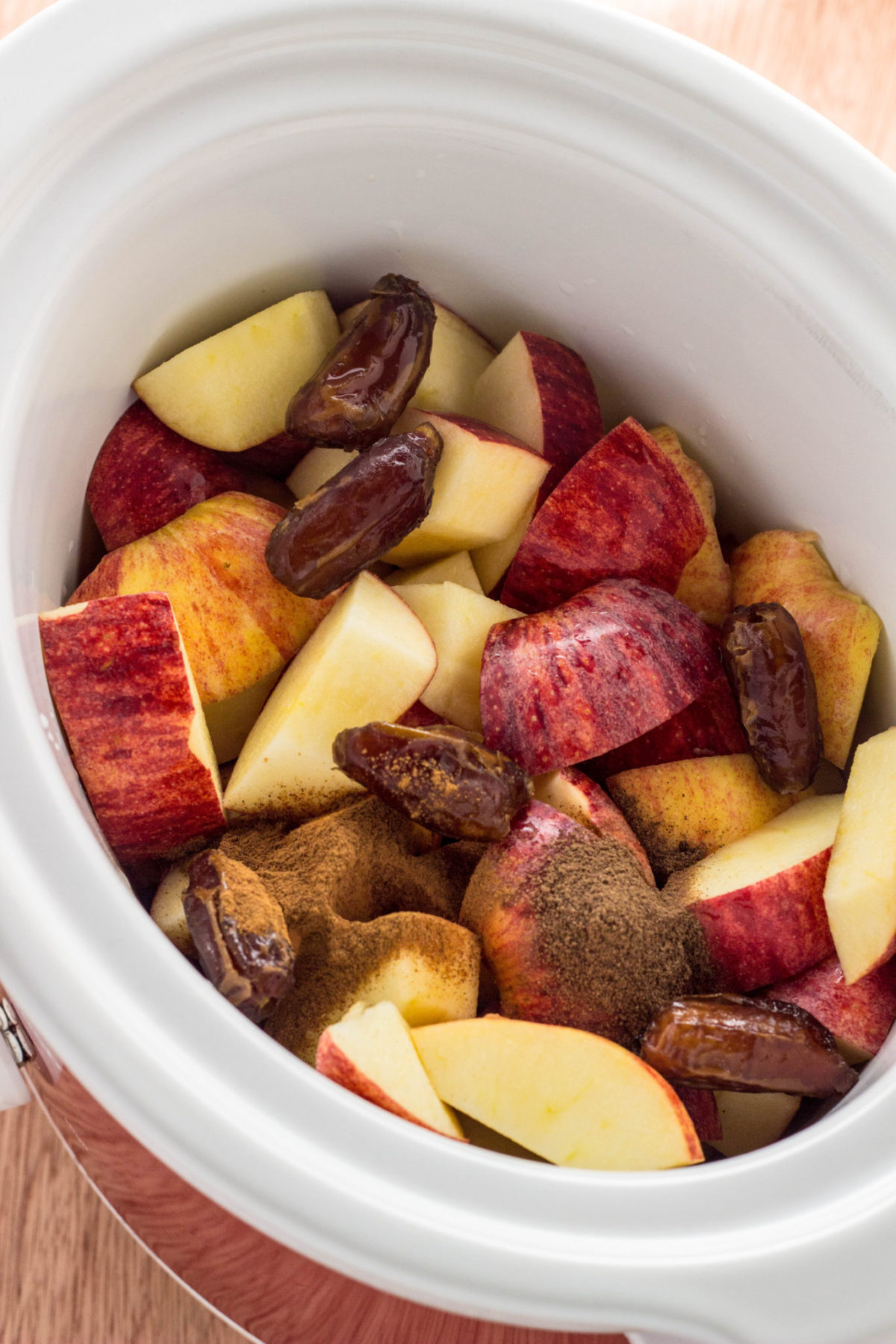 Now, you might be thinking 11 hours is just too long and too much work, but it's mostly a hands off recipe. Just core and roughly chop your apples, no peeling necessary, and everything goes into the slow cooker. You don't need to do anything else for the next 9 hours. I like to set mine up before I go to bed and then finish it up in the morning just in time for breakfast.
After 9 hours your apples should be soft and easily broken up when you stir like above. It's basically a chunky applesauce at this point and indeed you could stop there if you like and it would be very tasty. But, it really is worth it to do those extra steps to make apple butter. So, so good!
Try it smeared on toast, swirled in oatmeal or nice cream and enjoy! I also have another plan in the works for this apple butter that I'll share soon.
The best part of this apple butter for me, is getting to share those wonderful memories from my childhood with my own little ones, while creating new ones with them. Really, isn't that one of the best part about good food?!
Question of the day:
Are there any foods that make you nostalgic?
If you try this recipe, let me know how it turns out! Leave a comment below or snap a pic and tag it @weelittlevegans on Instagram so I'll be sure to see it!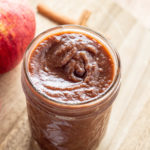 Slow Cooker Apple Butter - No Added Sugar
Ingredients
1 ½

lb

apples

about 4-6 small to medium

½

cup

dates, pits removed

about 6

1

teaspoon

cinnamon

¼

teaspoon

allspice

1

tablespoon

lemon juice

¼

cup

water
Instructions
Peel, core and chop apples into large chunks.

Combine all ingredients in slow cooker and set to low.

Continue to cook over low heat for 9 hours.

After 9 hours stir mixture. The apples should be very soft and mostly broken down.

Transfer apple mixture to a blender. Blend until smooth.

Return mixture to slow cooker and continue to cook on low heat for 2 hours to thicken. Stir every 30-40 minutes to ensure apple butter does not burn.

Allow to cool and transfer to storage container. Store in the refrigerator for 1-2 weeks.
Recipe Notes
Recipe can be doubled or tripled if you have a large slow cooker.