Zucchini is one of those awesomely versatile vegetables. It's great grilled, roasted, as pasta, or even in baked goods. One of my absolute favorite ways to prepare this adaptable little veggie is this amazing Vegan Stuffed Zucchini.
This dish takes a bit of time to prepare just due to cooking time, but is still fairly easy to put together. Brown rice is the main component of the filling making this dish both healthy and hearty. Add in tomatoes, oregano and basil and oh boy, yum. Pair this with a salad and you have a delicious, satisfying lunch or dinner.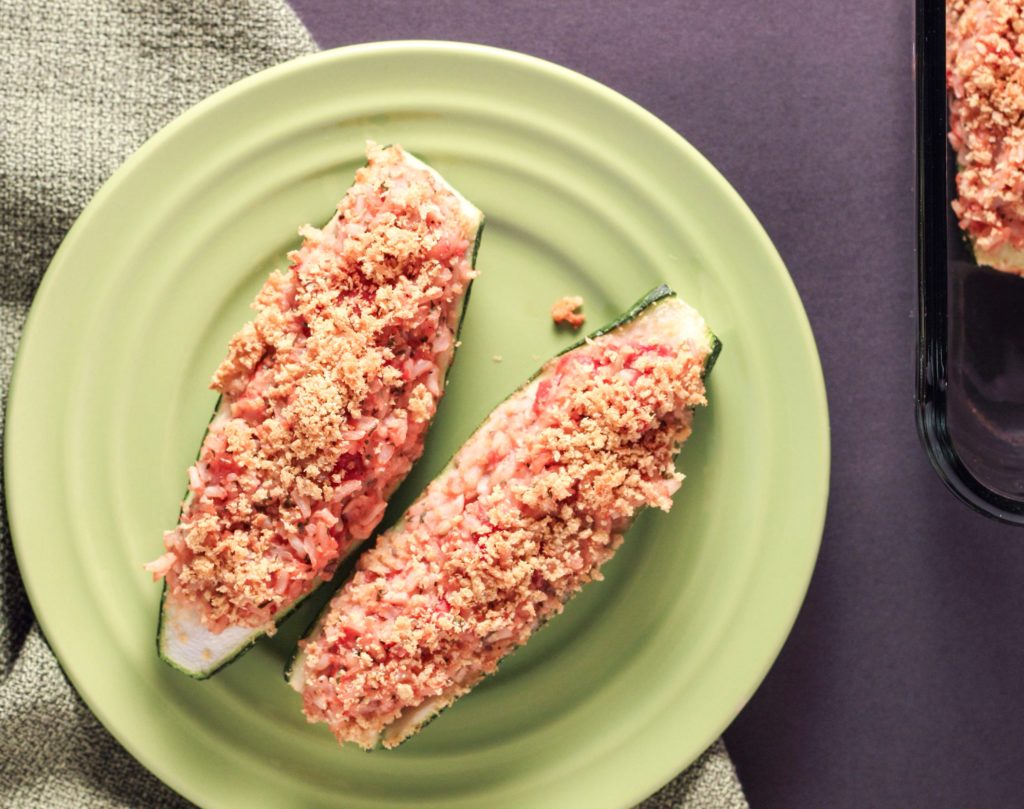 My family loves this Vegan Stuffed Zucchini. Full of flavor and nutrition, you're sure to love it too. If you try this recipe, let me know how it turns out! Leave a comment below or snap a pic and tag it @weelittlevegans on Instagram so I'll be sure to see it!
Vegan Stuffed Zucchini
Ingredients
5-6

large zucchini

1

cup

brown rice, cooked according to package instructions

½

cup

onion, diced

1

tablespoon

olive oil

1

tablespoon

parsley

1

teaspoon

basil

½

teaspoon

oregano

¼

teaspoon

thyme

1

teaspoon

salt

¼

teaspoon

pepper

1

can

diced tomatoes, no salt added

1

tablespoon

bread crumbs

1

tablespoon

nutritional yeast
Instructions
Preheat oven to 375 degrees.

Prepare zucchini by cutting in half lengthwise and scooping out the seeds with a small spoon. Either discard the seeds or add them into the filling. Place zucchini in a pan large enough to fit all and set aside.

Heat olive oil in a large skillet over medium heat. Sauté onion and garlic until slightly browned and fragrant, about 5 minutes. Add parsley, basil, oregano, thyme, salt, pepper, tomatoes, and rice to skillet. Stir to thoroughly combine and cook for 1-2 minutes.

In a small bowl combine bread crumbs and nutritional yeast. Scoop rice mixture into each zucchini half and top with bread crumb mixture. Bake for 35-40 minutes or until zucchini is slightly tender and bread crumbs are browned.

Cool for at least 5 minutes before serving.
Recipe Notes
Left overs can be popped into the oven at 400 degrees for 5-10 minutes to make bread crumbs crisp again.