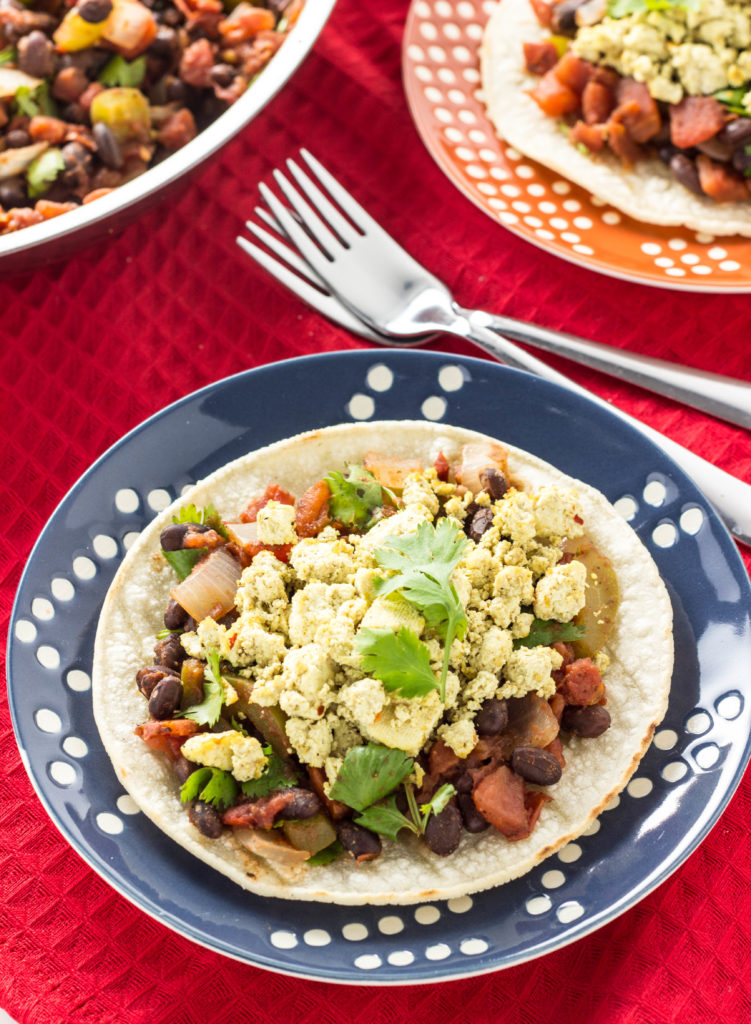 If you've been hanging out around here a while then you know I love breakfast foods, especially the really carb-y ones like pancakes and waffles. My husband on the other hand, doesn't care for breakfast foods. Just not his thing, unless it's tofu scramble. Eggs were the only breakfast-y food he enjoyed prior to going vegan and tofu scramble is the only one since. He could eat  it, the way I'd like to eat pancakes (for pretty much every meal), but that is neither practical nor healthy. Everything in  moderation, right? So, once or twice a month I whip up some tofu scramble for him and the kids and I devour a stack of pancakes. And everyone is happy.
As a young couple, back in our vegetarian days, my husband and I we would sometimes go out to breakfast. One time in particular he ordered a huevos rancheros style breakfast bowl. He really liked it so when I made his scramble this time I wanted to recreate that as much as possible without actually having the eggs. This Tofu Scramble Rancheros is certainly not traditional or authentic, but it is very tasty and husband approved.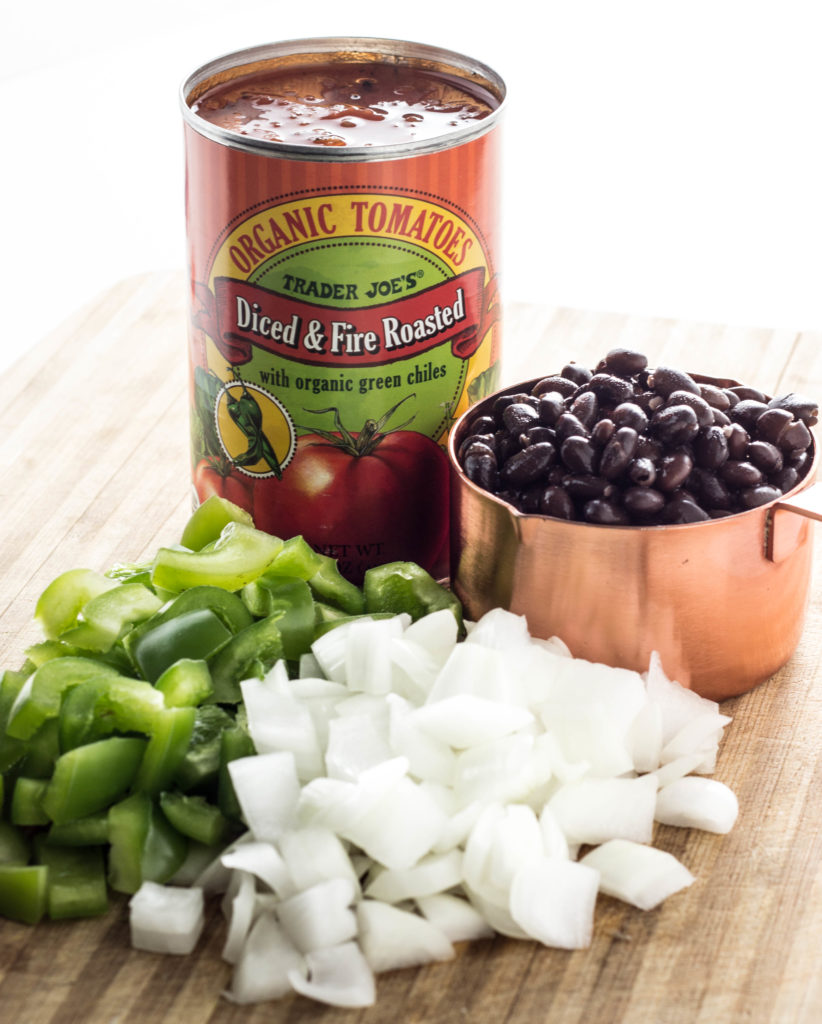 I started with the same basic seasoned tofu scramble I usually make and used bell peppers, onions, fire roasted tomatoes, and black beans for my veggie base, but you can use refried beans, your favorite salsa, rice, corn  or any combination you like. Then just warm your tortillas, I went with corn, and load them up how ever you like. Mix everything together or layer it like I did. What's great about this dish is it's pretty simple, quick, and totally customizable.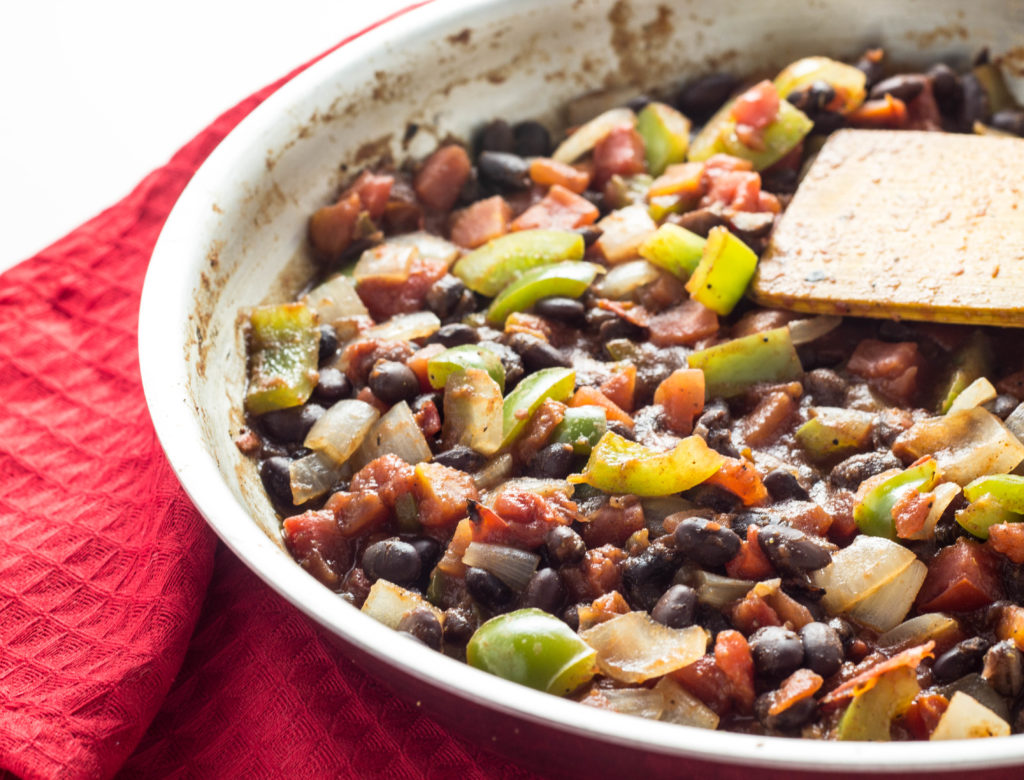 If you try this recipe, let me know how it turns out! Leave a comment below or snap a pic and tag it @weelittlevegans on Instagram so I'll be sure to see it!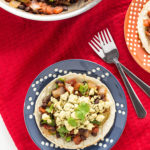 Tofu Scramble Rancheros
Ingredients
For Tofu Scramble:
12

oz

firm tofu

1

tablespoon

olive oil

2

garlic cloves, minced

½

teaspoon

onion powder

½

teaspoon

ground cumin

¼

teaspoon

turmeric

¼

teaspoon

crushed red pepper, optional

salt and pepper to taste
For the Veggies:
1

cup

cooked black beans

1

can

diced fire roasted tomatoes with green chili

1

small

bell pepper, chopped

1

small

onion, chopped

1

small

jalepeno, optional

~ ¼

cup

cilantro, roughly chopped

1

tablespoon

olive oil

¾

teaspoon

ground cumin

½

teaspoon

salt

black pepper to taste

4-6

corn tortillas
Instructions
For the Tofu Scramble:
Heat 1 tablespoon oil in a skillet over medium heat and add garlic. Cook for 2-3 minutes.

Drain water from tofu and add to skillet.


Using a spatula begin breaking tofu apart until it resembles scrambled eggs.

Add onion powder, cumin, turmeric, salt, pepper, and crushed red pepper, if using stirring to combine.

Continue to cook for 10 minutes stirring occasionally until scramble is dry and slightly browned. Taste and adjust seasonings to your liking.
For the Veggies:
Heat 1 tablespoon oil in a skillet over medium heat.

Add garlic, onion, and peppers to skillet and cook for about 5 minutes until slightly tender.

Add tomatoes, cumin, salt, pepper and stir to combine. Simmer for about 10 minutes lowering heat if needed.

Add beans and cook for 3-4 minutes more or until veggies are desired tenderness.

Warm tortillas in a skillet over medium high heat until edges just start to brown and tortilla is soft.

Remove from heat and add cilantro stirring to combine.

Layer veggies and tofu over tortilla and garnish with additional cilantro, if desired.