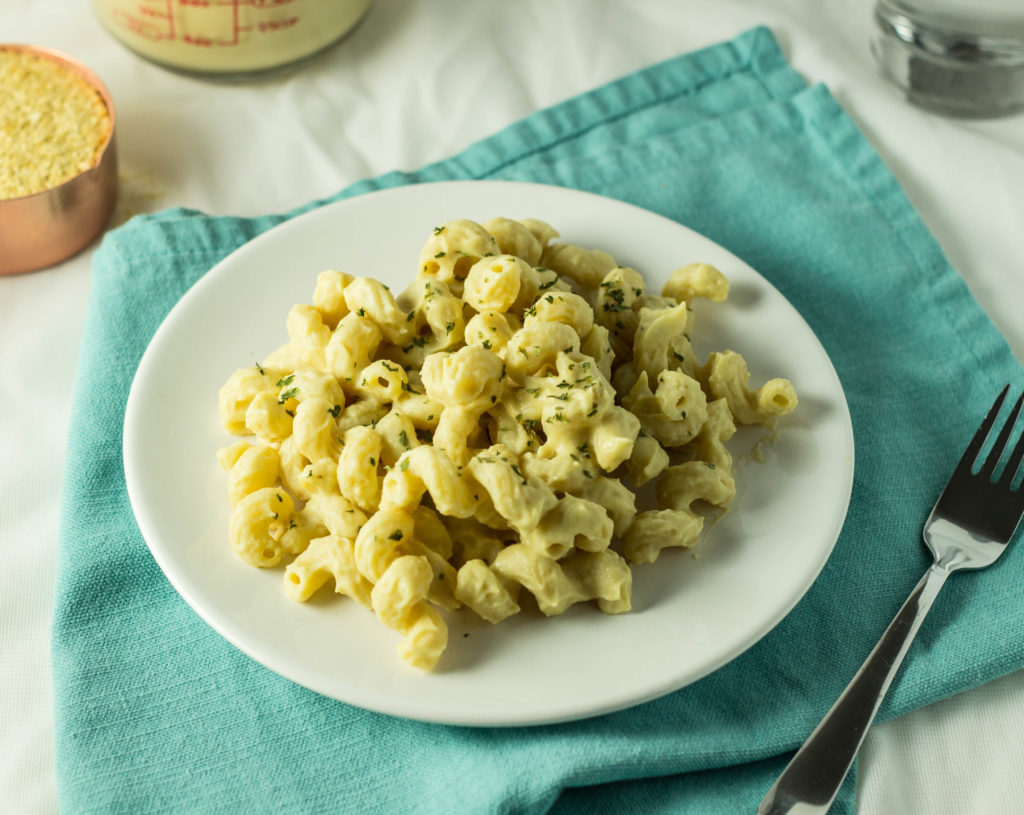 If you ask any vegan what the one food they miss the most is, many would answer cheese. This is definitely true for my husband. He used to love super cheesy, creamy mac 'n cheese, pizza with extra cheese, pretty much anything he could put cheese on, he did. Going vegan has left a bit of a void in that area for him. We've tried some of the substitutes, but haven't really been impressed by any.  They either taste fake, have a strange texture, or the ingredients are less than appealing.
So, my ongoing struggle has been finding a way to replicate that same creamy texture and cheesy flavor in macaroni and cheese. I've tried a lot of different variations including a butternut squash based sauce. That version was good in it's own way, but the sweetness of the squash was not working for me as a cheese sauce. It was missing that tanginess of cheddar. Then came a cauliflower sauce-no sweetness, but the texture was not creamy enough so then I added beans to the mix. We were a family divided on that one with two of us liking it and two hating it. Having no luck I put that pursuit to the side until I saw something on Pinterest that got my attention.
It was a recipe for a nacho "cheese" made from carrots and potatoes pinned veggieonapenny.com (Original source from veganyumminess.com). The sweetness of carrots posed the same issue as the butternut squash for me, but could the potato be the key, I wondered. After a little experimenting I arrived at something that the whole family could agree on.
Cauliflower and potatoes along with plenty of nutritional yeast gave me just what I was looking for. A thick, creamy sauce with a cheesy flavor. I won't say this mac 'n cheese is an exact replica of the flavor of conventional macaroni, but the creamy texture more than makes up for it.
If you try this recipe, let me know how it turns out! Leave a comment below or snap a pic and tag it @weelittlevegans on Instagram so I'll be sure to see it!
Vegan Macaroni and Cheese
Ingredients
1

teaspoon

olive oil

1

garlic clove, minced

1

medium potato, chopped into 1 inch pieces

½ -¾

tsp

salt

1

small cauliflower, core removed and chopped

1 ½-2

cup

plain unsweetened almond milk

*see note

10 -13

oz

pasta

½ -¾

cup

nutritional yeast depending on your taste

2

tbsp

lemon juice

1

teaspoon

dijon mustard
Instructions
Heat 1 tsp. olive oil over medium heat.

Add garlic and sauté for 2-3 minutes.

Add cauliflower, potato, salt, and 1 ½ cup almond milk and bring to a boil.

Reduce heat, cover, and simmer until tender 15-20 minutes.

Prepare pasta according to package directions.

Remove cauliflower, potatoes, and milk from heat and transfer to a blender.

Add nutritional yeast, lemon juice, and remaining olive oil and blend until smooth and creamy.

Taste and adjust salt and nutritional yeast to your liking.

Pour sauce over pasta and stir to combine.

Recipe Notes
I like the sauce very thick, but you can adjust the thickness of the sauce by adding up to ½ cup more almond milk during the blending process to suit your tastes.