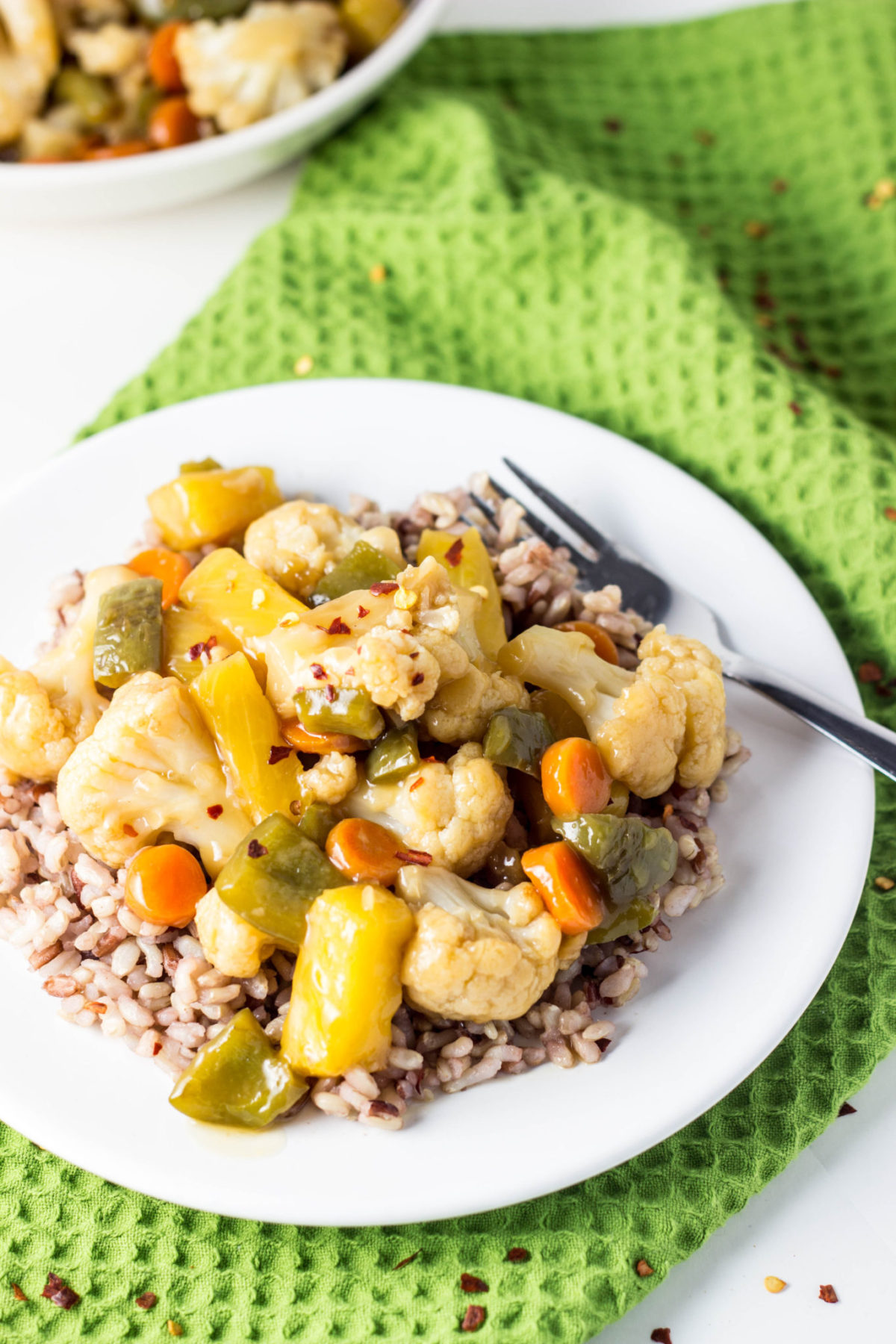 Sweet and Sour Veggies. All the delicious flavor of the popular take out dish, but veganized and healthier.
While shopping for a few supplies last week, in preparation for the storm that didn't happen, I found fresh whole pineapples for only 1 dollar! I thought I must have read the sign wrong, so I looked again. It really read $1. Still in a little disbelief, I headed to check out where in fact they did ring up $1. Thrilled, I almost could have broken out in a happy dance right there in line. Almost. I've been on a major pineapple kick lately, so I was over the moon to find some for so cheap. I don't think there is really anything better than finding fruits and veggies for a major discount especially when they taste as good as these pineapples did.
So, besides devouring bowls full of pineapple, I decided I needed to whip up something quick, easy, and super delicious with my freshly acquired bounty. Since it was close to dinner time my mind went savory and these Sweet and Sour Veggies came to be. Plenty of veggie goodness coated in a delicious, very easy to make sweet and sour sauce. It must have been fate really because I had everything on hand, including a carton of fresh squeezed pineapple juice I picked up on my last trip to Trader Joe's. I love when that happens!
These veggies come together in about 30 minutes (not including cook time for rice) with minimal work and taste delicious. Serve it up with your favorite rice and you've got a quick and easy, healthy vegan meal. While I used my fresh pineapple, canned would absolutely work. Just save the juice for the sauce and you good to go.
If you try this recipe, let me know how it turns out! Leave a comment below or snap a pic and tag it @weelittlevegans on Instagram so I'll be sure to see it!
Vegan Sweet and Sour Veggies
Course:
Main Course, Side Dish
Ingredients
Fro Sweet and Sour Sauce:
½

cup

pineapple juice

¼

cup

coconut sugar

¼

cup

water

3

tablespoon

rice vinegar

2

tablespoon

corn starch

1

tablespoon

soy sauce or coconut aminos
Veggies:
1

small cauliflower about 15 oz

fresh or frozen

1

small green bell pepper, chopped

1

cup

pineapple chunks

fresh or frozen

1

carrot, chopped

1

garlic clove, minced

1

tablespoon

oil. I used coconut.

red pepper flakes, optional
Instructions
Combine all ingredients for sweet and sour sauce in a small bowl and whisk until corn starch has dissolved.

In a small sauce pan heat sauce over medium heat. Stir frequently until thickened and glossy, about 10 minutes. Add a pinch of red pepper flakes, if desired.

Heat oil in a skillet over medium heat. Add bell pepper, carrots, and garlic and cook until desired tenderness.

Steam cauliflower to desired tenderness and add to skillet. Add pineapple and cook for 2-3 minutes.

Pour desired amount of sauce over veggies and toss to coat. Serve with rice, optional.