Healthy Vegan Carrot Cake Waffles, made with whole grains, no refined sugar and there's an oil free option.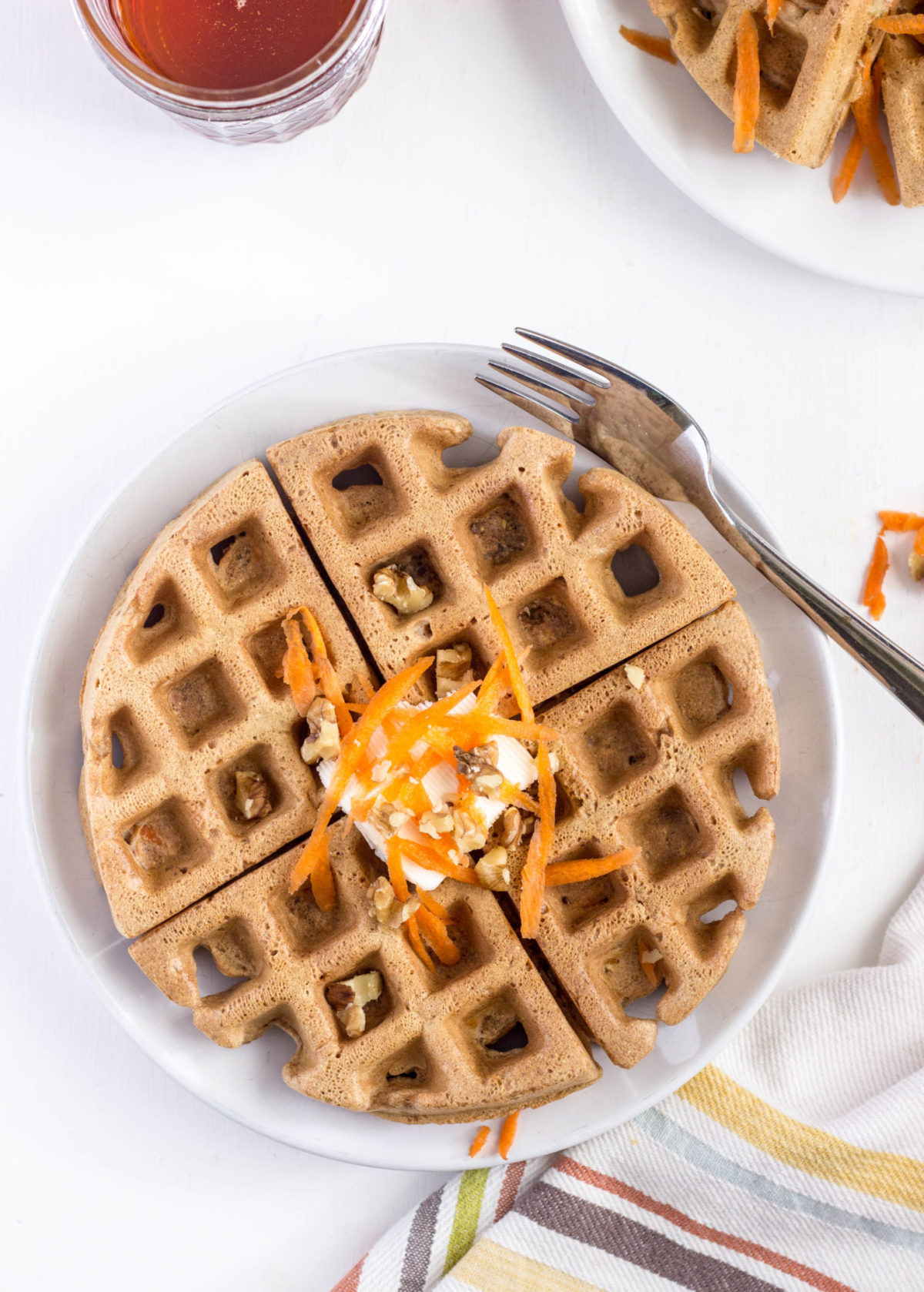 I don't have an awesome story to go along with today's post, sorry.
But, I can tell you about the less than glamorous side of trying to shoot photos with a 2 ½ year old in the house. On the day, I was attempting to photograph these Healthy Vegan Carrot Cake Waffles, let's just say, it was no easy task. You see, a certain greedy, little girl insisted on stealing the carrots that needed to be grated 😉 After said greedy girl had her fill, she proceeded to the bathroom. This is usually no trouble, as she has been potty trained for some time now, but in her zeal for independence, she struggled with her pants and refused help. Well, I'm sure you can see where this is going. Of course, this meant pausing the photography session and cleaning up the kid and the bathroom floor. After a few more interruptions, I managed to get the job done, but whew! it was a struggle. What should have been a relatively short process, stretched out much longer than anticipated, but hey that's life with kids, right? Everything takes two (or three or four times) longer than the amount of time planned.
In the end, we got to enjoy these healthy and delicious waffles, so all the effort was totally worth it.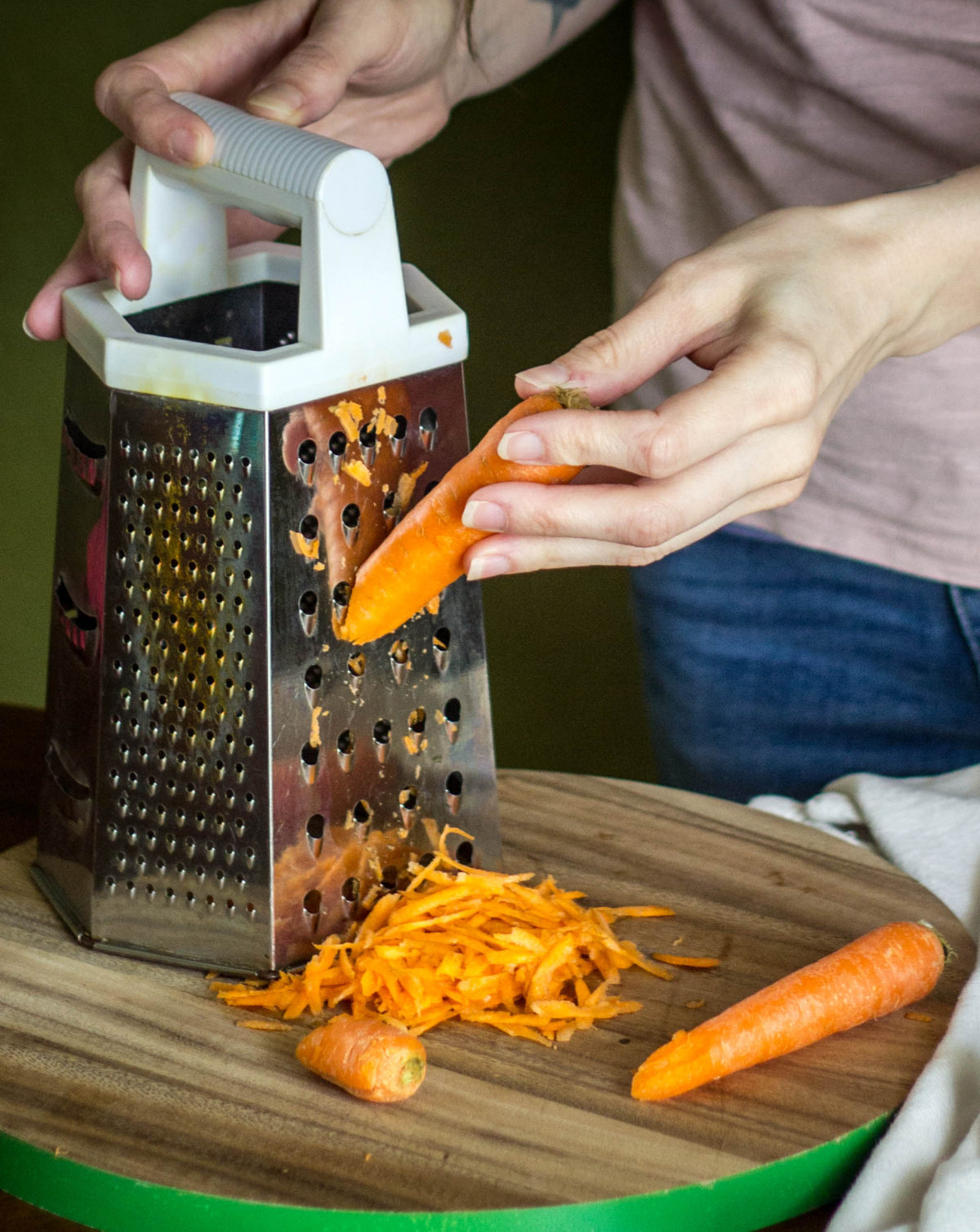 This recipe is actually from last year around this time, but I didn't get a chance to post it then. (Again, life with kids.) In the blink of an eye, spring/summer/fall produce was coming into season and this recipe was set aside and forgotten in favor of the deliciousness of berries, squash, melons and more. See this salad, these muffins, and these popsicles and you'll understand. After that, it was holiday time a.k.a make more cookies than reasonable and eat them all, which meant still no time for these waffles. I just couldn't let another year go by without sharing this recipe so I made it a point to get it out now, no matter what it took. (see above).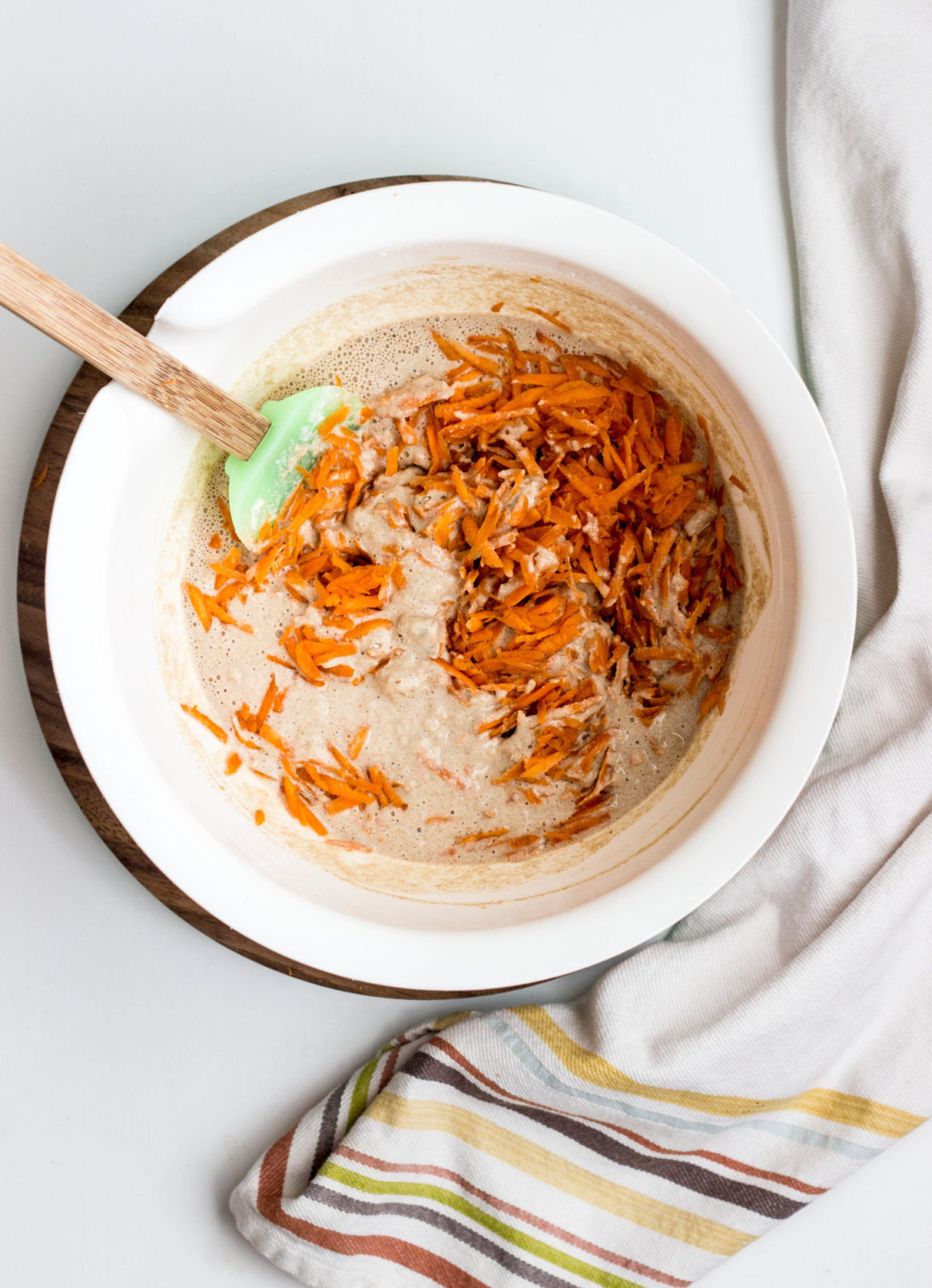 Cake isn't normally acceptable for breakfast, but in this case, these Vegan Carrot Cake Waffles are quite healthy. They're made with whole wheat flour, naturally sweetened with shredded carrots and tiny bit of coconut sugar and can also be oil free. Simply replace the oil with applesauce and cook for a minute or two longer to ensure middles are cooked through.
It was around this time last year that I also discovered the not-so-secret secret of adding starch to the batter to produce a crispy exterior while maintaining a soft and fluffy center. Cornstarch is typically used, but I found tapioca starch works just as well so I use that. A quick note about the carrot: it may seem like a lot, but they do cook down a good bit. This amount gives just enough of the texture without being too much.
All three of my little ones happily gobble these waffles up and I like knowing we're getting in a bit of veggie goodness so early in the day.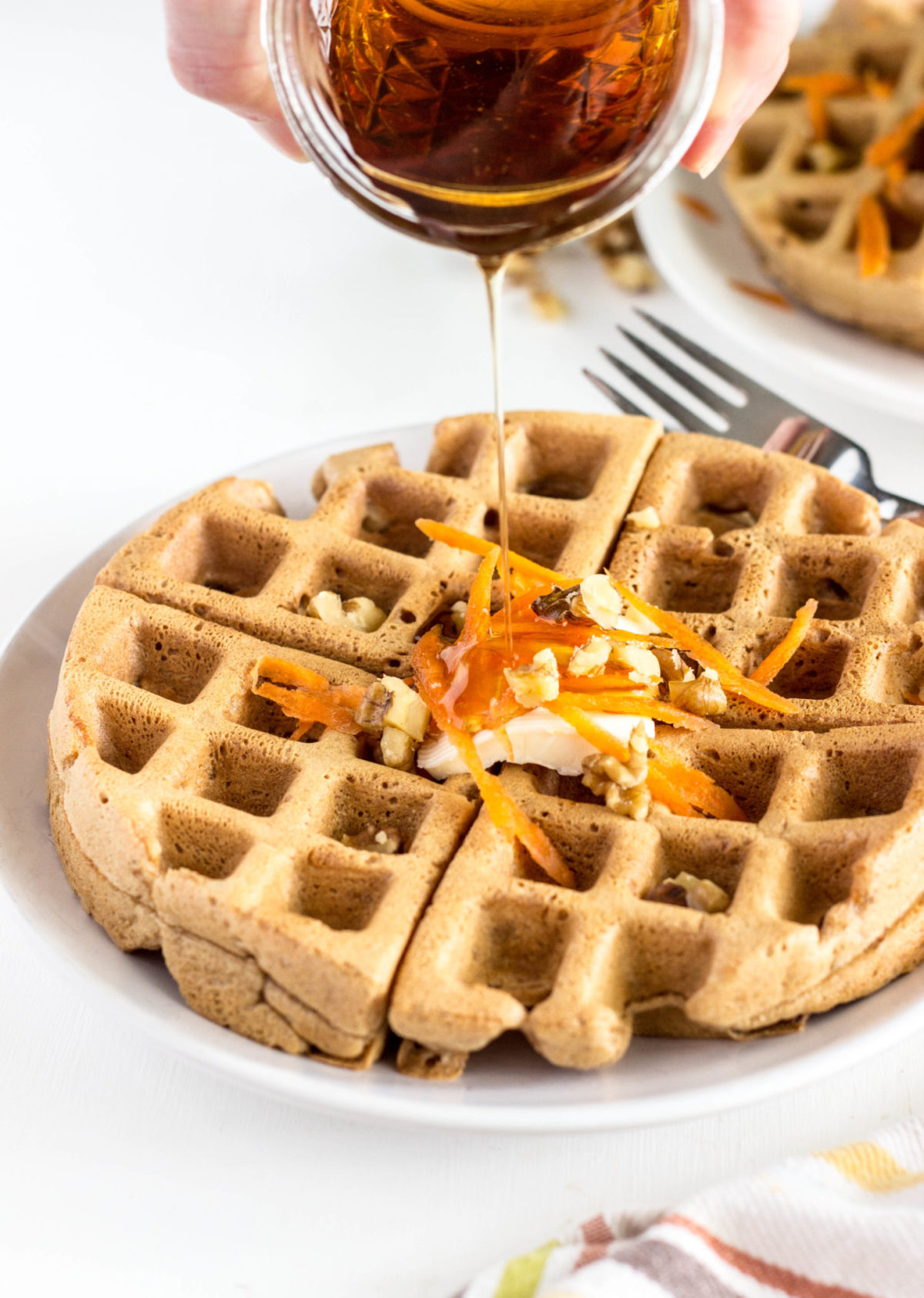 If you try this recipe, let me know how it turns out! Leave a comment below or snap a pic and tag it @weelittlevegans on Instagram so I'll be sure to see it!
Healthy Vegan Carrot Cake Waffles
Ingredients
1 ½

cup

non dairy milk

I use almond milk.

1

tablespoon

apple cider vinegar

1 ½

cup

white whole wheat flour

½

cup

tapioca starch or flour

¼

teaspoon

salt

2

tsp

baking powder

2

teaspoon

cinnamon

½

cup

walnuts, chopped

optional

1

tablespoon

coconut sugar

¼

cup

coconut oil, melted OR applesauce

½

teaspoon

vanilla extract

2

cups

shredded carrots
Instructions
Combine non dairy milk and apple cider vinegar in a bowl and set aside.

In a large bowl, combine flour, tapioca, salt, baking powder, cinnamon and walnuts whisking to thoroughly combine.

To the milk, add sugar, oil or applesauce and vanilla. Stir to thoroughly combine.

Make a well in the center of the dry ingredients and pour milk mixture in. Stir just to combine. It's ok if small lumps remain.

Add carrot and fold into batter to evenly distribute.

Set batter aside to rest while waffle maker preheats.

Once waffle maker is preheated scoop batter into it. Waffle makers vary so follow the manufacturer's guidelines for the amount of batter needed.

Cook waffles until browned and cooked through. Again this will vary according to your particular waffle maker. A good rule to follow is to look for no more steam to rise from the maker. This usually ensures the waffle is cooked through. Also, if you use applesauce, you may need to cook for a minute or two longer to ensure the center is cooked through.

You can heat the oven to 200 degrees to keep cooked waffles warm until ready to serve.

Serve with vegan butter, chopped walnuts, maple syrup, etc.
Recipe Notes
The number of waffles you can make will depend on your particular waffle maker. 
For best texture, grate carrots yourself. Prepackaged shredded carrots will not cook as well.