These Pumpkin Chocolate Swirl Muffins are made with whole wheat flour and no refined sugar for a healthier on the go breakfast or snack.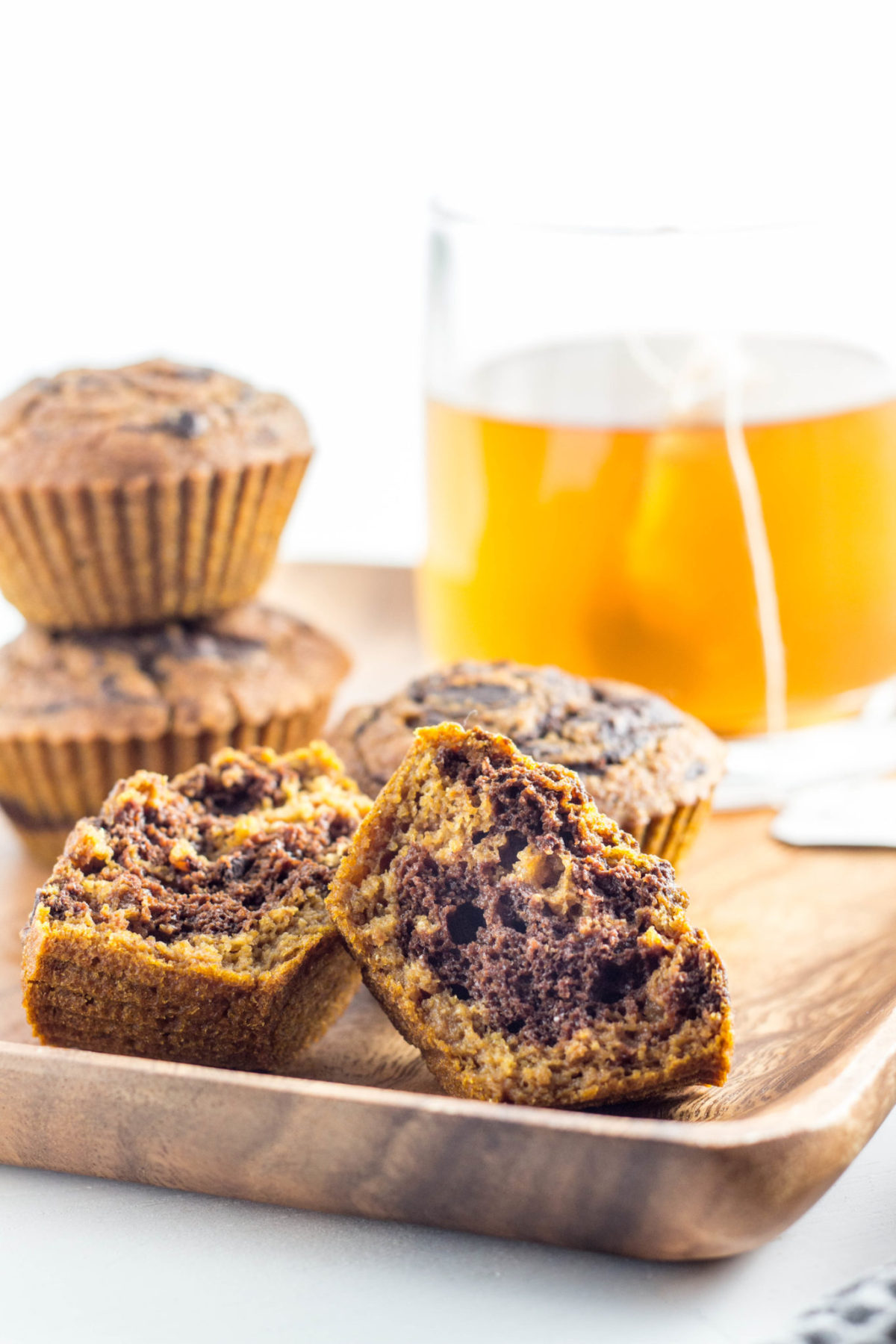 Hi friends! It's been so long, I know. How have you been?
All my computer issues have been sorted out so things can get back to normal around here. Yay! The situation with the computer took longer than anticipated. The repair shop made every effort, but after ordering and trying a few replacement parts, the conclusion was I needed a new one. So, after a bit of grumbling I opened the wallet and shelled out the money for a new one. Now I'm back with muffins! Pumpkin Chocolate Swirl Muffins to be exact because you know pumpkin everything is pretty much a requirement this time of year.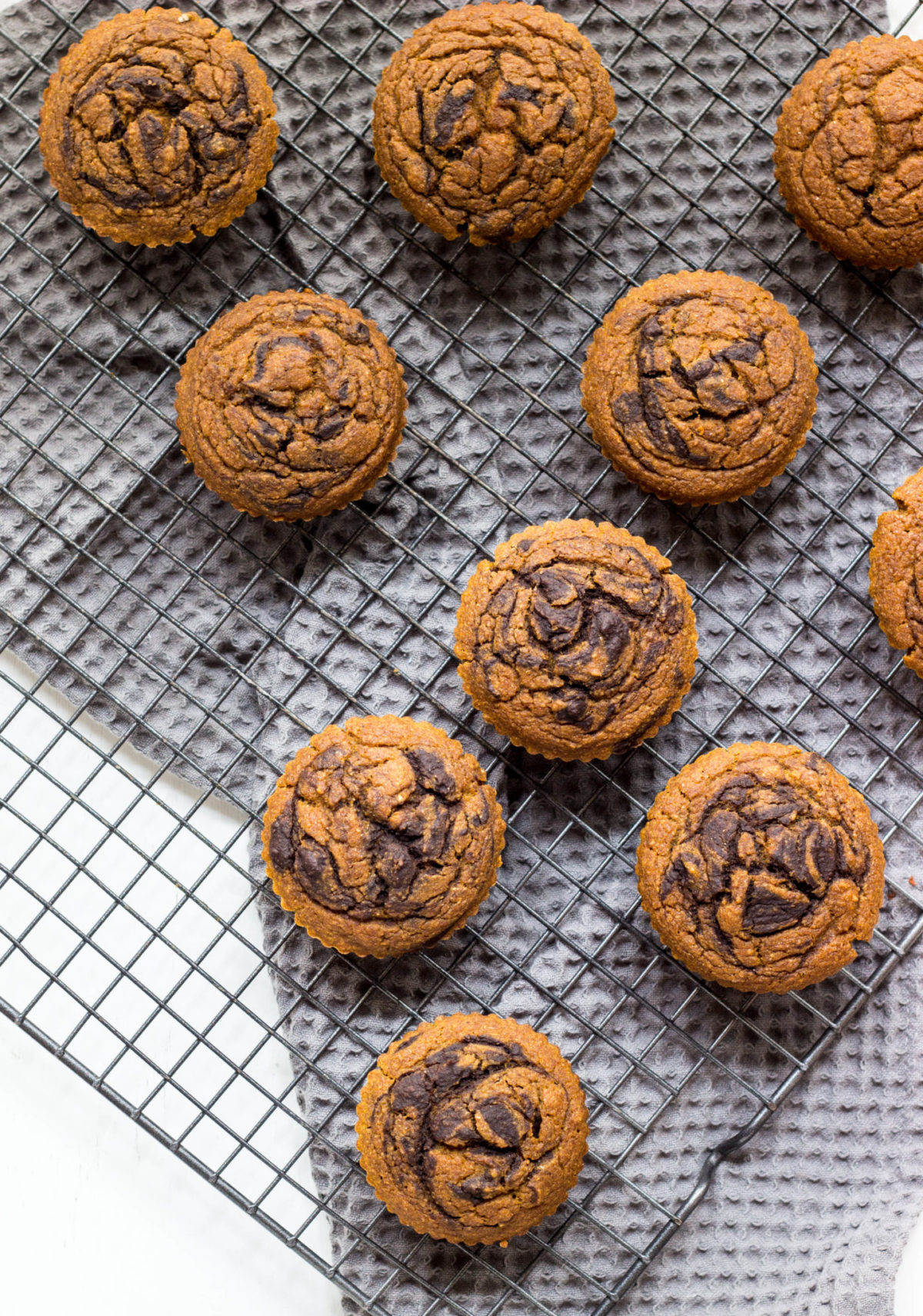 These muffins are so much fun and perfect for this time of year with their autumnal colors. Made with whole wheat and sweetened with coconut sugar, these muffins are also far healthier than most. Plus the addition of pumpkin means the little ones (and you) will be getting a healthy dose of vitamin A, fiber, and antioxidants including vision protecting lutein.
You might be thinking, this is just too complicated for a muffin, but really it's simple. There's just one batter divided to make the two colors. To make the swirl, you simply layer the two batters and use a skewer to swirl a bit. Simple, but impressive! When the kids took a bite and discovered the swirled colors inside, they were blown away.
This is also a great recipe to have the kids help with. It's simple enough and they'll enjoy spooning and swirling the batter!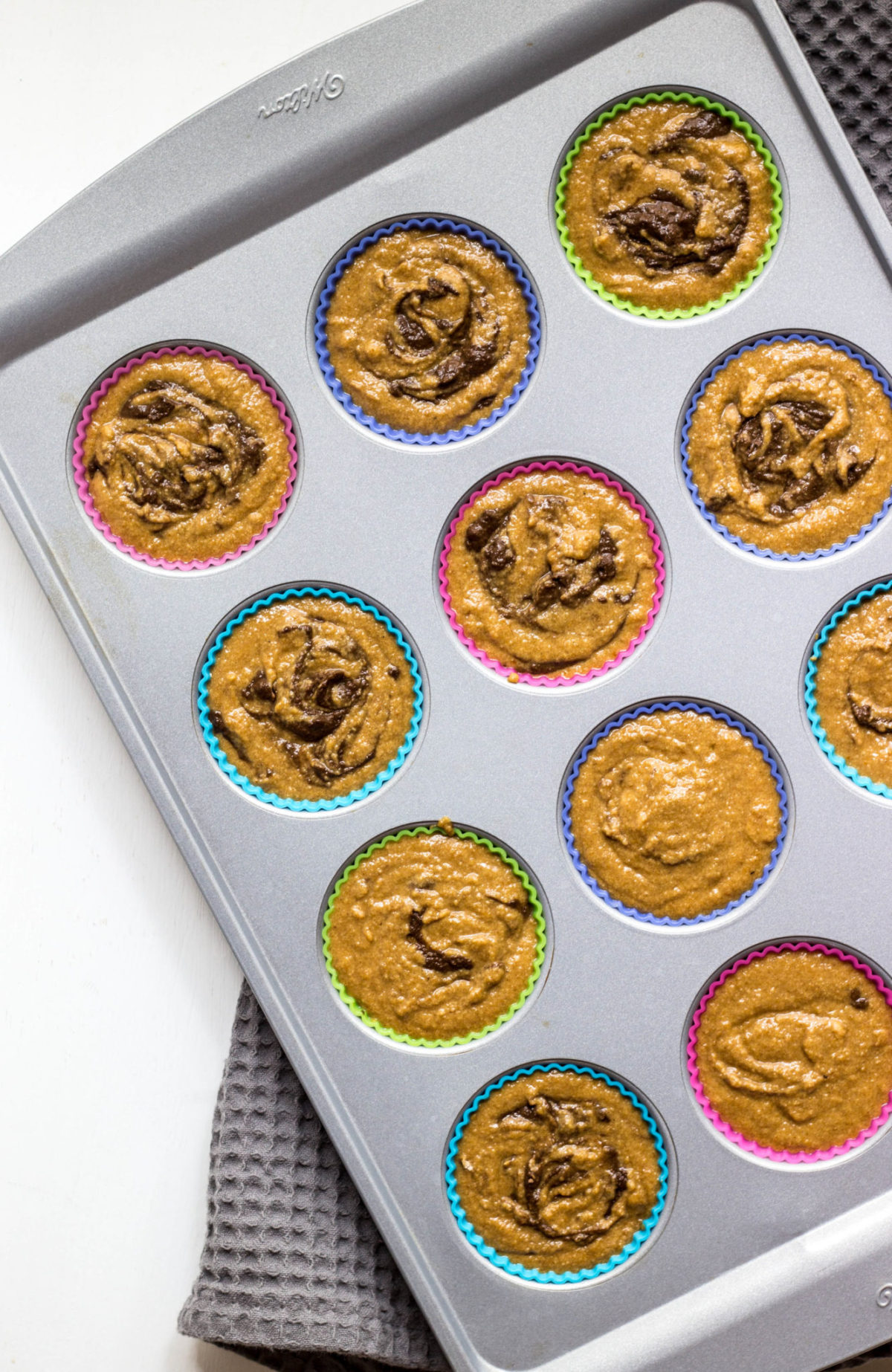 I use canned pumpkin puree for these muffins, but if you live in area where it is not available, be sure to check out my simple how to guide for making your own puree. And if you're looking for even more ways to get your pumpkin on, here's a few more recipes to check out:
Vegan Pumpkin Chia French Toast
Vegan Pumpkin Peanut Butter Cups
Vegan Date & Nut Crumble Pumpkin Muffins
Vegan Pumpkin Swirl Quick Bread
5 Minutes Spiced Pumpkin Butter
Spiced Pumpkin Butter Oat Bars
And for the fur babies:
Peanut Butter Pumpkin Pupcakes
If you try this recipe, let me know how it turns out! Leave a comment below or snap a pic and tag it @weelittlevegans on Instagram so I'll be sure to see it!
Pumpkin Chocolate Swirl Muffins
Ingredients
1 ¼

cup

white whole wheat flour

¼

teaspoon

salt

¾

tsp

baking soda

¾

teaspoon

baking powder

1

teaspoon

cinnamon

¼

cup

cocoa powder

1

cup

unsweetened almond milk, room temperature

1

tablespoon

apple cider vinegar

¾

cup

coconut sugar

1

cup

pumpkin puree or butternut squash puree

¼

cup

coconut oil
Instructions
Preheat oven to 350 degrees and prepare a muffin pan with liners. Set aside.

Combine flour, salt, baking soda, baking powder, and cinnamon in a medium bowl. Set aside.

In another bowl combine almond milk, apple cider vinegar, coconut sugar, pumpkin puree, and coconut oil.

Make a well in the middle of the flour and pour in wet ingredients. Stir just to combine.

Scoop ⅓ of batter into another bowl, add cocoa powder and stir again just to combine.

Spoon a bit of the pumpkin batter into muffin wells followed by a small bit of the chocolate. Continue this process alternating between the two batters to create layers.

Use a toothpick or skewer to gently swirl the layers.

Lift pan and drop from a few inches in the air on to the counter. This will release air bubbles and level the batter.

Bake in preheated oven for 27-29 minutes or until a toothpick inserted comes out clean.

Leave muffins in the pan to cool for 5 minutes before removing and placing on a cooling rack to continue to cool.