These Frankenstein Vegan Snack Cakes are a fun, kid friendly way to celebrate Halloween. The cake gets the green color from spinach so the kids will get a bit of veggie goodness, but no one will ever guess!
Who's ready for Halloween? ME!!! This is seriously my favorite holiday and my kids absolutely love it too! They love dressing up and often coordinate their costumes. Last year, both of the older girls wanted to dress up as unicorns, naturally being girls and completely obsessed with them(but you wasn't then?!) so we dressed the littlest one, who was just one, as a dragon to go along with the mythical creature theme. They looked so cute! This year they have decided on their current obsession the graphic novels and tv series Hilda, which should be a lot of fun too.
We also love making Halloween themed treats like these cupcakes and candies, of course. See exhibits A and B and C. This year we came up with these super cute Frankenstein Vegan Snack Cakes! And guess what, that green color is natural and comes from a sneaky veggie source-spinach! But don't worry, you can't taste it. This soft, fluffy cake has a lovely vanilla maple flavor so no one will ever guess there's a veggie in their dessert.
The recipe for the cake is adapted from my vanilla cupcakes , which have the non-vegan seal of approval as the best! In addition to the spinach, I also did away with the refined sugar. So, not only are these snack cakes whole wheat, they are naturally sweetened with maple syrup.
When it comes to decorating your little cakes you have plenty of options. You can use frosting or melted chocolate to pipe the faces. You can cut mini vegan marshmallows for the whites of the eyes and add a dot of melted chocolate or mini chocolate chip. These googly eyes from Fork & Beans work great too.( I've made them with brown rice syrup instead of corn syrup and it worked perfectly!) Cacao nibs are great for hair and chocolate chips make perfect neck bolts. The possibilities are endless so let those imaginations run wild and have fun!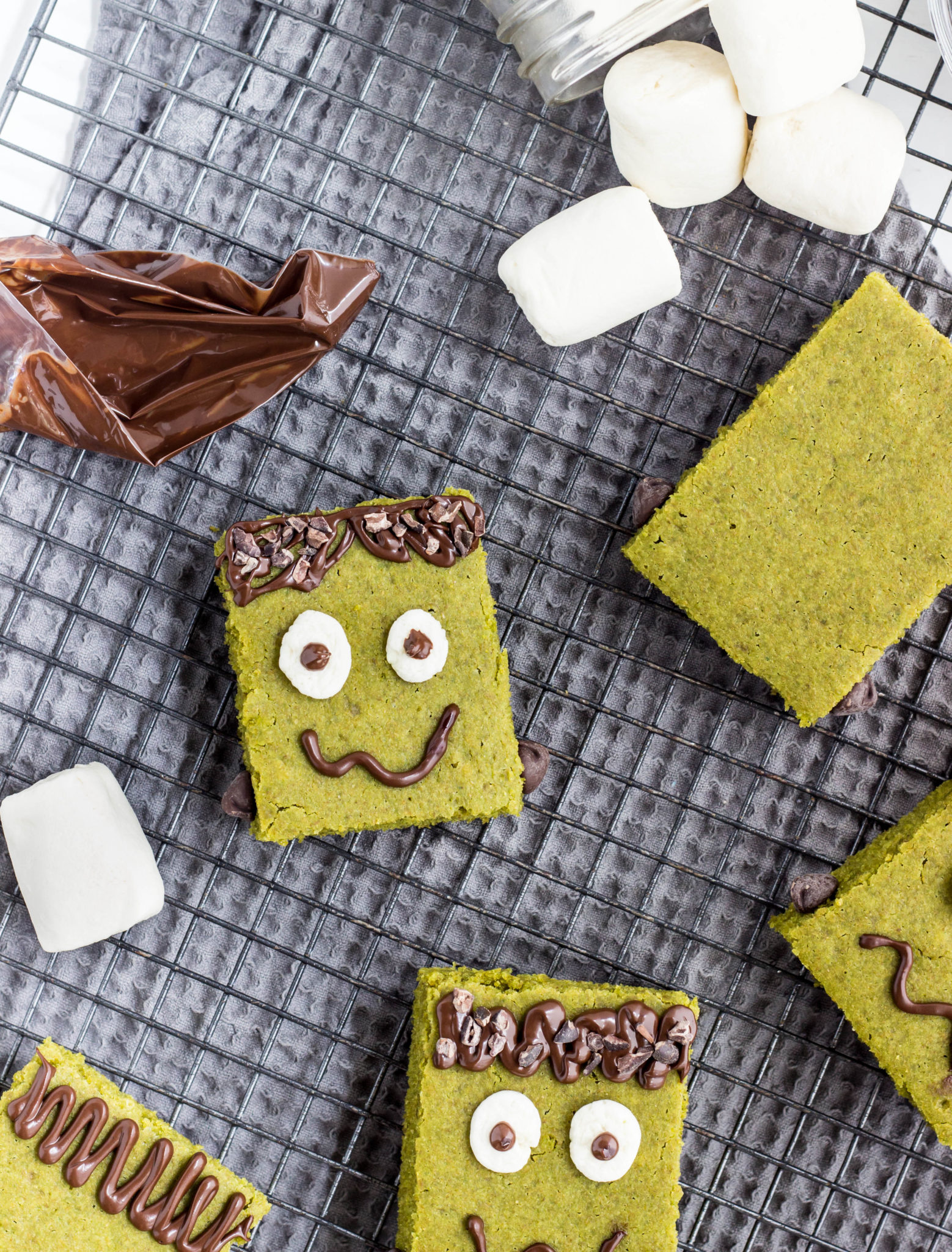 If you try this recipe, let me know how it turns out! Leave a comment below or snap a pic and tag it @weelittlevegans on Instagram so I'll be sure to see it!
Frankenstein Vegan Snack Cakes
Ingredients
1 ½

cup

white whole wheat flour, sifted

½

teaspoon

salt

¾

teaspoon

baking soda

¾

teaspoon

baking powder

1

cup

spinach, tightly packed

1

cup

plain, unsweetened non dairy milk

I used almond.

1

tablespoon

apple cider vinegar

½

cup

maple syrup

¼

cup

applesauce

¼

cup

coconut oil

2

teaspoon

vanilla
Decorations:
vegan frosting

melted chocolate

marshmallow

chocolate chips

cacao nibs, etc.
Instructions
Preheat oven to 350 degrees and line a 9 x 13 pan with parchment paper. Leave enough paper up the edges to lift the cake out of the pan. Set aside.

Whisk together sifted flour, salt, baking soda, and baking powder in a large bowl. Set aside.

Add spinach and non dairy milk to blender. Blend until spinach is completely broken down. If you don't have a high speed blender you may want to strain the liquid to remove any spinach bits that remain.

Add vinegar, maple syrup, applesauce, coconut oil, and vanilla. Blend again to combine.

Make a well in the center of flour mixture and pour in wet ingredients. Stir together to combine. Take careful not to over mix. It's ok if small lumps remain.

Pour batter into prepared cake pan and bake for 20 minutes or until when pressed lightly the cake springs back and a toothpick inserted comes out clean.

Allow to cool for a 10 minutes before lifting the parchment paper to remove the cake. Move to a cooling rack to cool completely before cutting.

Once the cake has cooled cut edges off to remove the cake that browned a bit while baking. Then cut cake into 8 equal rectangles. You can also cut into 16 rectangles to make mini cakes, if you prefer.

Decorate as desired to create Frankenstein's face.