Vegan Cinnamon Rye Waffles made with 11 ingredients and ready in 30 minutes. Great for making ahead and freezing too!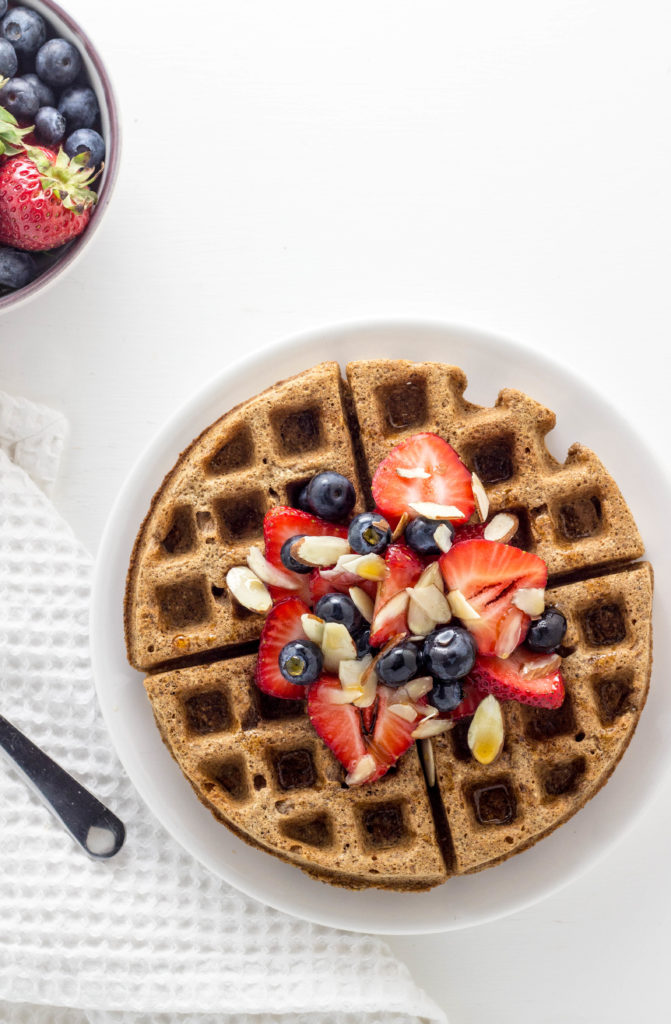 We're just a few weeks away from the start of a new school year here so I'm starting to think of easy, nutritious breakfasts for the hectic mornings. One of the kids' favorite breakfasts is homemade waffles so last year I started making these waffles and freezing them, which worked great. I'll definitely be doing that again, but to keep things fresh and exciting I'll be making this new version, Vegan Cinnamon Rye Waffles.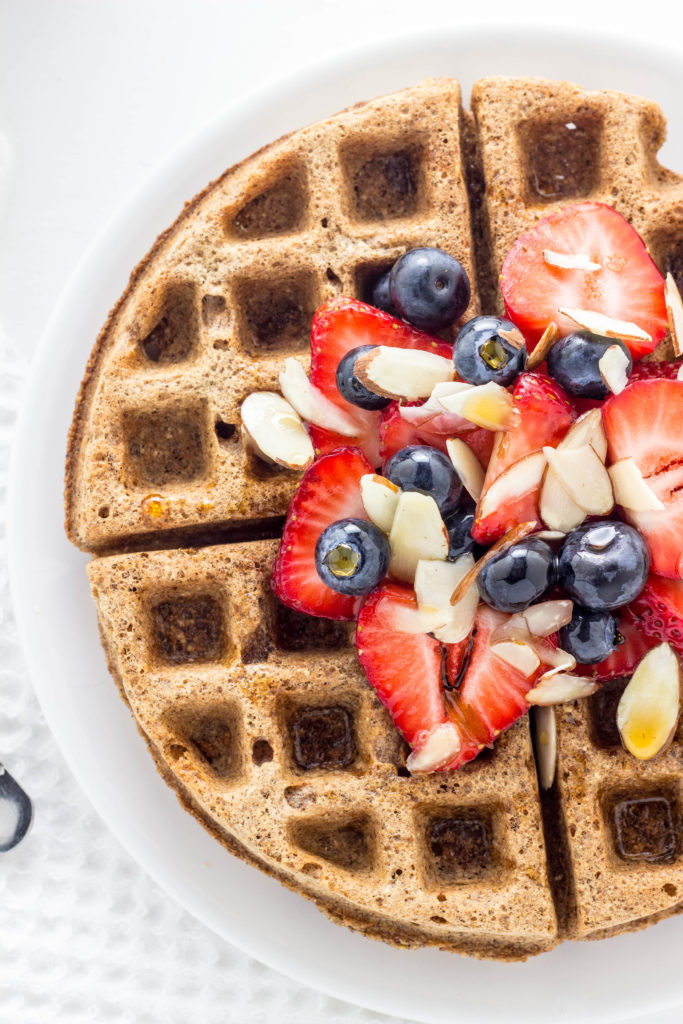 Ok, so rye flour, it's not the typical flour used to make waffles, but it really does work so well and is nutritious too. Rye flour is high in fiber and contains a variety of vitamins and minerals like magnesium, zinc, and iron. And because of the high fiber content rye flour may be helpful in weight loss, preventing gallstones, and lowering the risk of type 2 diabetes.
The flavor is a little nutty with a bit of earthiness that really adds a depth of rich flavor to baked goods that you just don't get with white flour. We really like it around here.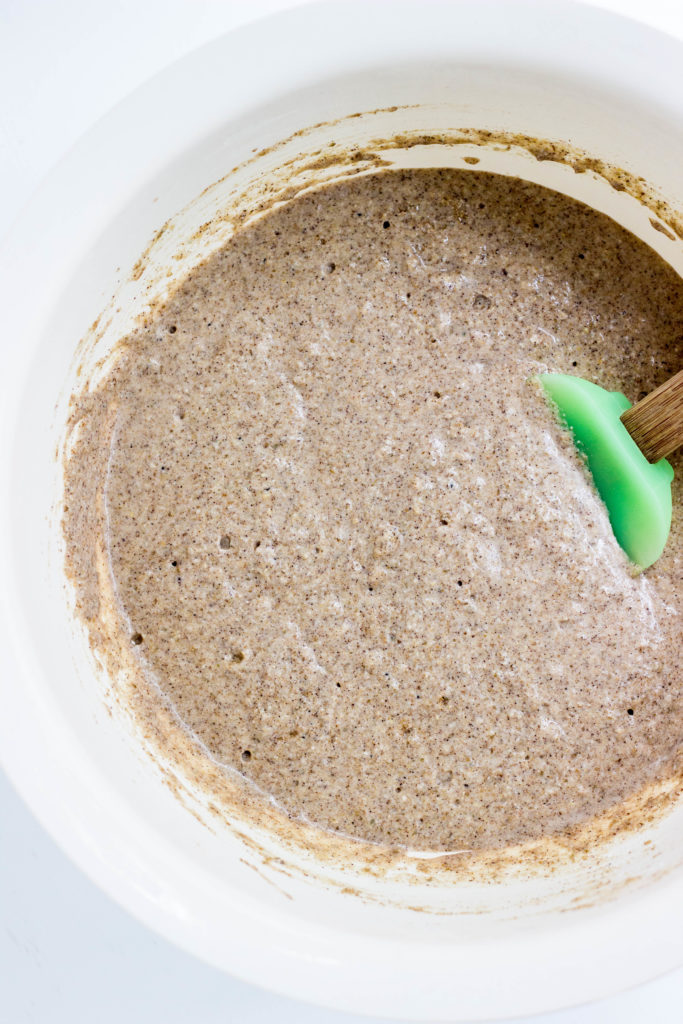 Rye flour is not gluten free, but does contain less protein than wheat flour making it a bit more of a challenge to work with if you're not familiar with it. Rye flour alone also results in a heavier, denser textured end product that can be gummy. So, to ensure a perfectly delicious waffle I used a combination of rye and white whole wheat flour. The result was a perfectly crispy exterior with a soft and not at all gummy interior.
You can top these rye waffles with anything you'd normally use. For this batch, I used fresh strawberries, blueberries and almonds, which of course was delicious, but if you follow me on Instagram, you may have seen the previous batch with peaches. That was my favorite! The peach pairs really well with the rye flavor. I imagine many of the stone fruits like nectarines, cherries, plums, etc would work really well with these waffles too.
Oh and these waffles are freeze-able. So you can make a double or even triple batch and stash them in the freezer so you'll have a delicious, healthy breakfast even on busy weekday mornings! To reheat simply pop in the toaster or heat the oven to 350 degrees and bake until warmed through.
If you try this recipe, let me know how it turns out! Leave a comment below or snap a pic and tag it @weelittlevegans on Instagram so I'll be sure to see it!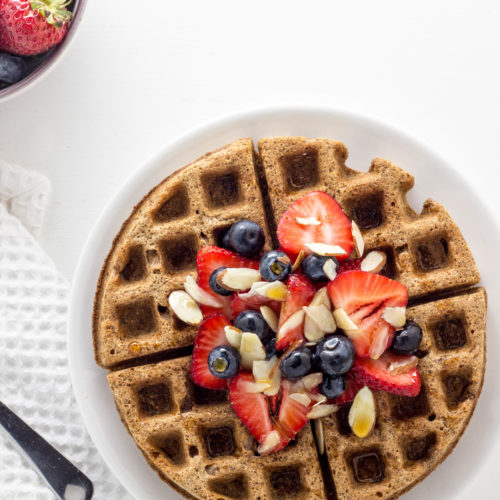 Vegan Cinnamon Rye Waffles
Ingredients
2

cups

non dairy milk, room temperature

I used almond milk.

2

tablespoon

apple cider vinegar

2

flax eggs

see notes below for instructions

2

tablespoon

coconut sugar

3

tbsp

coconut oil

½

tsp

vanilla extract

1

cup

rye flour

1

cup

white whole wheat flour

2

teaspoon

baking powder

2-3

teaspoon

cinnamon

see note below

½

teaspoon

salt
Instructions
Preheat oven to 200 degrees to keep prepared waffles warm until serving, if desired.

Stir together almond milk and apple cider vinegar. Set aside.

Prepare flax eggs and set aside.

In a large bowl combine rye flour, wheat flour, baking powder, cinnamon, and salt. Whisk to thoroughly combine. Set aside.

Add coconut sugar, coconut oil, vanilla, and flax eggs to milk mixture and stir to combine.

Pour milk mixture into flour and stir gently just to combine.

Let batter rest while waffle maker is heating up at least 5 minutes.

Lightly coat waffle maker with cooking spray, if needed. Pour the required amount of batter needed according to your particular waffle maker.


Cook waffles for around 5-7 minutes. The length of cook time may vary based on your particular waffle maker. When the waffle maker is no longer steaming that usually means the waffles are cooked through.

Remove waffle and cool on a wire rack or pop in the oven to keep warm.

Continue the process until all batter has been used. The number of waffles you are able to make will depend on your waffle maker.

To freeze, cool on wire rack and transfer to a baking sheet. Place baking sheet in freezer until waffles are completely frozen. Transfer to a freezer safe zip top bag or container. To reheat pop waffles in the toaster or heat in oven at 350 degrees until heated through.
Notes
To make flax eggs combine 2 tablespoon ground flax seeds with 4 tablespoon water and set aside to thicken for 3-4 minutes. See this post for more instruction, if needed. 
For the cinnamon, you can use 2-3 teaspoon depending on your preference. I like 2 tsp, but my kids prefer 3.