Vegan Pancake Mini Muffin Bites made with just 8 basic ingredients in under 30 minutes, no flipping required.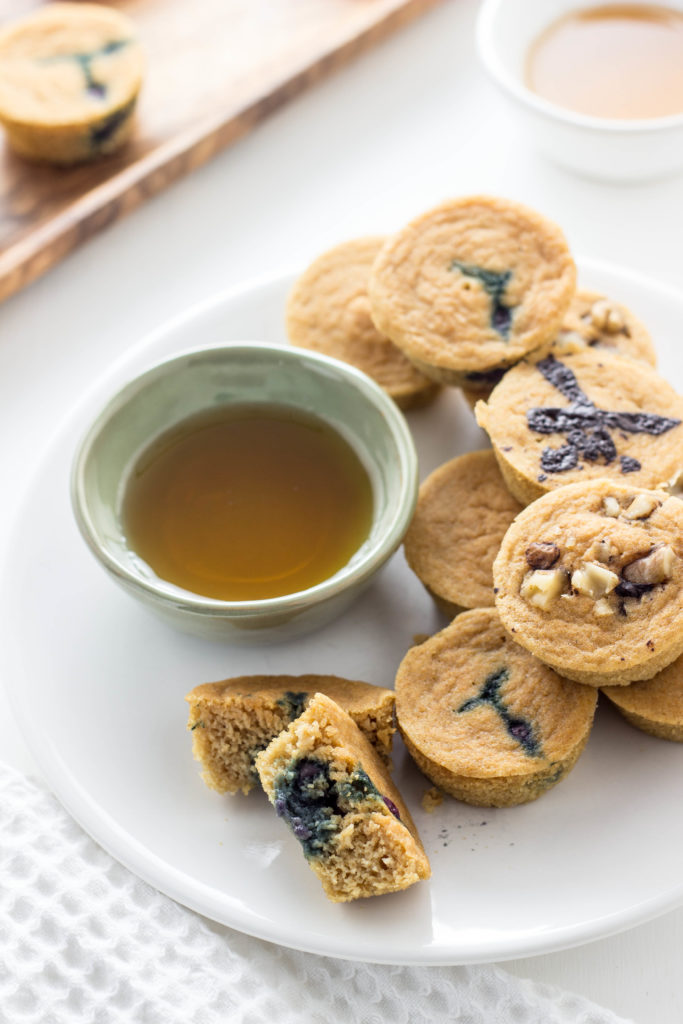 Happy New Years, friends! I am back after a couple weeks off for the kiddos' winter break from school. We had a great time together enjoying the holidays, but truth be told we are all glad to be back in school. Boredom was definitely beginning to set in and I am out of ideas for entertaining three very active little ones. Active kids also eat a lot...I mean a lot. Sometimes I feel like I am always in the kitchen preparing something just to keep up with their appetites. Anyone else feel that way? So, to cut down the time spent cooking, I started making these Vegan Pancake Muffin Mini Muffin Bites. It's all the deliciousness of pancakes with less effort and less hands on time.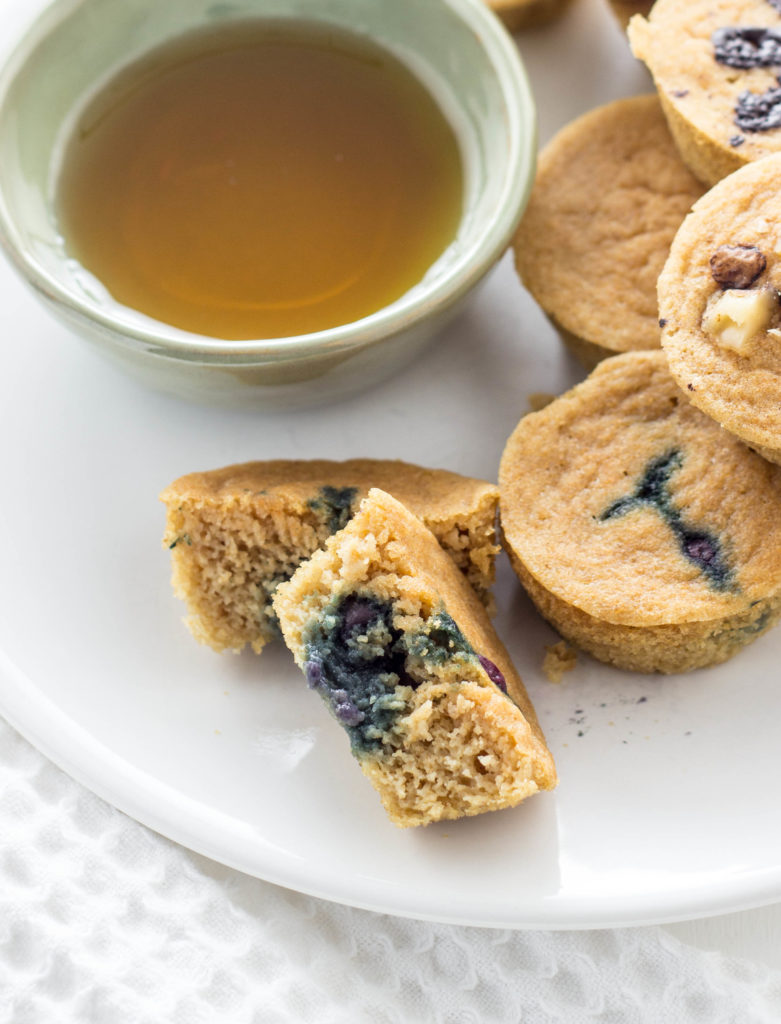 My kids absolutely love pancakes, but I don't always have the time to pour batter and wait to flip pancakes especially when I need to make so many to feed my crowd. A muffin pan is a perfect solution to this problem. On those days when I haven't the time for endlessly ladling batter and flipping countless pancakes, I simply spoon the batter into a mini muffin pan, pop into the oven and walk away. About 12 minutes later, the pancakes are ready and I haven't spent that last 30 minutes flipping. It may not seem like that big of deal, but those extra minutes saved are huge for any busy mom. I, for one, will take any spare time where I can get it.
While not a traditional stack of fluffy pancakes, these muffin bites really do taste like pancakes especially when dipped in a bit of real maple syrup.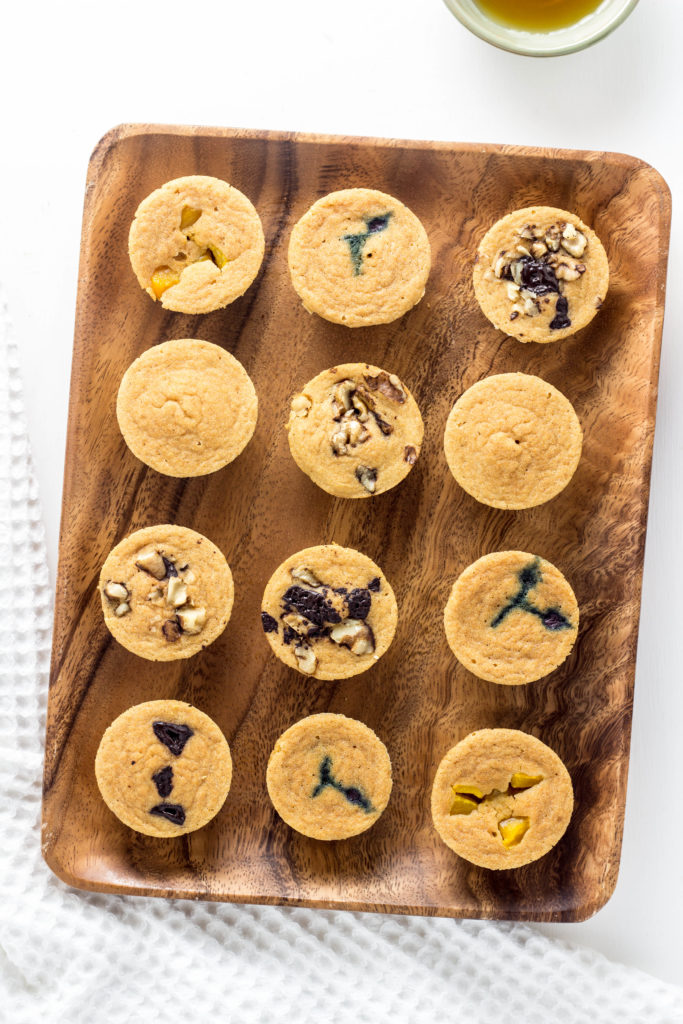 Plus, there are so many ways you can customize these pancake bites to your family's taste. Fruit, (we love mango and blueberries here), chocolate and walnuts are some of the mix ins we like to use. But, really there are so many possibilities so go with anything you like. Dried fruits, sprinkles, various seeds and nuts and spices like cinnamon would all work well.
Note: if you use fresh or frozen fruit, be sure to use only a few pieces. Too much will release additional moisture during baking that will cause the pancake to stay wet and soggy in the middle.
And if you're looking for a more traditional pancake recipe, here's a few to try:
Sautéed Apple Ginger Cinnamon Pancakes
Whole Wheat Vegan Chocolate Chip Pancakes
Vegan German Chocolate Pancakes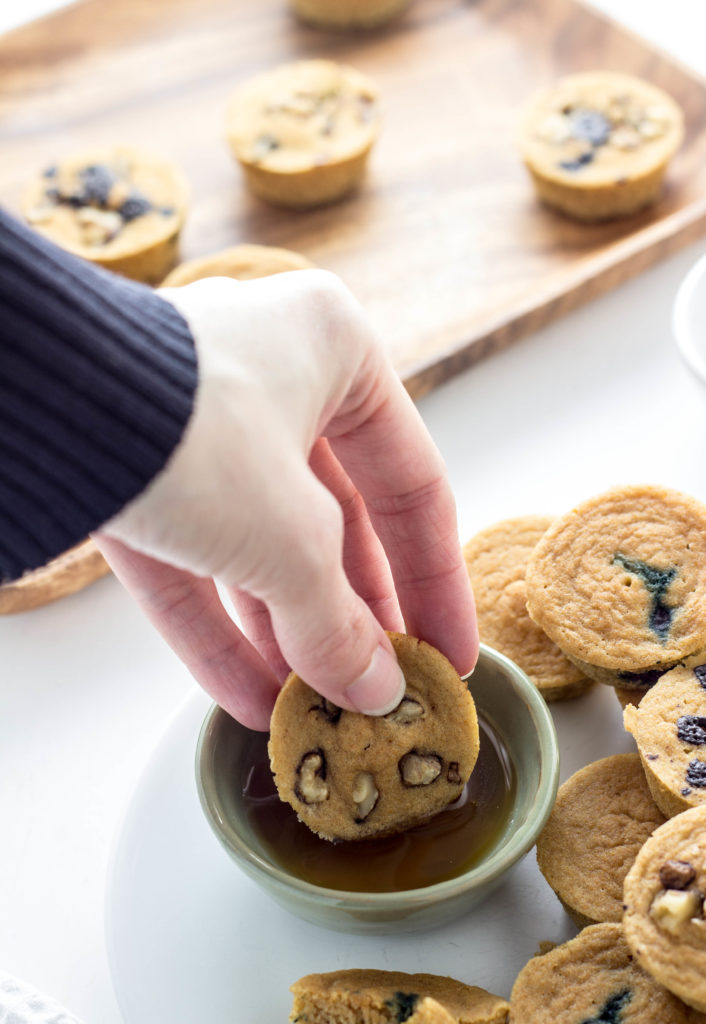 If you try this recipe or any others, I'd love to know how it turns out! Leave a comment below or snap a pic and tag it @weelittlevegans on Instagram so I'll be sure to see it!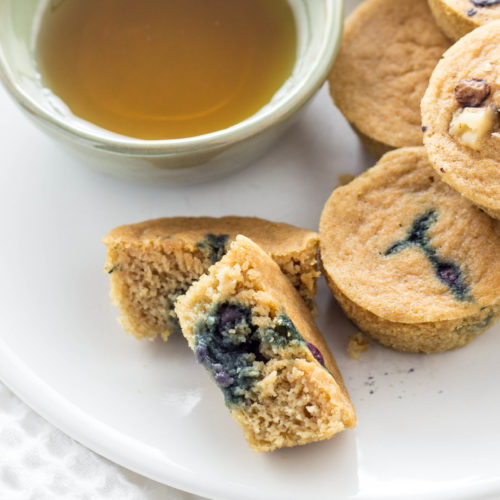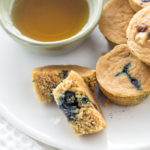 Vegan Pancake Mini Muffin Bites
Vegan Pancake Mini Muffins Bites made with just 8 basic ingredients in under 30 minutes, no flipping required.
Servings
:
24
mini muffins
Ingredients
1

cup

non dairy milk

I use almond.

1

tablespoon

apple cider vinegar

2

tbsp

coconut oil or vegan butter, melted

¾

cup

white whole wheat flour

2

tablespoon

coconut sugar

2

teaspoon

baking powder

½

teaspoon

baking soda

¼

teaspoon

salt

mix-ins of choice - fruit, chocolate chips, chopped nuts, etc.
Instructions
Preheat oven to 350 degrees and lightly grease a mini muffin pan with 24 wells. Set aside.

Combine milk and apple cider vinegar. Set aside for 2-3 minutes.

In a bowl, whisk together flour, coconut sugar, baking powder, baking soda, salt.e

Add oil or vegan butter to milk mixture and stir to combine.

Pour wet ingredients into dry ingredients. Whisk just to combine. Do not over mix.

Let batter rest for 3-4 minutes.

Spoon batter into muffin wells filling about halfway.

Add desired mix ins to the tops of each muffin. You can use fresh or frozen fruit, chopped nuts, chocolate chips, sprinkles, etc.

Bake for 12-13 minutes until golden and a toothpick inserted in the middle comes out clean.

Allow to cool briefly and remove from muffin pan and serve with maple syrup for dipping, if desired.
Recipe Notes
Fresh or frozen fruit will release additional moisture during baking so be sure to use only a few pieces to prevent pancakes from being wet and soggy in the middle. 
If you use an all purpose flour you will need to add ¼ cup more to get the correct batter consistency.