Creamy coconut swirled with a simple strawberry puree for a delicious 3 ingredient frozen treat. These Strawberry Coconut Cream Pops are made with no artificial flavorings or coloring and sweetened with maple syrup so this is a sweet treat you can feel good about.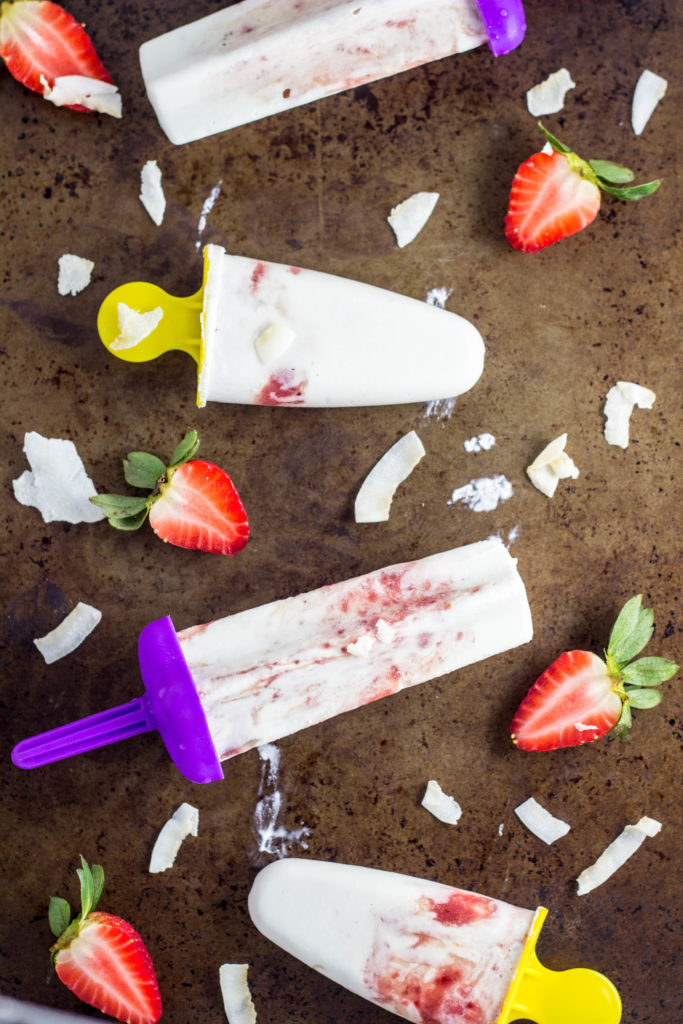 Please forgive me for the erratic posting lately, life has gotten crazy over here again! There's just always so much to do and just never enough time to get it all done. It also doesn't help that my husband's work schedule is intense right now and I'm basically on my own to manage everything else. My burgeoning belly is certainly becoming a bit of an obstacle these days too. But, I do have a super quick and yummy treat for you today, Strawberry Coconut Cream Pops.
Strawberry season in full swing in Florida and I happen to live very near one of the largest strawberry producing areas. Seriously, it's something like 10,000 acres of strawberries planted each season and there's even a festival devoted to this little fruity wannabe. Fun Fact: strawberries are not a true fruit. They're an accessory fruit because they contain tissue in addition to the ovary and seeds. Just in case you wanted a little botanical science with your dessert.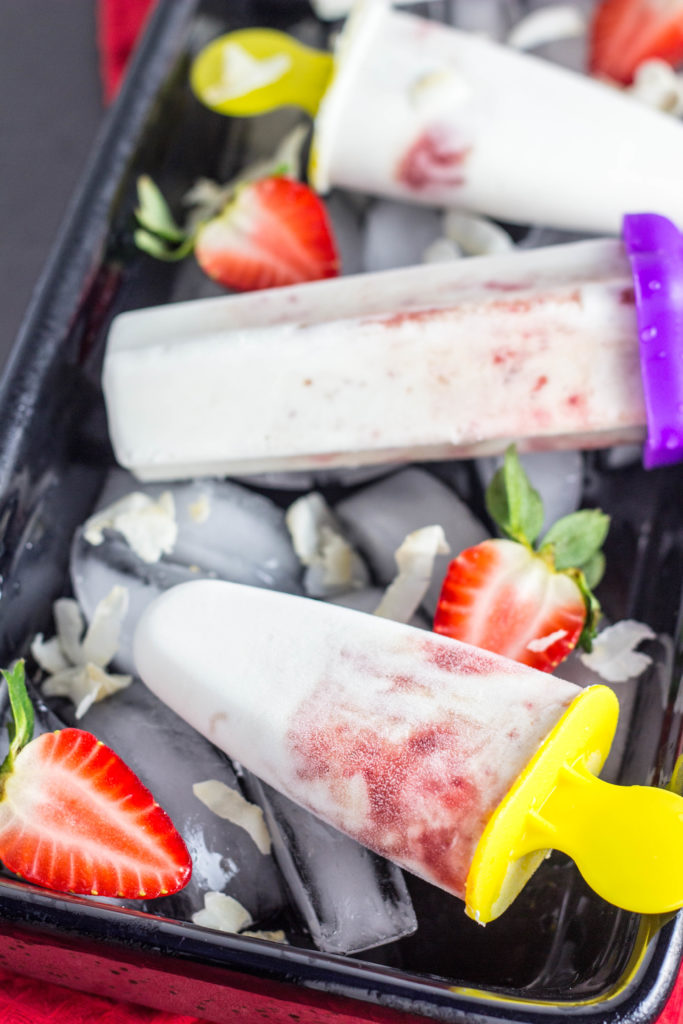 Since strawberries are in such abundance, I thought it only right to make something tasty with them and the weather is getting warmer for sure so something cold and creamy seemed appropriate.
These popsicles are made with just 3 ingredients, with an optional 4th, and are super quick to whip up and get into the freezer. Coconut cream sweetened with maple syrup makes a creamy base for the super easy strawberry puree swirled through. All you need for the puree is a food processor or blender. Just dump the berries and a little maple syrup in the bowl and process until pureed. That's it! No cooking involved. The hardest part of making these pops is waiting for them to freeze!
If you do try these cream pops I'd love to know how it turns out! Leave a comment or snap a pic and tag @weelittlevegans on Instagram.
Strawberry Coconut Cream Pops
Ingredients
1

can

coconut cream or full fat coconut milk

Chill overnight in the fridge.

1 ½

cup

strawberries, fresh or frozen thawed

4

tablespoon

maple syrup

2-3

tablespoon

shredded coconut

optional
Instructions
In a food processor combine strawberries and 2 tablespoon of maple syrup until pureed and no large pieces remain. Set aside.

Scoop chilled coconut cream from can into a bowl. Add 2 tablespoon of maple syrup and whisk together.

Fold in shredded coconut if using.

Spoon a bit of the cream mixture into popsicle molds and then spoon a bit of the strawberry puree into mold. Continue to layer until mold is full. Use a skewer or chopstick to lightly swirl the mixtures together. Insert popsicle sticks and freeze until solid.