Vegan "Cheesy" Potato Stacks made with 6 ingredients in an under an hour. Great as a side dish or appetizer.
Today I've got another super simple and fun recipe for you, Vegan "Cheesy" Potato Stacks, perfect as a side or as an appetizer. They're made with just a handful of ingredients and are ready to serve in less than one hour. And kids love them! Not only my little ones, but also my nephew who is not vegan. That's a win in my book!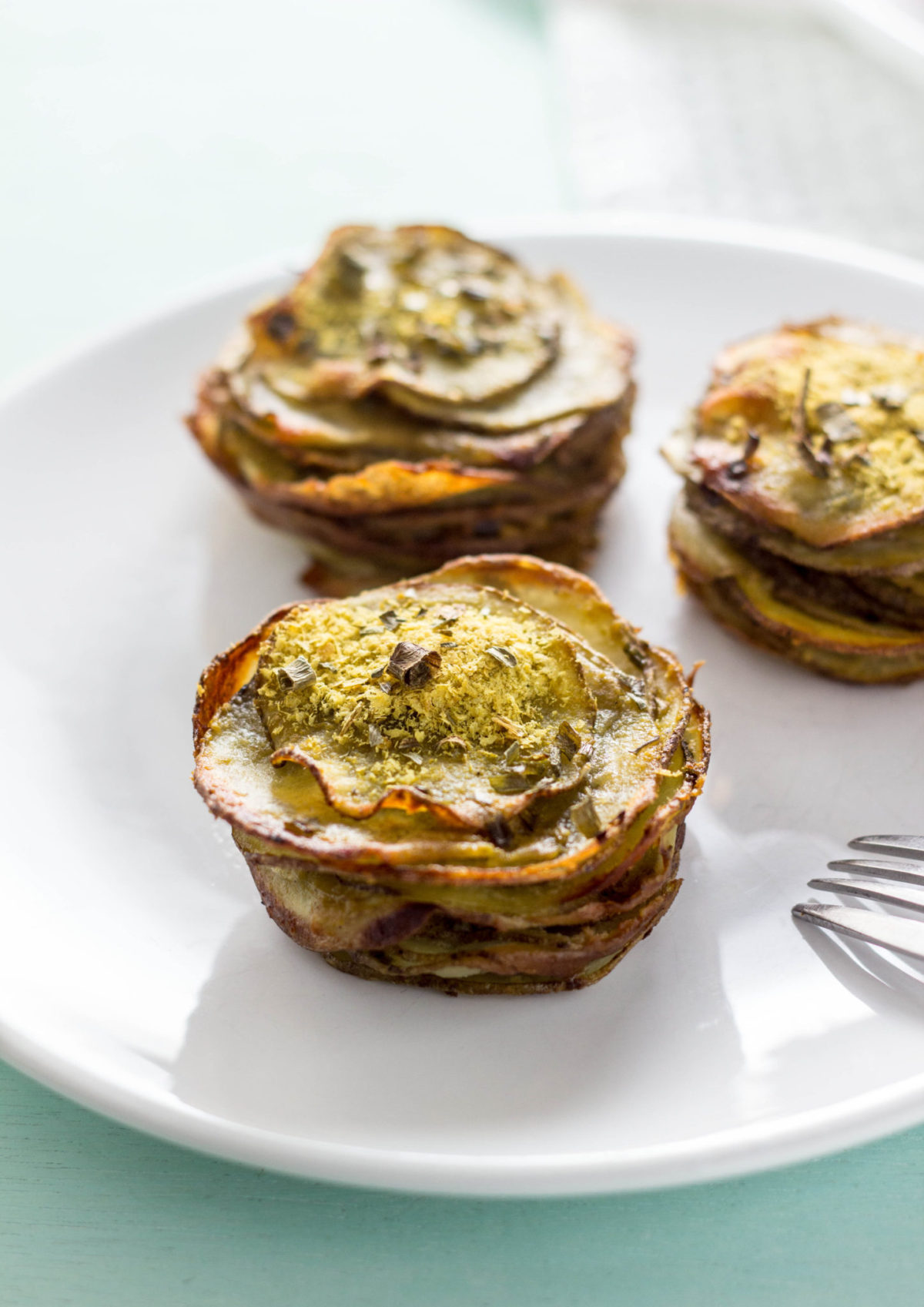 Crispy, deliciousness, am I right?!
So, maybe you're wondering how these vegan potatoes can be cheesy. Nutritional yeast, the yellow flaky stuff you see on top, provides a wonderful "cheesy" flavor as well as crucial vitamins like B-6 and B-12 and even protein. Just be sure your nutritional yeast is fortified to ensure you're getting those vitamins. Our favorite brand is Bob's Red Mill.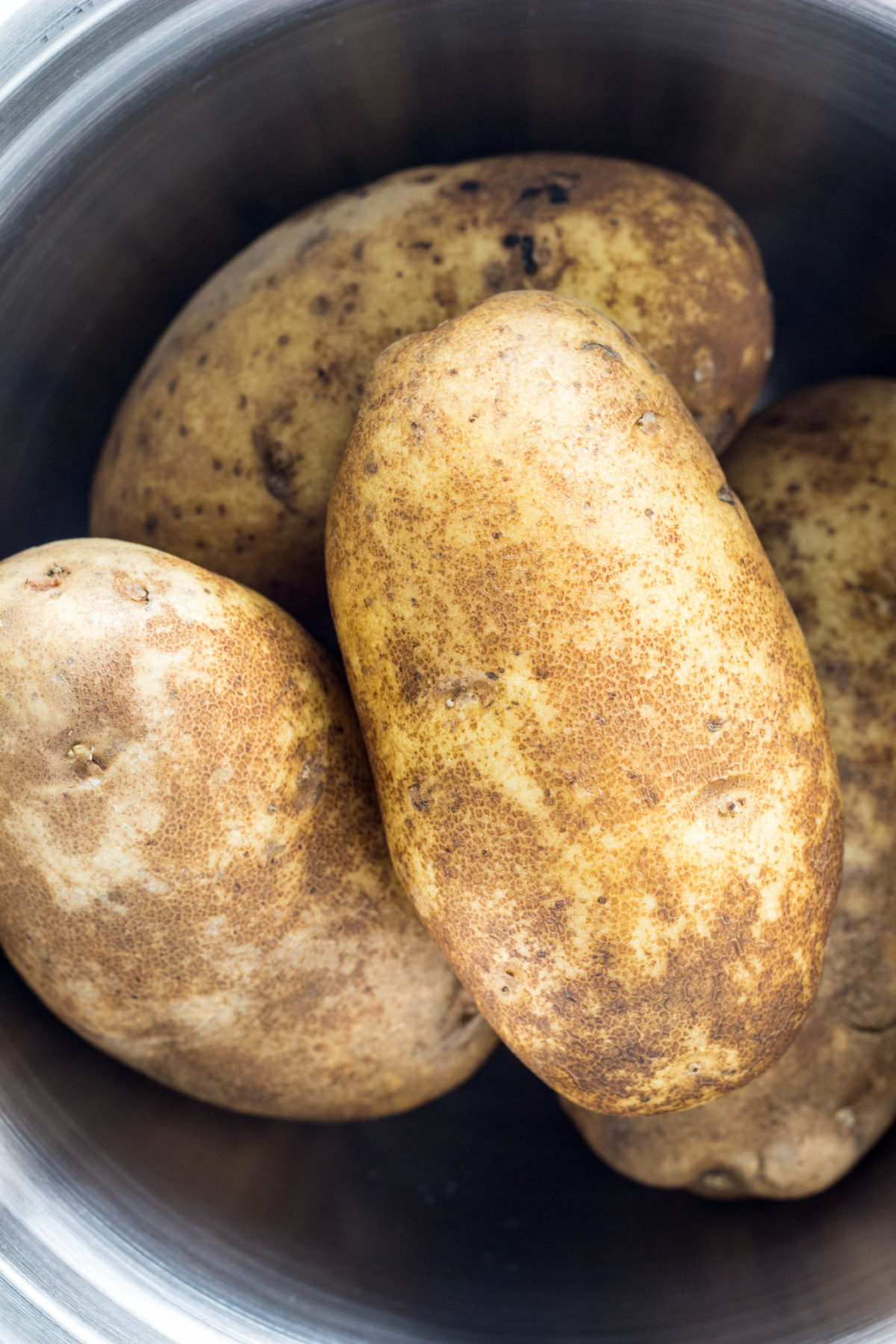 The humble potato. So unassuming, but can be made into many delicious forms. How I love them! Unfortunately, my youngest doesn't share in this love. She likes fries, but potatoes in any other form has been a no go until now. She really liked these potato stacks, which is funny since she won't eat chopped and roasted potatoes. Kids are funny like that. Sometimes all you have to do is trying something in a new way and suddenly they happily gobble it up.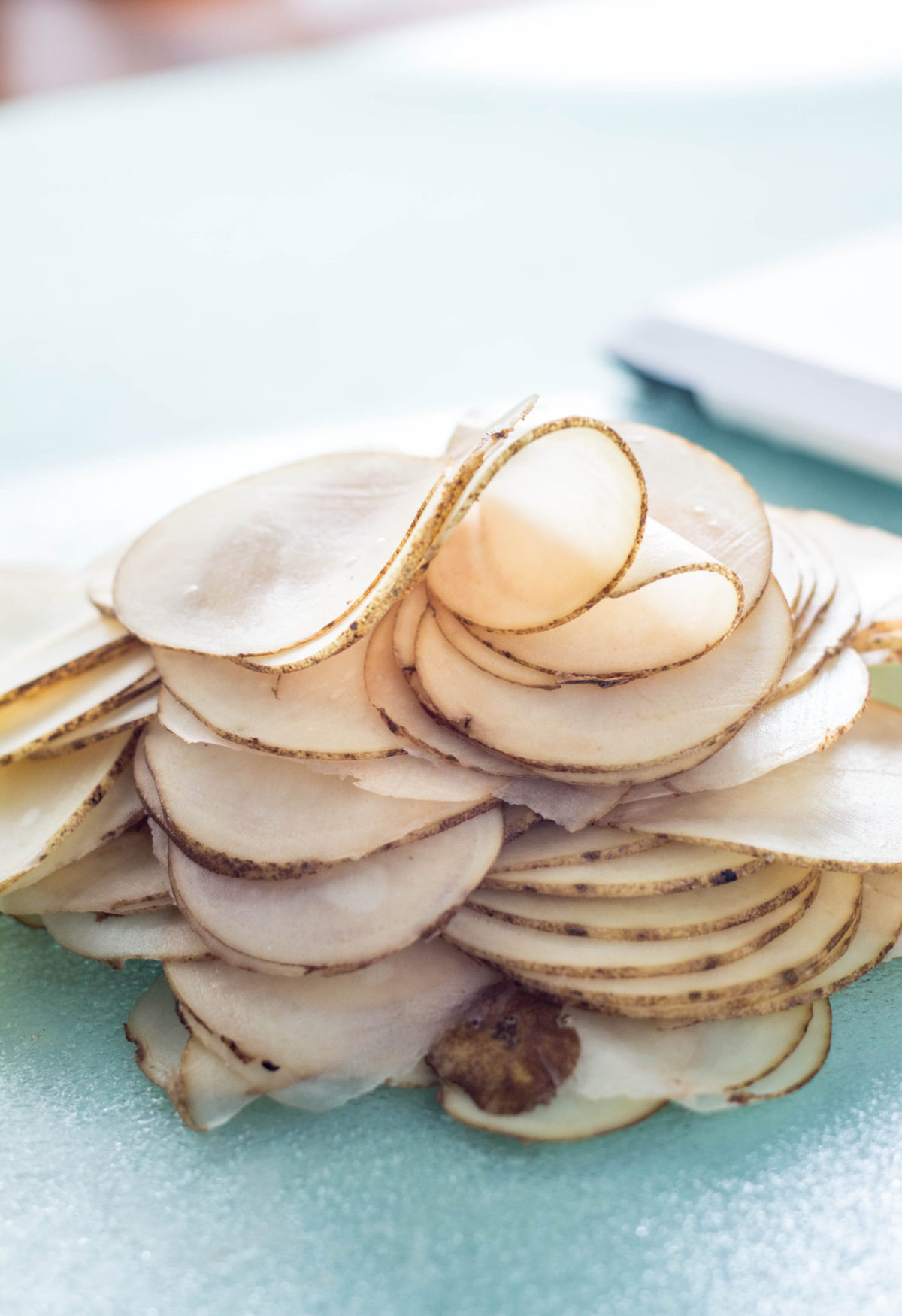 A note about slicing the potatoes: You can use a mandolin or a sharp knife. Aim for 1/16 to ⅛ inch thickness. If you use a mandolin, please exercise caution. You can really do some damage if you are not careful. If you use a knife, make sure it is very sharp as you are more likely to cut yourself using one that is dull. And of course, keep all sharp utensils out of the little one's reach. Kids can totally help out with stacking the potatoes in the muffin pan though.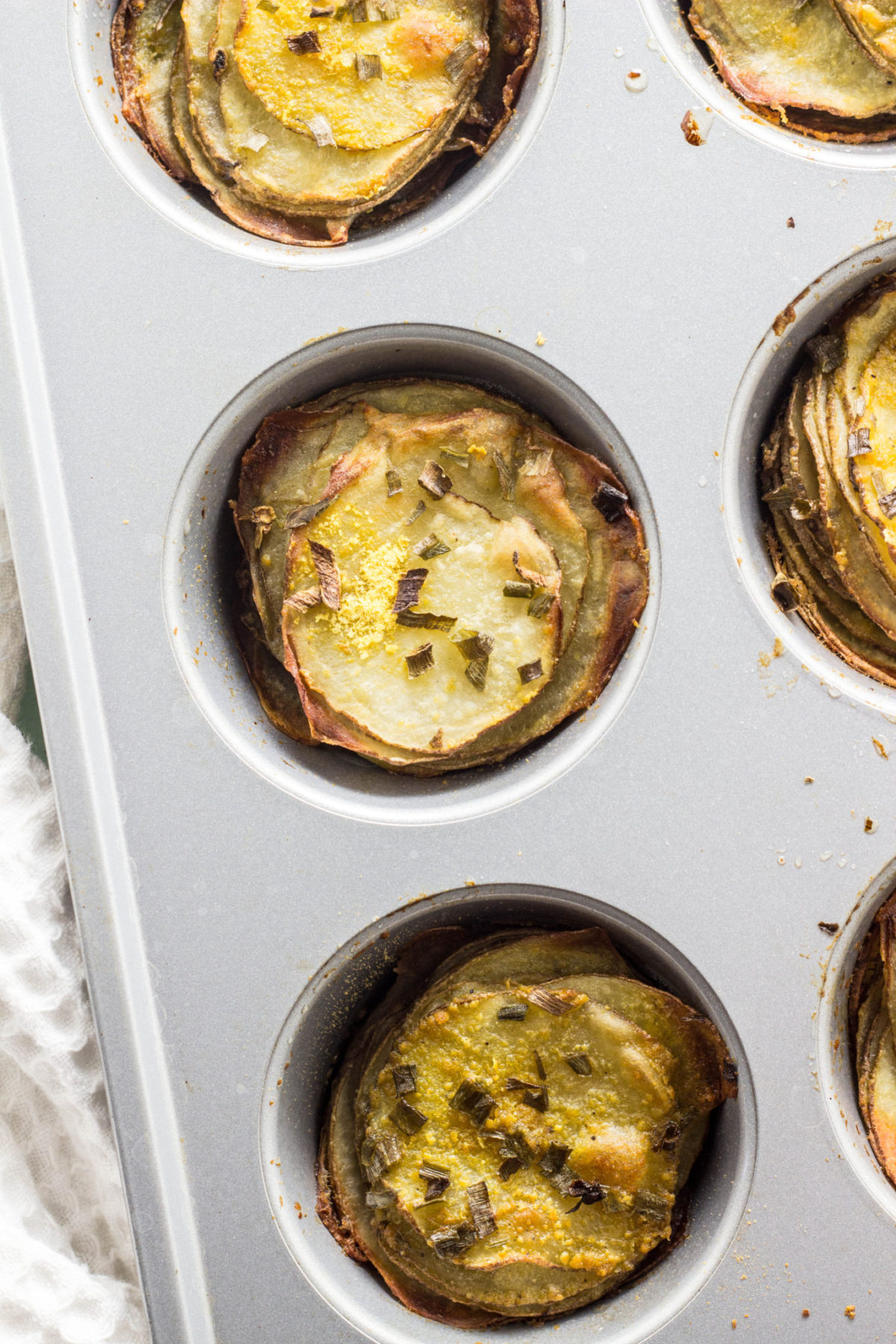 I realize the last recipe I posted, involved a muffin pan also. What can I say? This is probably one of the most used pans in my kitchen. They're just so useful. From the intended use of muffins and cupcakes to sweet treats and even French toast and pancakes, these so many ways to use one. Here's just a few of the ways I use my muffin pans:
Vegan Pancake Mini Muffin Bites
Vegan Strawberry Banana Bread Muffins
Vegan 100 Grand Candy Bar Cups
Vegan Cookies 'n Cream Ice Cream Cups
If you want more muffin pan goodness simply search "muffin pan" in the search box at the top of the page to see even more.
If you try this recipe, let me know how it turns out! Leave a comment below or snap a pic and tag it @weelittlevegans on Instagram so I'll be sure to see it!
Vegan Cheesy Potato Stacks
Ingredients
3

large

russett potatoes

4

tablespoon

olive oil

3

tablespoon

nutritional yeast + more for garnish

½

teaspoon

salt + a pinch more

⅛

teaspoon

black pepper

1-2

tsp

chives, chopped + more for garnish

fresh or dried
Instructions
Preheat oven to 400 degrees. Lightly grease a muffin pan and set aside.

In a small bowl, combine olive oil, nutrtional yeast, ½ tsp, pepper and chives.

Using a mandolin or very sharp knife, careful slice potatoes very thinly, about 1/16 - ⅛ of inch.

Transfer potato slices to a large bowl and sprinkle with a pinch of salt. Toss to coat.

Pour the oil mixture over potatoes and toss to thoroughly coat. Hands work best for this.

Layer potato slices into each of the wells of the prepared muffin pan, filling each to the top.

Sprinkle with additional nutritional yeast and chives, if desired.

Bake for 25-30 minutes, until potatoes are browned around the edges and tender through.

Allow to cool for a few minutes before using a fork to gently lift the stacks from the pan. Serve warm.
CLICK BELOW TO PIN FOR LATER